Pete Kwiatkowski aware of needed progress from the Texas defense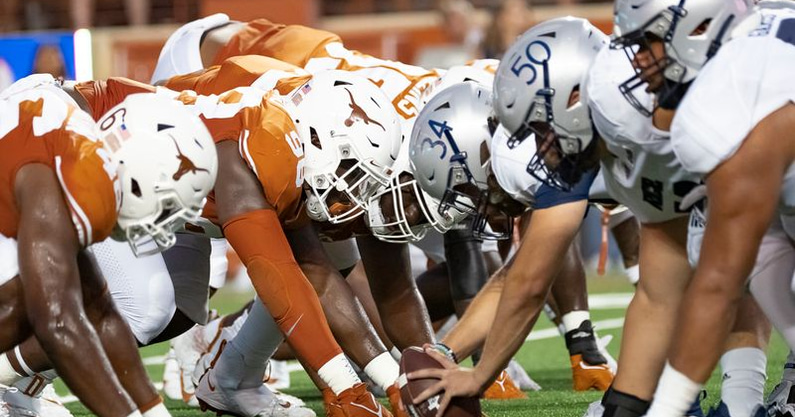 Pete Kwiatkowski's 2021 Longhorn defense was nothing to write home about. Just ask Pete Kwiatkowski.
[Get a FREE 7-day trial of Inside Texas Plus!]
As a reporter began to question the Texas defensive coordinator about the near non-existent pass rush on Tuesday, one of several weaknesses on last year's defense, Kwiatkowski interrupted the question before its completion.
"What pass rush?" Kwiatkowski said with a smirk.
It was a revealing moment of comic relief. It signaled Kwiatkowski knew that area, among several others, needed to improve. On Tuesday, he laid out methods he intends to use to help his defense play a better brand of football in 2022.
Texas recorded 19 sacks in 12 games last year, and did little to affect opposing quarterbacks on a game-to-game basis. Pass rush was one of several areas on defense highlighted by UT head coach Steve Sarkisian throughout the offseason as needing drastic improvement.
That message was not only relayed to Kwiatkowski, it was one he chose to relay himself. Of the problems areas on last year's Longhorn defense, that may have been the most glaring issue. In addition to the low team sack total, no individual player had more than 2.0 for the whole season.
"The better you are by having good pass rushers, the less you have to blitz," Kwiatkowski said. "When you have to blitz, there's issues with that. We've just got to get better. We've got to get better inside. We've got to be better coordinated when we rush."
In addition, he highlighted the need for his players to improve their first step, use of hands, and ability to push the pocket when rushing the passer. At the end of his answer, though, he ended up pointing fingers right back at himself.
"It always helps when you've got better players, but at the same time, as coaches we've got to come up with better answers to generate pass rush on third downs," Kwiatkowski said.
Pass rush wasn't the only issue in 2021. Opponents sliced through burnt orange defenders with a steady dose of outside runs, particularly wide zone.
Kwiatkowski said he wasn't surprised by the prevalence of the latest offensive trend in college football considering plenty of up-tempo teams across the country use the scheme. What he said about defending the scheme last year, however, came as a bit of a shock.
The term "freelance" in the football world rarely has positive connotations. Kwiatkowski used it on Tuesday to describe the actions versus wide zone of some of last year's players in his defense. He didn't name names or say if they were still a part of the team, but he cited the F-word as one of many causes of struggles versus outside runs.
"It's really guys trusting other guys to do what they're supposed to do to fulfill their job, and those guys doing it and not freelancing," Kwiatkowski said. "A lot of times I think last year, we would get into those stretches where the wheels were coming off, guys started pressing and feeling like they had to do more than they were supposed to. They started guessing or trying to ad lib, and it wasn't good."
Failure to rush the passer and to stop a popular style of rushing attack makes it sound like the Longhorn defense was an unmitigated disaster every snap of every game in 2021. That's obviously not the case, as Texas did play quality defense for some stretches last year.
Problem is, those stretches rarely lasted across four quarters in one day, and the lapses typically were enough to spoil an entire day's efforts. Ahead of his second season calling the defense in Austin, does Kwiatkowski believe his side of the ball will be able to not just make plays, but get opponents to the ground and put a better product on the field? On Tuesday, he responded in the affirmative without hesitation.
"I have belief in the guys," Kwiatkowski said. "I've watched what they've done over the last year. I know what they can do well, and when they didn't do something well it had nothing to do with want-to. I 100 percent believe these guys can do what we want them to do."
He has belief, but the last sentence of his answer illustrated many Texas fans' commonly-held thought about his defense entering the 2022 season.
"We've just go to go out and prove it," Kwiatkowski said.