Predicting Texas' season-opening, season-ending offensive line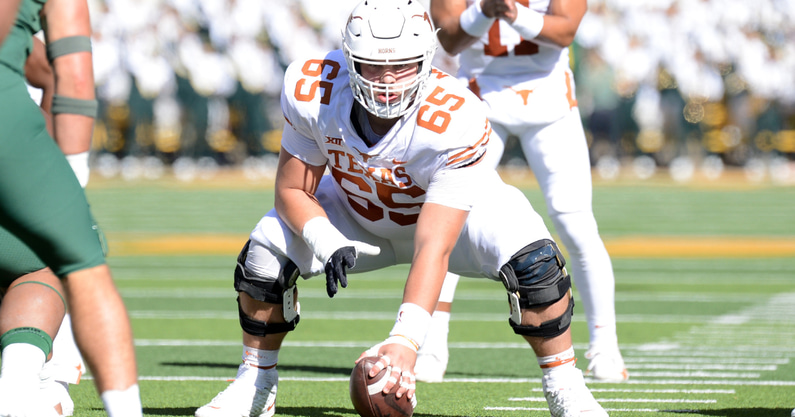 This is the year before the year in large part due to the offensive line. Offensive skill players give Texas a chance to make waves and hang points on anyone, but the O-line, along with concerns on defense, likely put a firm ceiling on the season at around 10 wins.
[Get a FREE 7-day trial of Inside Texas Plus!]
While the true freshman offensive line class garners most of the headlines, outside of Junior Angilau and Christian Jones, this is a young and inexperienced line. Alas, there is talent to work with, and as we've learned countless times before, there's an intersection where talented inexperience trumps limited yet experienced players. Where those points meet at each position will be one of the big subplots of the season, e.g., how soon can Kelvin Banks, Devon Campbell, or Cameron Williams beat out older players?
Before you get into predictions of who will start and where, it's important to mention what players can do, starting with their best fit first. Getting the best five in the right position is a key to maximizing offensive line play. This was a lacking element throughout the lost decade but it is an issue that will be properly addressed by the end of this season.
Roster
SR Junior Angilau: OG
SR Christian Jones: OG, RT, LT
SO Andrej Karic: RT, LT, OC, OG
SO Jake Majors: OC
SO Hayden Conner: OG, RT, LT
SO Jaylen Garth: RT, LT
SO Sawyer Goram-Welch: OG, OC
RS FR Logan Parr: OG, OC
RS FR Max Merril: OG
FR Cole Hutson: OG, OC
FR Kelvin Banks: LT, RT
FR Cameron Williams: RT, OG, LT
FR Devon Campbell: OG, RT
FR Neto Umeozulu: OG, RT
FR Connor Robertson: OC, OG
FR Malik Agbo: OG, RT
If you agree with that assessment, you'll see there is a surplus of everything except left tackle. It's not a matter of if, but when Banks wins that tackle spot. I'm not sure it will be for the first game, though that's my inkling as of now.
To start the season…
LT Kelvin Banks
LG Junior Angilau
OC Jake Majors
RG Hayden Conner
RT Christian Jones
Alternatively, Conner could play left tackle, or they could flip him and Jones given Jones is a much better run blocker than pass blocker. I think if they were going to do that, though, they would have showed it in the spring.
You want Banks paired with a complementary, experienced part, but I'm not 100% sure you'd prefer Angilau next to Banks over Conner. But you can't really put Angilau and Jones next to each other unless you're just going to run it all day long, and we know that's not going to be the case.
To end the season…
LT Kelvin Banks
LG Junior Angilau
OC Jake Majors
RG Hayden Conner
RT Cam Williams 
That's a big line, with Angilau being the smallest non-center.
As hard as it is to not list Campbell as a starting guard it's harder for me to see the staff sitting Angilau or Conner. Campbell will play, but will he start? Not 100% sure as of now.
This is by far the hardest this errand has ever been to run. Not only have I contemplated listing Campbell as a starter, but also Hutson and Umeozulu. I also contemplated having Karic listed as starting the season at left tackle.
Conner is the player who makes this exercise most difficult. He's going to play, but it could be at either guard or either tackle spot. It's not unrealistic he could start the first game at left tackle or right guard. That's not a common occurrence. 
This season followed by spring ball will provide us with a lot of clarity for the line going forward, but as of right now, this is, indeed, a fool's errand.