Quarterly report: Using PFF College grades, stats to assess the Texas Longhorns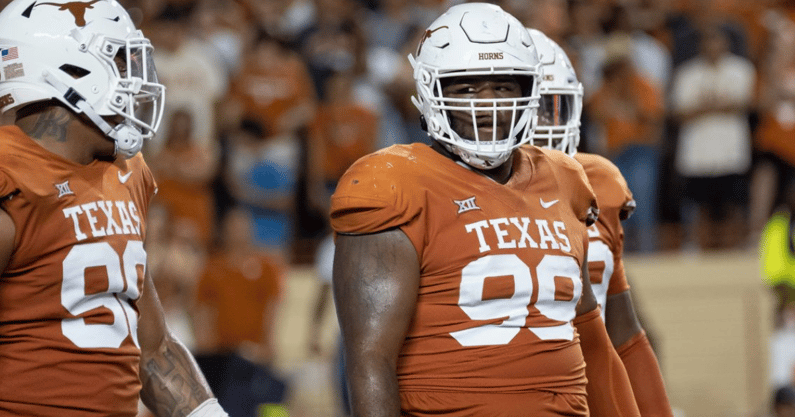 Inside Texas has already issued grades to the Texas Longhorns' offense now that one quarter of the season is in the rearview mirror, with defensive grades to come. There are other evaluation metrics available to On3, including data from Pro Football Focus.
[Get ONE MONTH of Inside Texas Plus for $1!]
Against two overmatched Group of Five teams and an elite program like Alabama, the Longhorns have played plenty of good football and boast an overall PFF grade of 90.8. The offense was issued a grade of 73.4, while the defense and special teams units each received marks of 82.5. How that adds up to 90.8 isn't clear, but it does emphasize the high baseline the Longhorns have shown so far, even with varying qualities of opponent.
There have been individual standouts, too, like Roschon Johnson, Bijan Robinson, and members of the Longhorn defensive line. There are also a few curious tidbits woven into the data PFF College provides.
In another quarterly report, Inside Texas uses PFF information to paint the picture of the Longhorns' first three games.
Top 5 offensive players, minimum snap count of 50
1 – Roschon Johnson, 82.9
2 – Bijan Robinson, 82.2
3 – Quinn Ewers , 71.5
4 – Jordan Whittington, 71.3
5 – Xavier Worthy, 67.9
The next five: Hudson Card, Christian Jones, Kelvin Banks, Ja'Tavion Sanders, Jake Majors
It should not be a surprise that Johnson and Robinson lead the way considering the elite skill and talent at the top of the Texas running back room. Robinson played as much as he needed to against ULM, but had a difficult day versus Alabama for reasons both under and beyond his control. Johnson has played as an efficient sidekick, and both have done well in all aspects of the position.
Ewers' solid debut and electric first quarter versus Alabama has him third. Whittington and Worthy round out the top five that is composed of all skill players and no offensive linemen.
Top 5 defensive players, minimum snap count of 50
1 – Keondre Coburn, 80.1
2 – Byron Murphy, 79.3
3 – Moro Ojomo and DeMarvion Overshown, 77.0
5 – D'Shawn Jamison, 73.3
6 – Barryn Sorrell, 71.6
The next five: Jaylon Guilbeau, Jerrin Thompson, Jahdae Barron, T'Vondre Sweat, Ryan Watts
Interior defensive linemen claim the top three spots, with Ojomo splitting third with Overshown. Players at these positions were often non-factors last year, but this year they are making plays for themselves and to set up plays for others.
Jamison has been dinged up, and a penalty wiped away what would have been a touchdown against him at the hands of UTSA. But there have been several pass breakups and good plays in coverage from Jamison despite missing some time due to injury.
Sorrell's presence is another example of the strides made by the defensive line.
Three for special teams, minimum 10 snaps
1 – JD Coffey, 82.4
2 – Michael Taaffe, 81.7
3 – D'Shawn Jamison, 78.3
Coffey barely meets the threshold, with eight of his 10 snaps on kick return. Taaffe is on kick return, kick off, and punt return. Though a walk-on, he's a football player and a valuable one for Jeff Banks' phase of the game. Jamison isn't returning kicks this year, but his punt block in week one and solid work since has him in the top three.
Highest tackle percentage
These are players that PFF determined made over 85 percent of their tackle opportunities: Barryn Sorrell, Jerrin Thompson, Ovie Oghoufo, DeMarvion Overshown, Jamier Johnson, JD Coffey, Byron Murphy, Prince Dorbah, Vernon Broughton, T'Vondre Sweat, Keondre Coburn, D'Shawn Jamison
Yards after catch leaders
1 – Jordan Whittington, 86 yards
2 – Bijan Robinson, 79 yards
3 – Ja'Tavion Sanders, 73 yards
Whittington has always been dangerous with the ball in his hands, and working from the slot gives him the opportunity to take advantage of two-way go's. He also has been proficient as an X receiver when the Longhorns go into 12 personnel. Robinson being just behind him is no surprise thanks to the volume of short, quick passes he gets out of the backfield. The same goes for Sanders.
Curious offensive stat
Xavier Worthy has graded well, but he has 11 receptions on 23 targets and no touchdowns. When he does catch the ball, it's for a big gain. His average yards per reception is 14.7 and his average depth of target is 22.7 yards downfield.
However, despite PFF listing Worthy as having zero drops of on-target passes, the film shows there have been several catchable balls that No. 8 has not hauled in this year.
It took the first quarter of the season last year for Worthy to get going, with nine receptions for 146 yards and one score in the first three games of 2021. Then, he broke out with five catches for 100 yards and three scores in game four versus Texas Tech. Could the same happen this year?
Most pressures
1 – Keondre Coburn, 10
2 – Barryn Sorrell & Ovie Oghoufo, 9
4 – Moro Ojomo, 8
5 – T'Vondre Sweat and DeMarvion Overshown, 5
PFF defines "pressures" as a sack, hit, or hurry. It's hard to determine what these numbers were like last season, and areas needing improvement still exist for Bo Davis' group. But Coburn, Sorrell, Oghoufo, and Ojomo, all four of them starters, speaks to a measure of improvement in rushing the passer.
Most pressures allowed
1 – Cole Hutson, 6 with 1 penalty
2 – Kelvin Banks and Christian Jones, 3 apiece with two Banks penalties and one Jones penalty
4 – Jake Majors, 2 with 2 penalties
5 – Bijan Robinson and Roschon Johnon, 1 apiece with one Johnson penalty
Playing offensive line as a freshman is tough. Hutson is learning on the fly what it's like to face FBS athletes under the bright lights of Saturday night, but to his credit his best game grade-was was against the Crimson Tide.
Banks and Jones each with three pressures is a mark the Longhorn coaches will happily accept from the tackle position.
Majors had one hold and one illegal snap.