Recruiting notes: Jordan Renaud, BJ Allen, Dylan Raiola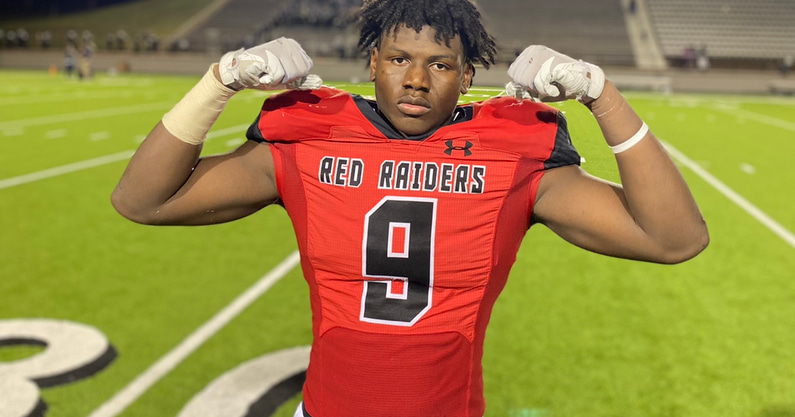 Inside Texas was on-site Thursday to watch a prospect-heavy matchup between Allen and Tyler Legacy and Friday to watch Texas commit BJ Allen and Aledo take on Burleson.
Jordan Renaud
After a tough loss against the 6A No. 15 Allen Eagles, Inside Texas caught up with 6'5″ Tyler Legacy defensive lineman Jordan Renaud.
"Allen is a really good team and they gave us a ton of good competition before we make a run in the playoffs," Renaud said. "My biggest takeaway was that I've got to stay more disciplined and keep my pad-level low. They use a ton of tempo so it was a good learning experience."
Renaud was in attendance for the Texas vs. Louisiana game in Austin and came away impressed with the gameday experience.
"Texas was an amazing atmosphere," said Renaud. "They do a great job rallying around their team and they're a powerhouse program."
With Texas head coach Steve Sarkisian and defensive coordinator Pete Kwiatkowski in the building for Thursday night's game, Jordan wanted to show out.
"I was really excited that they were here," Renaud said. "Coach Sark is an amazing coach and Texas has a great defensive line."
While Renaud feels the love from Texas, the team to beat right now could be the Oklahoma Sooners.
"Coach Grinch is my primary contact for OU," said Renaud. "OU is one of the best to ever do it. I'm excited to get up there for a visit. Coach Grinch is probably the most charismatic coach I've met and he's an extremely hands-on teacher."
BJ Allen
Texas commit and Aledo safety BJ Allen had a relatively clean night as the 5AD2 No. 1 Aledo Bearcats dismantled the Burleson Elks 56-14.
"We knew their offense was legit so we never lost focus during film," said Allen. "We handled business and it's time to move on to the next one."
Allen recently visited Texas for the opener against Louisiana.
"It was great being at my future home with my family," said Allen. "The visit was incredible and I can't wait to get to campus."
The No. 96 player in the 2022 On300 has embraced his role as one of the class leaders for the 2022 recruiting class.
"I talk with commits and members of the staff every single day," said Allen. "We've all gotten really close and they already feel like teammates."
While BJ talks to all members of the Texas coaching staff similar to Derrick Brown, one relationship, in particular, stands out.
"Coach Gideon and I are really close," said Allen. "I have a great relationship with basically everybody on the staff but I probably talk to Coach Gideon the most."
Dylan Raiola
Inside Texas members who follow recruiting closely know how big of a fan I am of 2024 Burleson quarterback Dylan Raiola.
The signal-caller is the son of former Detroit Lion center Dominic Raiola and plays under former NFL QB Jon Kitna at Burleson.
While the Elks were clearly outmatched against TXHSFB blue-blood Aledo, Raiola hung in the game and still made plenty of "wow" throws that showed his impressive arm talent.
Although it's early in the recruiting process for the 2024 QB, sources have told Inside Texas that some schools standing out for Raiola are Georgia, Clemson, Oklahoma, and Texas.
Texas head coach Steve Sarkisian impressed the Raiola family on an early trip to Austin in June, however the Horns need to show an enticing on-field product sooner rather than later to remain in the mix.
Raiola is scheduled to visit Oklahoma today for their matchup against Nebraska.