Roschon Johnson, invaluable on the field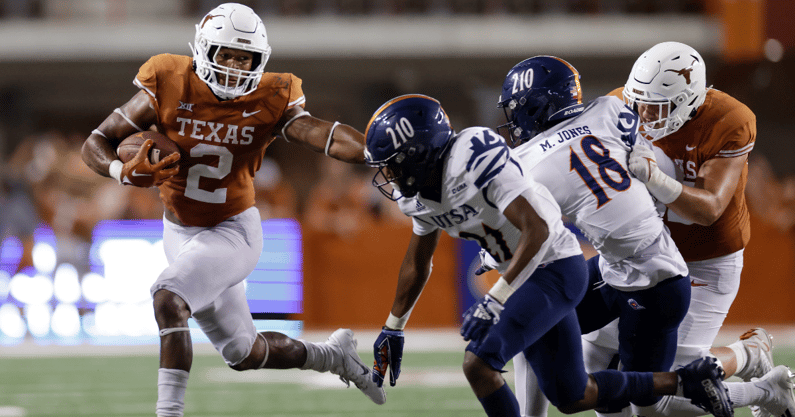 Texas running back Roschon Johnson's locker room presence is unquestioned. Even Longhorn head coach Steve Sarkisian has called Johnson an "alpha," and praised his ability to lead the 2022 Longhorns while not receiving a starter-level workload.
[Get ONE MONTH of Inside Texas Plus for $1!]
His leadership is crucial to Texas's fortunes, but so too is what he does on the field. Since the top two quarterbacks on the UT depth chart, Quinn Ewers and Hudson Card, were banged up in the Alabama game, the Texas rush offense has taken a leading role. That proved true against UTSA, when Johnson was part of a 300-yard effort on the ground.
Bijan Robinson may take center stage, and with good reason. He is elusive as can be and can turn on the burners when needed, even while nursing his own bumps and bruises. But Johnson is a formidable sidekick, and has even seen his role expand in light of recent quarterback health questions.
Against UTSA, Johnson accumulated 104 of the Longhorns' 459 total yards. He scored the first touchdown of the game on a pass out of the backfield from Card, eluding defenders and tip-toeing his way into the end zone. He played a part in the go-ahead score early in the third quarter, running the Wildcat package and executing his assignment, making the right read in handing the ball to Robinson.
That decision resulted in Robinson's 78-yard run, the longest of his career.
As important as Johnson is to the team's mental psyche, his effect on the game between the lines is just as valuable. Sarkisian spoke Monday about how notable Johnson's performance on the field has been through three games.
"Roschon is an extremely valuable player for us," Sarkisian said. "You touched on the leadership and that goes without saying, but what he's doing for us offensively, his ability to run the football on called runs, his ability to block when he's back there with Bijan, his ability to operate the Wildcat and it look so seamless and normal – we're not just running 1-2 Wildcat plays a game, we've got a whole slew of plays out of this thing that he operate very comfortably – and then what he does on special teams for us, which a lot of times goes unnoticed."
"He's putting on a clinic every Saturday running down on kickoffs, the way he covering kickoffs, what he does on our punt protection team, he's back there as an off returner or returner on kickoff return. So this guy is invaluable to our program on a lot of levels. I'm really happy for Ro. He puts in a lot of work."
Since Ewers left the Alabama game at the end of the first quarter, Texas running backs have rushed 64 times for 397 yards. Most of those yards came against UTSA as the Longhorns struggled on the ground versus the Crimson Tide.
But those 64 carries speak to the workload Texas placed on its running backs while working to get both quarterbacks as close to full-health as they can be. That workload is a challenge Johnson believes his position mates can handle.
"We fully believe in the capabilities of the RB room," Johnson said. "Whether that be two-back, three-back, it doesn't really matter. We believe we can move the ball down the field with the guys that we have."
No matter who is under center on Saturday in Lubbock for Texas' matchup with Texas Tech, Sarkisian will rely on the run game to help open things up for the passing offense. Robinson may get most of the carries, but Johnson will play a key role in multiple phases, as he always does.
"We wouldn't be where we're at today without him, as a program or as a team, this season," Sarkisian said.