Run game report: West Virginia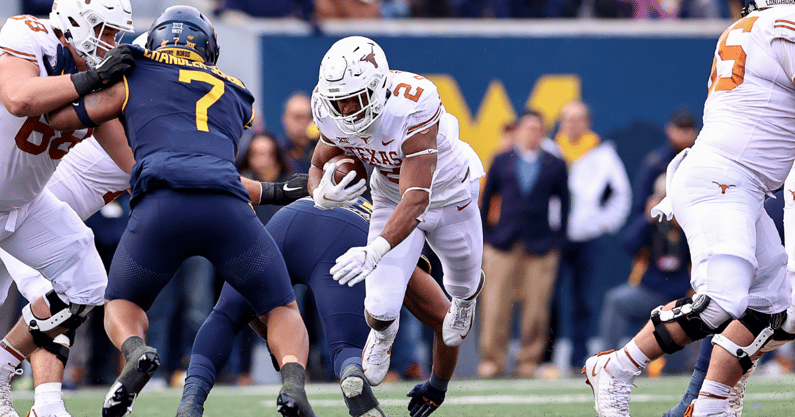 Texas' run game, after accounting for sack yardage, ran the ball 26 times on West Virginia for 206 yards at 7.9 ypc with two touchdowns.
They did this without Bijan Robinson and without potential star freshman Jonathon Brooks and they did it against one of the better defensive fronts in the league. Naturally they lost the game and were never in control.
The Big 12's move toward a more "run the ball and play defense" approach is a potential boon to a school like Texas, who will tend to have bigger and better athletes up front as well as better depth than most of the rest of the league. Last year their final few opponents also gave out up front and got trampled by Texas and Bijan Robinson. Naturally Texas found ways to blow this advantage and didn't experience it in the first place on defense, where their 3-4 defense with no linebackers continues to struggle.
Here's how the damage was done on the ground for Texas.
Power versus spacing
Texas was very effective in 12 personnel in this game but the 11 personnel sets included a few different outside zone plays which wrecked the Mountaineers for gains of 49, 19, and 13 while otherwise producing solid gains in the 5-7 range.
This team's best play was outside zone from the gun in 11 personnel, which they could run in a few different ways.

This line blocks outside zone well, nothing new there, but they routinely execute it against even the better defenses on the schedule.
The nice part about the outside zone game from 11 personnel is the degree to which it doesn't depend on RPOs. Teams are pretty good at crowding up the smashmouth run schemes and denying the offense from opening the intended lanes but on outside zone, there is no intended lane and the defensive front often gets beat somewhere because they can't focus on a single point.
They were also having success in the power game though, double teaming ends with Jared Wiley and a tackle, kicking out a linebacker with Cade Brewer, and leading with a guard.
Not being dependent on RPOs was useful in this contest, the Longhorns ran a number of them and did so pretty poorly.

Sequences like this are illustrative of how much untapped upside exists for this offense in 2022. Xavier Worthy has BARELY been involved in the RPO game, neither Casey Thompson nor Hudson Card have mastered the cat and mouse game with defenses nor established the sort of "pick'n'roll" rapport with the wideouts which makes the system hum, and Texas hasn't fully committed yet to the system.
It's hard to overstate how much the offensive line and run game will be boosted if/when Texas is routinely able to get Xavier Worthy running adjustable routes on their run schemes. If they can consistently hit them, defenses will have to give up on disguising and just endure the beating from the run game going against lighter boxes.
Run defense?
I was asked earlier today, "why do you think Pete Kwiatkowski attracts so much more vitriol than Todd Orlando did?"
I think the answer is very simple. Orlando was aggressive and often stopped the run. Sure, he'd give up 300, 400 passing and Texas would get run off the field and have little chance of winning, but by God at least there were men in the box. So went the reasoning, I suspect.
Pete Kwiatkowski has a more manly approach, in my opinion, trying to hold up in the box with fewer numbers with requires a strong front, real toughness (physical and mental), and technique.
The problem is Texas is terrible at it, so they bleed away on long drives and fans become irate watching their defense fail to get off the field because they can't withstand the pounding.
Different day, same issues against West Virginia.

West Virginia runs lead outside zone to the field in example one (a play Kansas CRUSHED Texas with) and then Y-counter to the boundary on example two (COUNTER!!!!). I'd like to pause to note that the running back's alignment tips the play, pistol means outside zone, but you'll see no such recognition from the linebackers.
Let's break down why Texas gives up good gains on both as a microcosm for why they are bad on run defense in general.
Example one…

On the one hand, there's some understanding to be had for getting caught bringing a boundary corner blitz opposite an outside zone run to the field. On the other hand, observe what happens when a second team D-line (T'Vondre Sweat, Vernon Broughton, Jett Bush) are in there trying to protect the linebackers.
BOTH linebackers fail to read the play properly and get reached. I don't even know what Will linebacker David Gbenda is doing… he appears to be trying to secure cutback lanes which are being rushed by both the Buck linebacker (Ben Davis) and boundary corner blitz. It's pistol, David, and the quarterback is turning his back. Those indicators should be screaming "fast flow outside!"
West Virginia DOUBLE TEAMS Jett Bush here and their right guard has time to combo Sweat to the center and then still reach Jaylan Ford and keep him from even getting outside of the tackle box.
When your opponent is doubling Jett Bush at the point of attack and no one is making them pay for this resource allocation, you're in trouble. Much like against Kansas, the back never even has to cut or change direction, it's a straight shot to the edge.
Example two…
West Virginia tests the Longhorns' counter defense. Texas is in an Under front with a shade nose now and they show a normal quarters coverage before dropping the field safety down late to support the run.
With the field safety coming late, the linebackers help is to the field, they need to know that and aim to turn the ball back in. They don't behave as though this was the case.
Ben Davis looks to spill the ball outside rather than containing… and Will linebacker Gbenda plays it downhill as though Davis were containing the ball inside and he was going to be blowing up the lead block by the tight end. Both linebackers end up crashing into the guard and the tight end goes around the edge with no one to block (he looks and nearly finds Jaylan Ford).
Inside things are going better, the Mountaineers don't double team Vernon Broughton initially and he holds the point and helps keep Jaylan Ford clean, Ford figures things out and arrives over the top but can't make the tackle and the defensive backs have to clean up.
Ideally everyone would be playing on a string with Davis spilling, Gbenda turning the ball back inside, and then Ford and J.D. Coffey cleaning up.
Texas rarely plays on a string on defense. Virtually never. They have a dozen ways to play different schemes and fronts and they rarely get them right. It was actually better earlier in the season, which speaks to a lack of buy in and some "going through the motions" from players who aren't playing with trust and focus amidst the losing streak. You also wonder how many different rules and schemes they've been taught by the defensive staff, perhaps trying to find the right defenses to play with this personnel or else hoping the multiplicity will confuse offenses more than their own players. They were boxing counter earlier in the year, now they're spilling it?
I could do some similar exercises on pass defense from this game (also horrendous for similar reasons) but y'all get the idea.
This defense badly needs a simplified spring install of a base scheme which suits the personnel who will actually be on campus. These players can play considerably better than we've seen if they were playing together.