As Sark prepares for his first Red River Shootout, so do many Texas players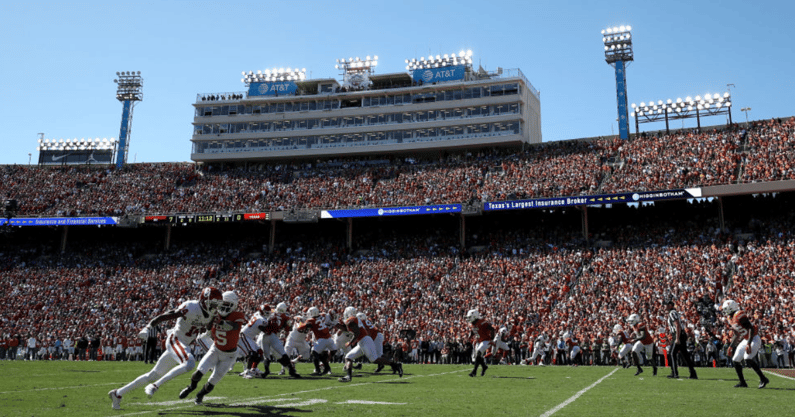 It will be an oft-repeated statement this week, but it is one that holds true; there is nothing quite like the Red River Shootout.
About 46,000 fans decked in burnt orange will sit on the northwest side, while another 46,000 or so will sit on the southeast side donning crimson and cream. Noise constantly emanates from one part of the stadium, and the source of that noise can flip instantly depending on what happens on the field of play.
[Get 50 percent off Inside Texas premium access! Subscribe here]
For someone like Texas head coach Steve Sarkisian, who repeatedly mentions how big a fan of college football he is, the Red River Shootout provides an atmosphere he cannot wait to be a part of for the first time.
"I'm fired up for the game," Sarkisian said at his Monday press conference. "You guys know me well enough. I love the pomp and pageantry of college football. I love the history. I love the nostalgia. To think this is the 117th time these two schools are meeting, that's a crazy number. From that aspect of the State Fair, all that stuff, I'm looking forward to it."
Sarkisian is in a similar situation to many of his current players. As someone entering his first Red River Shootout, there is some degree of mystery as to what he is about to experience. The same holds true for several first-year Longhorns on his roster, whether that be a true freshman like Xavier Worthy or a graduate transfer like Ray Thornton.
In 2021, the unique circumstances of the previous year means there are also plenty of second-year players who have not truly experienced what the annual matchup between Texas and Oklahoma is like.
"It's one of the greatest atmospheres in college football," Texas defensive lineman Moro Ojomo said Monday. "It's a special moment, and we're just excited to get a chance to compete."
During the thrilling 2020 edition of the game when the Sooners won 53-45 in quadruple overtime, the entire crowd was on edge and involved, especially from the moment Texas' 14-point fourth-quarter comeback began.
The only thing is, the announced attendance was a paltry 24,000 due to pandemic restrictions. And that 24,000-person figure was split between the fans of the two schools.
Those restrictions are no longer in place for this year's matchup between the No. 21 Longhorns and the No. 6 Sooners. Unlike last year, the State Fair of Texas is open. Fletcher's will sell its corny dogs, and fans from both sides of the Red River can gorge on delights such as deep-fried pancakes.
When 11 a.m. arrives on October 9, the 91-year old stadium will be rocking like it has been for all but one of Texas' tussles with Oklahoma.
"It's very exciting," Texas linebacker DeMarvion Overshown said Monday. "It feels like college football again. You come to Texas for these moments like this. The Texas-OU game, everybody's looking forward to it every season."
Some players, like Longhorn running back Bijan Robinson, had their first taste of the Red River Shootout last season when only 24,000 were in the stands. Robinson said Monday his older teammates told him a year ago the experience was not going to be the same as when the Cotton Bowl is at full capacity.
After notching only seven touches in the quadruple-overtime game last year, Robinson understands this Saturday will be different not because of his newfound workload, but also the gameday experience. "This is my first one," he said Monday.
Though it is the first foray in Dallas for many Longhorns, they aren't walking in completely blind to what a raucous environment entails. They overcame 43,337 hostile TCU fans at Amon G. Carter Stadium on Saturday in what has the potential to be one of Texas' last trips to Fort Worth before departing for the Southeastern Conference.
Earlier in the year, they succumbed to Arkansas in front of one of the biggest crowds in Donald W. Reynolds Razorback Stadium history, letting them know what opposing crowds can accomplish. That experience should alleviate some of the potential nervousness concerns for players heading to their first real rendition of the rivalry.
"I think guys aren't going to be as shell-shocked in the moment as maybe we had a little bit in Arkansas," Ojomo said. "We're going to be ready. We're going to be able to drown out the noise, drown out the situation, and try to be the best football team on the field."
And for Sarkisian, who is trying to become the first Texas head coach since Mack Brown to win his Red River Shootout debut, he believes the outcome will be dependent on who is best prepared ahead of toe meeting leather.
"We've got work to do," Sarkisian said. "We need a good week of preparation to make sure that we put our best foot forward Saturday at 11 a.m."