Sarkisian versus Gundy setting up as must-see television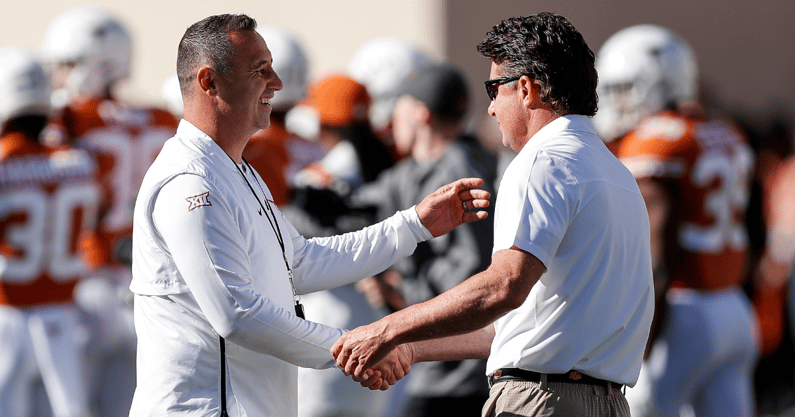 The defensive coordinators in Saturday's game between Texas and Oklahoma State are well credentialed. 
Oklahoma State's Derek Mason earned his reputation at Stanford after initially being hired as cornerbacks coach by Jim Harbaugh. When Harbaugh departed and David Shaw took over, Mason was elevated to co-DC then sole DC. In college football circles he became a household name and succeeded James Franklin at Vanderbilt. The fit made sense, but Vandy's a tough place to win. After 6.5 years, Mason became a coveted coordinator candidate, but made the mistake of agreeing to terms with Auburn and Bryan Harsin. One season on the Plains was all it took for Mason to seek a plane in search of more stability. For all his seeming instability, it doesn't get much more stable than Mike Gundy at Oklahoma State. Only three other coaches have more wins at their current stop, Nick Saban, Dabo Swinney, and Kirk Ferentz.
[Get FOUR MONTHS of Inside Texas Plus for $1!]
Texas' Pete Kwiatkowski has been oft-maligned in his first 19 games at Texas but he arrived with a sterling reputation for coordinating defenses at both Boise State and Washington. Despite a lingering issue or two from a difficult first year, his defense is clearly improved this season, suggesting maybe PK didn't forget how to coach defense after all. Adjusted metrics (DFEI No. 9), results (No. 21 in scoring defense), and player development suggests he has sound processes in place.
Texas' defense is actually better than Oklahoma State's this season, which seemed unfathomable a year ago when a Jim Knowles led defense ended up as one of the nation's best. Knowles left, many key players did the same, leaving Mason a difficult but not impossible task to put a decent defense on the field in his first year.
While the defensive coordinators are (or, at least should be) well regarded, Saturday will feature two of the best offensive minds in college football. The so-called game within the game will feature Steve Sarkisian and Mike Gundy trying to outwit the other on the 1-acre chessboard. 
Just looking at last week's contests — Texas versus Iowa State and Oklahoma State versus TCU — gave each head coach plenty to ponder when finalizing their game plans.
In UT's game, Mike Gundy will have observed PK's myriad issues in pass defense: players losing assignments in bunch formations, poor route recognition, inability to defend at the sticks, and uncharacteristic (for this season) coverage busts. Despite UT's secondary being back to full health this weekend, all those issues and then some will be tested this Saturday. 
Oklahoma State's slot receiver driven passing game sets up pretty well against UT's weaknesses. Of course, Gundy will have also observed it will be difficult to run the ball (Texas allows 3.28 yards per rush), and he'll have to weigh the risks and rewards of letting quarterback Spencer Sanders tote the rock against a pretty fast and physical defense. Expect delays, draws, screens, and perimeter passing in place of a traditional running attack, especially given the Ok. St. issues along the offensive line.
Sark will have made his own observations off last Saturday. Derek Mason's group isn't up to the task to play Texas straight up. They'll have to pick their poison to defend the run or the pass. More often than not against TCU they elected to defend the pass, and still gave up 180 yards to star TCU receiver Quentin Johnston. At the same time, the Horned Frogs offense was also able to run the ball after they passed their way back into the game. This week Mason will likely devote numbers and focus to Bijan Robinson, but so does everyone else.
Sark could elect to spread Oklahoma State's defense out to see what they'll give him and quarterback Quinn Ewers. Texas has numerous options underneath and in the run game if TCU consistently devotes a safety over the top of Xavier Worthy. Despite Oklahoma State's quality defensive line, they're better as pass rushers than run defenders. That strength should meet resistance as Texas' O-line has pass protected quite well this season. If Ewers has time, Texas could create a lot of trouble with deep crossing routes and other slower developing pass plays along with hitting the running backs in space. Unlike last year, Texas has numerous complementary weapons who are as talented as primary weapons in Jordan Whittington and Ja'Tavion Sanders.
The easiest path to victory for Texas will be if they can pound the rock with Robinson and Roschon Johnson and then go over the top to Worthy. These are Sark's preferences to begin with and it's not out of the question Texas could experience success in this regard. It's more likely Sark will have to call a game that creates those advantages more creatively and punishes Ok. St. for overplay.
While Texas holds many of the matchup advantages from a talent perspective, this could become a play callers game where Gundy is as good as anyone scheming advantages and attacking weaknesses. Of course Sark excels in that department as well. If he wants to earn his second road win since his arrival at Texas, and to continue the Revenge Tour, he's going to need to be his own greatest ally in a hostile environment against a worthy chess master.