Steve Sarkisian's Texas: Run game, defense, and special teams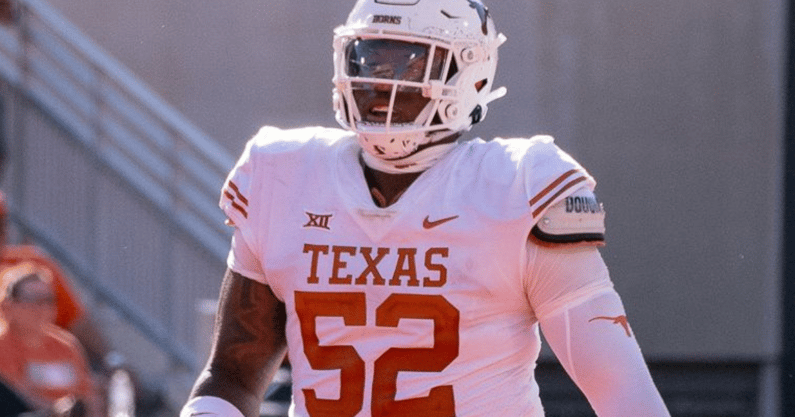 Steve Sarkisian is developing a bit of a reputation right now for being stubborn and inflexible. The reason for this reputation is his emphasis on trying to connect down the field on play-action in the passing game despite weak returns.
[Get a FREE 7-day trial of Inside Texas Plus!]
This team was defined and powered this season by the run game, defense, and special teams. For all the #AllGasNoBrakes branding and emphasis on quarterbacks and passing game, it's been those more basic fundamentals which made this a winning team. The attempts to connect in the passing game have been borne out of a need to protect the run game more than a stubborn insistence from Sark on being a high-flying offense.
Special teams, the run game, and defense have all come along faster than the passing game, which is frankly unsurprising. Special teams was a quick fix, just a matter of proper emphasis and involving the team's best players more regularly. The run game is an easier fix, especially if you have someone like Bijan Robinson involved. A top passing game takes time to develop, as does a great passing defense. The Longhorns are closer to being great at the latter than the former. Let's talk about their current place of development in these different phases in light of the win over Kansas.
Who gets credit on defense?
As Eric Nahlin detailed yesterday, and is surely obvious to even casual observers, Texas is a lot better on defense this season. Naturally the thread after Eric's column centered around the question of who to credit for the turnaround.
Pete Kwiatkowski was certainly aided by "special assistant to the head coach" Gary Patterson but if there's a Kwiatkowski who's seeking credit in the press the Patterson addition wasn't an amazing development. Patterson seems likely to move along after this season. In such a case, even Texas fans who aren't on team PK or team GP would probably like to understand the outlook for continued success without the former Frog patrolling the sideline.
So let's work through what has changed from 2021 and why the unit has been so much better. They had four main issues a year ago which limited the unit, aside from being left on the field by poor second half offense.
Poor inside linebacker play
No pass-rush
No edges in the run game
Off zone coverage which failed to trouble teams in high leverage passing situations.
The inside linebacker play improved dramatically and primarily because of the emergence of Jaylan Ford from promising back-up into a full-fledged, All-Big 12 caliber Mike. That was a pretty natural trajectory for Ford, who flashed natural Mike skills as far back as the 2020 Alamo Bowl, but Jeff Choate oversaw it and Choate was a PK hire.
The pass-rush improved substantially, even if it still wasn't great. The main reason it got better was the growth of sophomore Barryn Sorrell, whom PK developed.
Texas' edges in the run game were arguably the biggest point of improvement across the entire team. They went from a unit Oklahoma could beat simply by running GT counter into a squad which devoured opposing rushing attacks. Again, Sorrell was notable here and PK's other charge Ovie Oghoufo also made significant strides. By the end of the year their back-ups were Justice Finkley, an Edge recruited by PK, and Devin Richardson who was moved to the position. Most of the credit for transforming the Edge roster from "Jett Bush and some 3rd string transfers" to what it was this season goes to PK.
Finally, Texas installed a new coverage plan on the back end. They moved away from the off zone coverage, recruited Ryan Watts from the transfer portal to lock down a newly created boundary cornerback position, moved Anthony Cook to free safety from "Star" (nickel), moved promising corner Jahdae Barron to Star, and installed flat-footed quarters coverages to serve as the base scheme.
All of the new schemes were incorporated within the existing defensive playbook, which is PK's, but obviously a lot of these changes came from Patterson's recommendations. Technically Terry Joseph is a quarters coverage man himself and Blake Gideon is no stranger to the system, but it was Patterson's arrival which cemented a lot of these changes as the primary course on defense.
The only fair assumption from the outside looking in is to say that Patterson was likely instrumental in helping develop a new approach in the secondary to fit within PK's overall system while PK developed key positions and successfully incorporated the changes. How will things go if/when Patterson moves on for a defensive coordinator or head coaching job after this season? Probably pretty well, maintaining what's already clearly working should propel them at least another year.
The future of the run game
Texas' future maulers looked extremely promising paving a way for both Bijan and Jonathon Brooks to go over 100 yards and 9.0 ypc against the Jayhawks.
"It was great to see them," Sarkisian said about his freshman O-line. "I saw a lot of highlight-type things and a lot of 'man, we can build off that.' Also saw, not a lot, but some inconsistency in there, which is understandable for some of those guys' first time in real action playing. Those game reps are invaluable when you actually have to be out there on the field and do it against quality people. I think it's going to be good for them and their future."
Freshman right guard DJ Campbell got in on the action earlier than the other non-starting freshmen and put in this rep (amongst others) while blocking for Brooks.
Outside zone was always going to be new for most of the Texas freshmen, very few of which worked in an outside zone scheme in high school (save for Neto Umeozulu). As the season progressed and they get involved, they seem to be getting it. Campbell's knack for getting under defenders (6-foot-2) and using his length and power fits very nicely with the scheme.
Meanwhile Kelvin Banks is without equal in the Big 12 conference for sheer mauling and he did amazing work with Gunnar Helm "the hammerhand" in this game, as you see above.
Here's outside zone with the freshmen lineup of Neto Umeozulu-Malik Agbo–Logan Parr-DJ Campbell-Cameron Williams:
In this example, Cam Williams can't hook his man inside but effortlessly shoves him out of the play and Campbell does likewise with the tackle.
Brooks is an exceptional outside zone back, Gunnar Helm is a great combo blocker on the perimeter, and with Banks and Campbell both likely to start next season it won't be shocking if outside zone reclaims its prior emphasized role within the offense.
Duo will also maintain a big role with all these big men up front.
Admittedly this one is made by Helm and Andrej Karic backside, everyone else covers up their man though and Williams is great at turning a shoulder and shoving a D-lineman aside. This is all just garbage time against a broken down opponent, but the movement skills and increased comfort in the schemes all bodes well for next season. Campbell is starting to put it together with multiple snaps every week while Banks and Helm are already realizing their potential as dominating blockers on the perimeter.
All of the size, talent, and returning experience up front is going to make for a fantastic run game next season. With all of the defensive backs expected to return along with improving talent on the edges, the passing defense should continue to improve as well.
Now if Sark can get his high flying passing game going…