Senior Sendoff: Christian Jones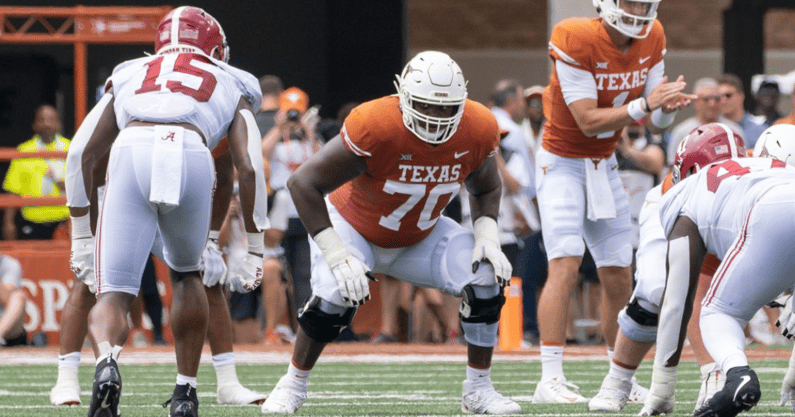 Late in the 2018 cycle, Texas was in pursuit of senior riser Christian Jones. A product of Cy-Woods High School, Jones had excellent measurables and played on both sides of the ball, but his offense was a run-first, run-second, run-third option attack.
[Get a FREE 7-day trial of Inside Texas Plus!]
It would take time for Jones to get the hang of things as an O-lineman at the college level. He has said on multiple occasions that his first pass set was during one of his first few practices at Texas. After a redshirt year in 2018 and contributing on special teams in 2019, Jones earned a starting job ahead of the 2020 season at right tackle.
He switched to left tackle for 2021, but struggled immensely protecting the blindside. Prior to 2022, he switched back to right tackle, where his play is at an all-conference level.
"The journey has not been straight at all," Jones said Monday. "It's been very twisty-turny, up-and-down. A lot of phone calls home. It's been great. That's how I want it. I don't want it super easy. I really believe that challenge that I had has led me to this point right now."
"A lot of support from my parents back home telling me I'm here for a reason. Me believing that myself, that was a big part of that process. I'm thankful for it being hard."
Jones looked up to Calvin Anderson and still maintains contact with the current NFL lineman. Anderson had to prove himself at the Power 5 level and had a similar senior year flourish to Jones.
"He told me my freshman year when things were looking real grim, he saw something that not a lot of people saw," Jones said. "I appreciate that. He's a great role model."
Ahead of his final game at Darrell K Royal – Texas Memorial Stadium, Jones knows the primary task is to top the Baylor Bears and put the Longhorns in position to go to the Big 12 title game should Kansas State lose.
Before all that, Jones will soak it all in one more time before dialing in when toe meets leather.
"I'm definitely going to feel the emotion," Jones said. "I'm definitely going to take one big look, but as soon as that's done then I'm locked into the game."
What's Christian Jones' favorite memory?
"OU game this year. Putting the Golden Hat on. That's a feeling I've always wanted to feel. 2018, we won but I didn't really do anything. This time, earning and putting the hat on with the crowd, that was a great memory."