Six Texas Longhorns training camp storylines to follow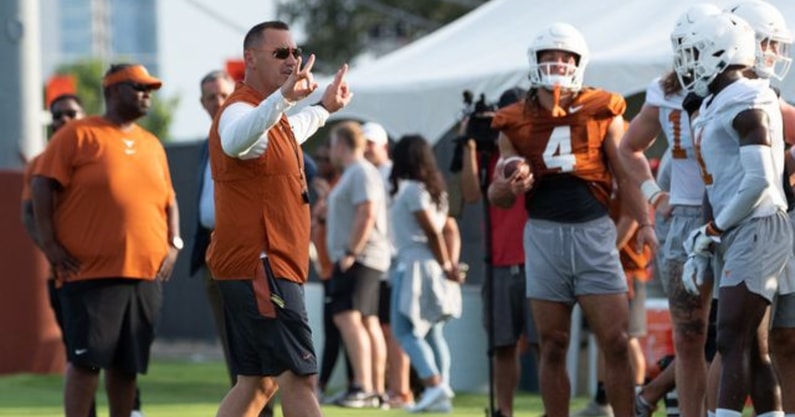 The Texas Longhorns begin preseason training camp with an afternoon practice on Wednesday. After going 5-7 in his first season as head coach of the Longhorns, Steve Sarkisian enters year two riding a good amount of positive press since the 2021 season ended.
[Get a FREE 7-day trial of Inside Texas Plus!]
Texas hauled in high-level offensive talent via the transfer portal and put freshmen offensive linemen to work in offseason conditioning. The offense has exciting prospects in 2022, to say the least.
The defense is a different tale. Pete Kwiatkowski has a lot of pressure on him to deliver something better than the historically bad marks his defenses recorded in 2021.
Plenty of stories will unfold over the course of the next 33 days, but here are six to watch during Texas' training camp.
Quarterbacks
Sarkisian calls the quarterback position the most important in sports, so it follows that the competition between Hudson Card and Quinn Ewers is the top storyline heading into the start of training camp. Card emerged as the starter in last year's competition with Casey Thompson only to relinquish the role a few weeks later. He showed bright spots toward the end of the season until an injury ended his 2021 campaign prematurely. Will he offer consistency and, more importantly, poise that he didn't showcase last year? If he can't, and Ewers' ability to make 'wow' plays is backed up by good decision-making, Card could find himself as the backup once again. Come Wednesday for practice one, Card likely takes the first snap but whether that continues is going to be closely scrutinized.
Another thing worth monitoring is how the competition for the third-string spot shakes out. Maalik Murphy and Charles Wright are the names to know for that race.
Which personnel grouping on offense works best?
The collection of offensive skill talent at Sarkisian's disposal, both home grown and acquired via the transfer portal, should provide the Longhorns with one of the more dangerous offenses in the country. Between Bijan Robinson and Roschon Johnson at running back, Xavier Worthy, Isaiah Neyor, Jordan Whittington, and Agiye Hall at receiver, and Ja'Tavion Sanders, Jahleel Billingsley, and Gunnar Helm at tight end, Texas does not lack for top level offensive talent.
However, only 11 players can be on the field at one time. Is Texas best served by running two tight end sets? Should the top two backs be on the field at the same time? Are there situations where a tight end isn't even needed?
Whatever the dominant personnel grouping is should come from one of 12 personnel (one RB, two TE), 11 personnel (one RB, one TE) or 20 personnel (two RB, no TE). Other groupings are available and could be utilized, but these combinations seem the most likely.
How soon do freshmen offensive linemen move up the depth chart?
Coaches always enjoy emphasizing the need for players to earn their spots in a lineup, no matter how far along they are in the college career. When those careers are just starting, the emphasis usually is on working up from the very bottom.
Texas has talented freshmen O-linemen like Kelvin Banks, DJ Campbell, Neto Umeozulu, and Cam Williams who will begin their careers behind the more experienced players in their position group. How long will it take for any of the freshman to earn a higher spot on the depth chart? Sometimes it takes just one practice, sometimes it takes all of camp.
How will the defense generate more havoc?
In 12 games, the 2021 Longhorn defense recorded seven interceptions, 19 sacks, seven forced fumbles and six fumble recoveries. All that is to say the Texas defense did little to disrupt opposing offenses.
There's no doubt Pete Kwiatkowski needs his defense to do more to throw offenses out of rhythm. What exactly will that entail? Does it mean utilizing depth on the interior defensive line at the expense of some aspects of his scheme? Does it mean playing more base personnel instead of nickel? Where does DeMarvion Overshown need to play to benefit the defense most?
These questions are a handful of the many Kwiatkowski's side of the ball must answer before game one. If the Longhorns are unable to disrupt opposing offenses, then the 2022 defense could resemble the 2021 unit.
What does this new era of special teams look like?
Cameron Dicker is in the NFL and Justin Mader has completed his college career. That means Jeff Banks will need to find a new starting kicker, punter, and long snapper ahead of the 2022 season.
Though those aren't glamour positions, they are still vitally important during the course of a football season. Special teams is where "hidden yardage" resides, and for a team with plenty questions surrounding the defense, any yardage to the Longhorns' advantage helps.
The winner of the kicker battle should be one of Bert Auburn, Gabriel Lozano, or Will Stone. Auburn handled most of the kicking during the spring game. Lozano is a Texas Tech transfer. Stone joins as a strong-legged true freshman.
Isaac Pearson does not have the same type of competition at the punter position. Though the job seems his, there's a lot to prove for the Aussie who has yet to see game action.
Zach Edwards will contend with Lance St. Louis to be the new deep snapper.
Is Ja'Tavion Sanders ready to be TE1?
Sanders did most of his work on special teams last year with a handful of snaps as a regular tight end. Despite his immense talent, the tight end position was one he had to learn the finer points of during camp last year since he played wide receiver in high school. Now with a year under his belt learning from Banks, Sanders is likely at the top of the depth chart and should be a significant contributor on offense this fall.
Sarkisian often says that in his offense, tight end is only behind quarterback in terms of importance. Can Sanders do it all over a 12 game season? Other tight ends like Billingsley, Helm, and Juan Davis do not possess Sanders' physical gifts. Should Sanders pair those gifts with positional know-how, Texas could have one of the top tight ends in the conference.