Texas expected to hire Chris Jackson to fill WR coach vacancy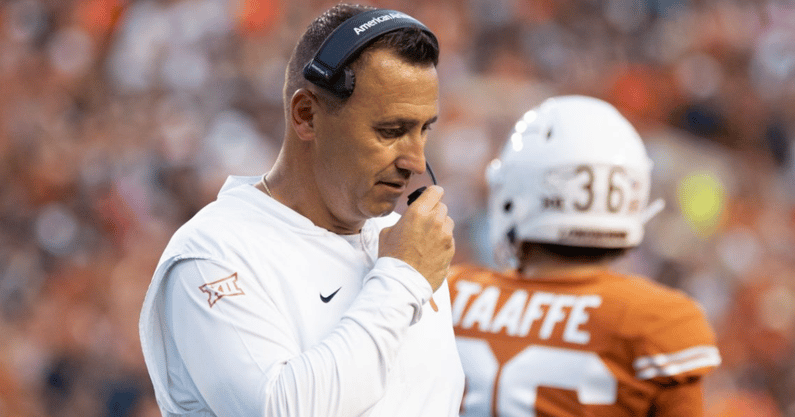 After Brennan Marion left Texas to take the offensive coordinator role at UNLV, Longhorns head coach Steve Sarkisian looked for a coach to help make the most of the talent at the position and found who he was looking for in the NFL. Jacksonville Jaguars wide receivers coach Chris Jackson is expected to join the Longhorns' coaching staff as wide receivers coach, multiple sources tell Inside Texas.
[Get Inside Texas Plus until the start of the 2023 season for $29.99!]
Mia O'Brien first reported the news. Inside Texas had been expecting Jackson to get the job even before the Jaguars' improbable comeback win against the Chargers two weekends ago.
Update: Texas officially announced Jackson's hire as WR coach and passing game coordinator on Tuesday evening.
This past season was Jackson's first with the Jaguars and as a lead position coach. He tutored Christian Kirk to a 1108-yard, 8-touchdown season, also helping Zay Jones and Marvin Jones to seasons with at least 500 yards and three touchdowns.
Prior to his one season on Doug Pederson's staff, Jackson was with the Chicago Bears organization from 2019 to 2021. He was a defensive assistant for the Bears in 2019 before he became assistant wide receivers coach in 2020. In 2021, he helped Darnell Mooney to a 1005-yard season. In 2020, Allen Robinson had 102 receptions with 1213 yards and six scores with help from Jackson.
Jackson had a 10-plus year playing career in both the NFL and in the Arena Football League after his collegiate career at Washington State. He bounced around NFL and AFL rosters before becoming one of the top receivers in the AFL. He was a two-time AFL offensive player of the year, a three-time first-team All-Arena, and a two-time Arena Bowl champion. He had 1004 career receptions for 13,355 yards and 325 touchdowns on the indoor field.
[Sign up NOW for the Inside Texas newsletter for Texas Longhorns daily updates and breaking news in your inbox!]
He attended Orange Coast College before he became a productive receiver for the Cougars. He had 54 catches for 1005 yards and 11 scores in 1997, helping Wazzu to the Rose Bowl.
Jackson will be tasked with helping a talented corps of wide receivers reach their maximum potential. Led by Xavier Worthy and Jordan Whittington, Jackson arrives at Texas charged with overseeing other players like Isaiah Neyor, AD Mitchell, Brenen Thompson, Savion Red, Casey Cain, and others. He'll also be tasked with getting the most out of 2023 class members Johntay Cook, DeAndre Moore Jr., and Ryan Niblett, not to mention adding top 2024 targets on the trail like Micah Hudson.
Born in Pennsylvania, the 47-year-old Jackson attended Mater Dei in the Los Angeles area before attending Orange Coast College.