Steve Sarkisian added to two midseason coaching watch lists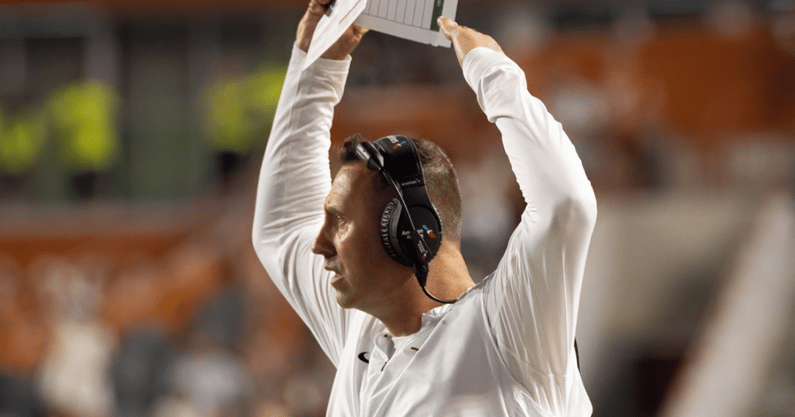 When you have as many wins in mid-October as you did all of the previous year people tend to notice. On Wednesday, Texas head coach Steve Sarkisian was named to both the Paul "Bear" Bryant Awards and the Dodd Trophy watch lists.
[Get FOUR MONTHS of Inside Texas Plus for $1!]
Sitting at 5-2, Texas still has a long road ahead of it with stiff challenges in the coming weeks, but that's also opportunity for Texas to compete to win the Big 12 conference and all the team and individual recognition that accompanies it.
Sark was among 25 watch list members for the Bear Bryant Award. Underlining how difficult his task will be to win the conference, and how good the overall coaching is, half of the Big 12's head coaches were also named. Joining Sark are Mike Gundy (Oklahoma State), Chris Klieman (Kansas State), Sonny Dykes (TCU) and Lance Leipold (Kansas).
Interestingly, Texas plays those next four schools in that order.
The Big 12's 10 member institutions had as many coaches named as the SEC's 14.
The Dodd Trophy named 20 coaches to its watch list with first-year coaches being ineligible (Lincoln Riley and Sonny Dykes hardest hit). Notable names outside of the usual suspects include the current favorite to win both awards, Josh Heupel (Tennessee), as well as Mack Brown (North Carolina), Chip Kelly (UCLA), and Lane Kiffin (Ole Miss).
Joining Sark from the Big 12 are Gundy and Klieman.
These awards would be a lagging indicator of any success UT might have this season, but it's good to know people are justifiably paying attention to Texas again during the season, as opposed to before it.