Urgency and patience: Steve Sarkisian on naming a starter, recruiting top QBs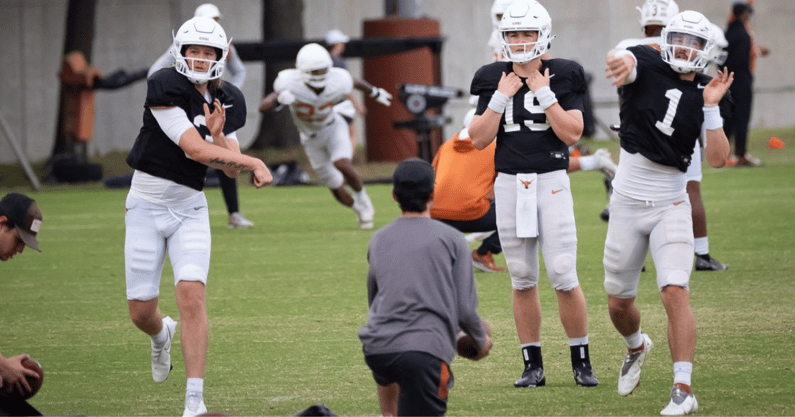 HOUSTON — When it comes to quarterbacks, there are some areas where Texas head coach Steve Sarkisian knows an expedited decision could be in his program's best interest.
[Get a FREE 7-day trial of Inside Texas Plus!]
Speaking to gathered crowds on Wednesday at the Touchdown Club of Houston and at the final stop of the Texas Exes Texas Fight tour, Sarkisian knew he would be questioned plenty about the quarterback situation considering the ongoing battle between Hudson Card and Quinn Ewers.
As he typically does, he extolled both players for their work during the program's recent 15 practices.
He mentioned Ewers could make every throw and is very coachable. He praised Card for improvement during his second year in Sarkisian's offense and for his ability to move the ball down the field. Sarkisian even found a chance to compliment Maalik Murphy, who he mentioned will be healthy during summer workouts and going into fall camp.
But speaking about the top two, Card and Ewers, Sarkisian said he looked forward to overseeing a quarterback competition that would take place not just in preseason camp, but during summer workouts as well.
Beginning this summer, the NCAA will permit Sarkisian and his ten on-field assistant coaches to practice skill work with a football for two hours per week, totaling 16 hours during the course of the summer. Concerning Texas, those 16 hours have mostly been associated with preparing the offensive linemen in the 2022 class for game action during the fall.
In addition to the linemen gaining some reps, the quarterbacks will also reap the benefit of an extra two-thirds of a day of practice. Sarkisian will also have more data to work with when it comes time to name a starter.
When speaking to the Texas Exes crowd, Sarkisian was a little softer with his choice of words: "I know all of y'all want me to make the call sooner rather than later, but the reality of it is we're going to make the call we feel is right for us and what's best for our team. We're going to play the guy that we think gives our team the best chance to be successful, not the guy we think is going to play the best. It's about what's best for our team to win games."
When speaking to the Touchdown Club, he was a bit more direct.
"At some point, I got to make the call," Sarkisian said. "I'm like you all, the sooner I can make that decision the better for everybody. The better for you so you've got crap to talk about while chopping it up, and better for us and for our team. We've got to behoove ourselves to make that happen."
When it comes to quarterbacks, there are some areas where Sarkisian knows a patient approach could be in his program's best interest.
Texas is in full pursuit of Five-Star Plus+ quarterback Arch Manning out of New Orleans (La.) Isidore Newman.
Manning, the No. 1 overall prospect in the On3 Consensus, remains uncommitted. Alabama, Georgia, LSU, and Florida are schools he recently named as in contention with the Longhorns for his services. Manning also mentioned he could commit at any time — before the season, during the season, or after the season.
While Sarkisian couldn't talk about Manning specifically, his words at the Touchdown Club on Wednesday indicated the lengths he's willing to go through to sign a signal-caller from football's first family.
"If I didn't feel good about a situation, I would go in another direction," Sarkisian said. "I feel pretty good about our track record. I could probably get a quarterback committed today, but ideally I'd like to recruit the best guys. That's how you build your roster, so we're going to stay the course."
Some situations require a good amount of urgency, while others necessitate patience. Sarkisian will have to balance the need for both over the course of the summer when it comes to what he calls the most important position in sports.