Steve Sarkisian wants no part of his program to be complacent during spring drills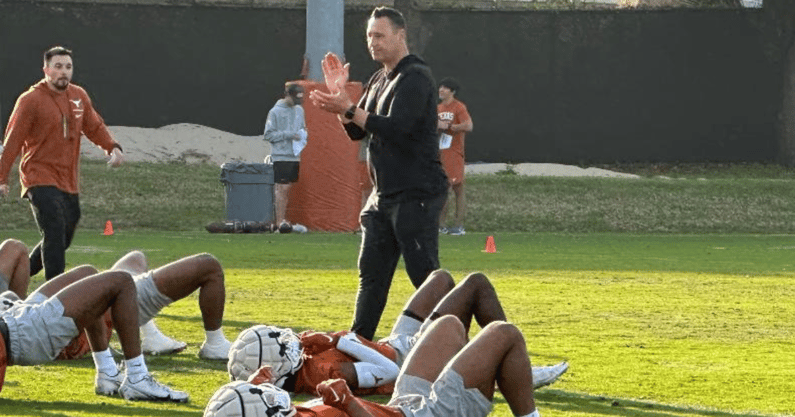 Texas head coach Steve Sarkisian knows his program is on a positive trajectory, which probably means his players have similar thoughts. But on the heels of the Longhorns' fourth spring practice, Sarkisian hammered home the idea that there's no room in his program for satisfaction with where things currently stand.
[Get Inside Texas Plus until 8/31 for just $29.99!]
"I think at the end of the day, one of the key messages we've been talking to the team about, especially evaluating the first week, is you can't get complacent as a player regardless of who you were a year ago," Sarkisian said Tuesday. "Whether you were an All-American, all-conference, a starter, maybe a reserve player, a special team player, maybe a redshirt, maybe you're a newcomer here and this is your first time here, you can't just say 'hey, alright, that's where I am and this is where I'm supposed to be.' You have to continue to strive and work for more, and not fall into the same habits.
"We're always trying to create new habits to raise our level of play. I think that's been one of our key messages going into today, and will be a key message this week and throughout the rest of spring where we can continue to grow as a program. The only way you can do that is growing individually as players."
The Longhorns have players who fit into each of those categories returning for the 2023 campaign. Jaylan Ford was a third-team All-American at linebacker. Tight end Ja'Tavion Sanders joined Ford on the All-Big 12 first team. Kelvin Banks was an All-Big 12 second team honoree as a true freshman, and is one of 10 returning starters on the Texas offense. The number of members in the successive categories mentioned by Sarkisian grows in size as he goes from reserve player to newcomer.
Although Ford, Sanders, and Banks are as close to locks to hold their starting jobs as they can be, that's not the mentality Sarkisian wants them to have. Sarkisian wants Ford to think that someone like Jett Bush, Anthony Hill, or Liona Lefau can take his job. The same applies to Sanders with other members of Jeff Banks' tight end room, and to Kelvin Banks via a number of fellow second-year O-linemen.
Focus will quickly go to quarterback whenever Sarkisian mentions open competition, as ESPN reporting might indicate. But it's not just quarterback that's open to competition for Sarkisian.
"Open competition is really healthy for everybody," Sarkisian said. "Everybody should feel like 'man, if I can push myself to perform at a higher level in order to push the guys around me, whether they're the guys in front of me on the depth chart or behind me, everybody's play should step up. It's easy to point to the quarterback 'competition.' Every position is an open competition."
With Sarkisian so vigilant to guard against complacency, a logical question followed on Tuesday during his media availability: was that something that's been an issue over his previous two years at Texas?
[Sign up NOW for the Inside Texas newsletter for Texas Longhorns daily updates and breaking news in your inbox!]
"It wasn't a problem at all," Sarkisian answered. "My job as a head coach is to continually try and motivate our players to be the best that they can be. I just don't want that to settle in. I don't want them to feel like 'hey, I'm good. Whoever I am, whatever I am, I'm good.' We all have room for improvement, coaches, players, everybody."
Four practices have been completed for the Longhorns, with 10 to go before the Orange-White Game on April 15. Ahead of those remaining sessions either at the Frank Denius Fields or on Campbell-Williams Field, one of Sarkisian's main focuses remains keeping a competitive fire lit under the entire program.
"We went through the first week of spring ball, we had spring break, and we have four really quality weeks to go where we all can improve," Sarkisian said. "I just don't want anybody to get complacent."