Sydir Mitchell to visit Texas before signing day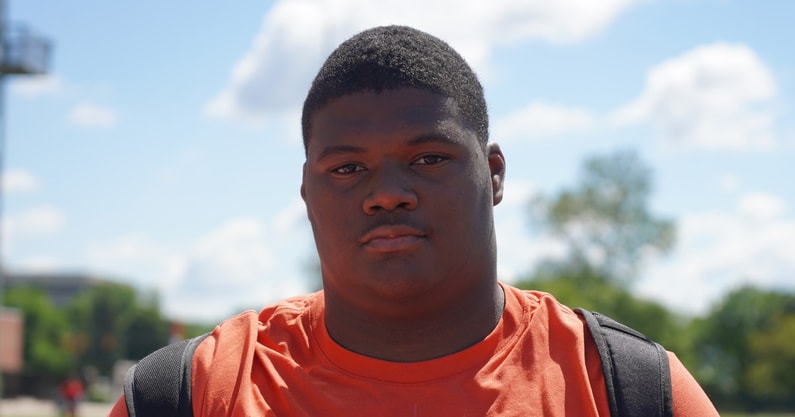 On3 Consensus 4-star Sydir Mitchell will make one more visit to Texas before the early signing period, which begins December 21.
[Get a FREE 7-day trial of Inside Texas Plus!]
The 6-foot-5.5, 335-pound quick and powerful defensive tackle told Inside Texas late Tuesday night that he will be in Austin December 17 for the Longhorns big visit weekend.
This will be Mitchell's first visit to Austin since late July. Mitchell and family did attend the Texas 49-0 victory over arch rival Oklahoma in Dallas in October.
Mitchell committed to Texas over Georgia, Texas A&M and Miami July 2. The trio of programs continued to try and pry Mitchell away from Texas, but the Garden State star has remained locked in with Steve Sarkisian and Bo Davis the entire way.
Mitchell finished off a Non-Public A State Championship season last weekend with a 45-0 win over rival Don Bosco. He posted 45 tackles, 11.5 tackles for loss, 5.0 sacks, 2 forced fumbles and two fumble recoveries as a senior despite being double and triple teamed on a very high percentage of snaps.
Mitchell informing Inside Texas he will be on campus December 17 comes on the heels of No. 1 ranked running back Cedric Baxter Jr. telling Inside Texas the same Tuesday.
Texas December 17 official visitors
Many of the Texas Longhorns commitments will be on hand for the big visit weekend, including Cedric Baxter Jr. and Mitchell.
One of the known official visitors December 17 is Texas commitment and early enrollee Payton Kirkland.
Payton Kirkland, OT/IOL, Orlando (Fla.) Dr. Phillips – #AllGasNoBrakes
Roderick Pierce, DL, Oak Lawn (Il.) Brother Rice
Justin Benton, DL, Covington (Ga.) Newton – likely the 17th
Tyler Scott, CB, Mableton (Ga.) Pebblebrook