Syllabus Week: Where Maalik Murphy, Jaydon Blue, and Cole Hutson should focus in semester one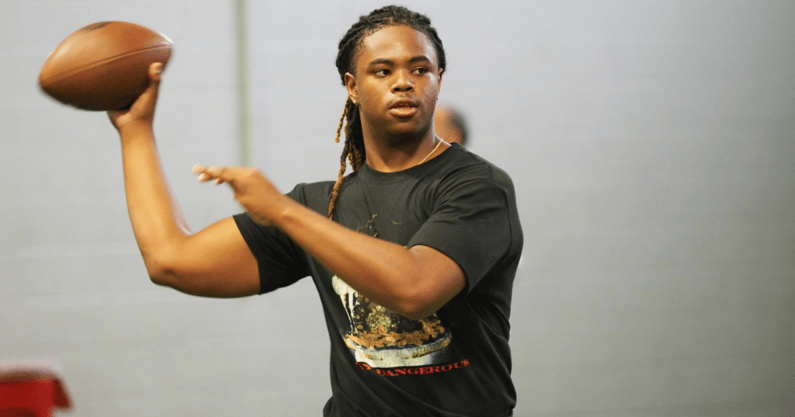 The University of Texas started classes on Tuesday, meaning a group of transfers and early enrollees officially became Longhorn students and began preparing for the upcoming season.
[Subscribe to Inside Texas right now and get a 7-day FREE trial!]
Monday's Inside Scoop offered a brief outlook for each January arrival. This series looks to go into additional detail regarding what each transfer/early enrollee should emphasize during their first semester in Austin.
Part I: Quinn Ewers, Ryan Watts, Jahleel Billingsley
Murphy's senior season in which he threw for 2973 yards and 29 touchdowns with a 63 percent completion percentage on his way to a state championship helped answer several questions about his ability as a prospect. Before this year, he had displayed signs of his promising skill set but had a very limited number of opportunities to showcase them whether due to an injury his sophomore year or a COVID-19 spring season in his junior year.
He was much more consistent after he and the rest of his team had a full-fledged training camp before the season. He will need to work on his long throwing motion and improve his footwork, but Murphy's combination of arm talent, frame, and charisma are what makes him exciting as a prospect. His decision to enroll early will give him a head start on potentially reaching that ceiling.
Blue might have the most to prove out of any of the early enrollees. He elected not to play his senior season. While he hasn't taken a hit in several months, absorbing contact is an integral part of being able to play the running back position successfully. He'll have to prove he can handle college contact early in order to put himself in a position to make any sort of move up the depth chart in the fall.

Hutson has an advantage over his 2022 O-line classmates in that he is the only early enrollee of the bunch. While there are others ahead of him fundamentally, they don't have Hutson's 6-foot-5, 312-pound physical presence. He'll start out on the interior where he should be right at home in run blocking. Where he needs to prove himself is in pass protection against some of the veteran Texas defensive linemen.