Tale of the tape: Texas versus Arkansas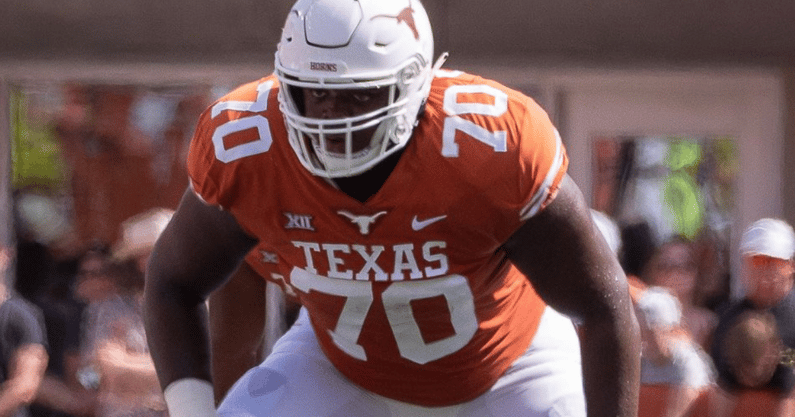 Each week, Inside Texas looks at the Tale of the Tape. This week, it's Texas versus Arkansas.
Quarterback
You probably couldn't get two more different QBs if you drew them up yourself. Hudson Card is a slender, dart thrower who looks to pass. KJ Jefferson is an absolute load, someone who successfully tucks the ball and runs as much or more than he successfully completes downfield passes (he has deceptive speed, too). Yet both seem to do the little things that help their team move the ball. Jefferson's second half against Rice was extremely efficient, scoring on five of six possessions, mixing the run and the pass. Card was similarly hot for the Horns for stretches against Louisiana. If this were an NFL draft preview, the edge would clearly go to Card. But it's not. This is about a single game at a single point in time early in Card's career. Jefferson has more experience than Card, and despite a terrific start, Card is still just one start into his Longhorn career. If the QB battle clearly tilts in Texas' favor, the Horns should win. But that's a big "if" in a player's second game on the road in an atmosphere like Fayetteville.
Edge: Even
Running back
After watching the Arkansas-Rice contest, I probably appreciate the Hogs running backs more than most. They are strong runners who don't flinch on first contact. Trelon Smith, in particular, seems to have a real feel for the game. But neither of their two primary backs are Bijan Robinson. Robinson is a threat not only in the backfield but also as a pass catcher. That makes a great player even more valuable. Add in Roschon Johnson and Keilan Robinson and the Horns have a strong trio.
Edge: Texas
Wide receiver
Jordan Whittington's breakout performance a week ago is still running through my mind. He was sure handed and difficult to corral after the catch. But the other Texas receivers didn't do all that much, other than Xavier Worthy's downfield catch. On the other side of the ball, Arkansas has Treylon Burks. Burks is considered by many a first-round pick after this season and is a true stud. Burks was targeted nine times against Rice, but only came away with five catches. Burks was plenty open, the Hogs just have to get him the ball because he is a big play waiting to happen.
Edge: Arkansas
Tight end
Cade Brewer and a healthy Jared Wiley would give the Horns a big edge at tight end. But we all know Wiley is banged up, which has forced Steve Sarkisian to play true freshman Gunnar Helm, who just isn't quite ready. Arkansas starts redshirt senior Blake Kern, who is a solid pass catcher but better as an in-line blocker. Straight-up, Brewer gets the edge, but a healthy Wiley would really help the Horns' cause.
Edge: Texas
Offensive line
The Hogs are experienced. In fact, they return every single offensive lineman who started a game for them a year ago. They start three redshirt seniors, a junior and sophomore. While Texas has some talent along the OL, none are considered elite players and they didn't really seem to gel much in game one against Louisiana giving up multiple penalties. Do that against Arkansas, and defensive coordinator Barry Odom will be licking his chops.
Edge: Arkansas
Defensive line
One of the strengths of the Longhorn team is its defensive line. The Horns are deep and talented. Yet the production seemed off against Louisiana. The Horns' front didn't produce many off-schedule, disruptive plays. Perhaps we'll see more of Alfred Collins in week two, which could help matters. T'Vondre Sweat and Keondre Coburn need big games against the Razorbacks. Jacoby Jones can't get washed away in the run game. Texas still has a slight advantage here. It should be noted that Dorian Gerald, the Arkansas DE who broke his leg on Wednesday and is out for the season, did not record a tackle against Rice. His back-up, however, recorded four tackles and a tackle for loss. In other words, I don't think it's as big a drop off as perhaps some are thinking it will be. Arkansas is solid on the DL, so it's not as big of an edge as some would like to think.
Edge: Texas
Linebacker
Arkansas star linebacker Bumper Pool is out for the first half of the game because of a targeting call in the second half of the Rice game. That is a good thing because Pool is a terrific player who always seems to be around the ball. He recorded 14 total tackles against the Owls. The Razorbacks' other two linebackers were productive against Rice, but nowhere near the performance Pool put together. For Texas, DeMarvion Overshown and Luke Brockermeyer must hold up against the interior run. That is where the Horns will be tested most.
Edge: Even
Secondary
Arkansas safety Jalen Catalon not only had two interceptions against Rice, he also recorded 11 tackles. He may be the single most talented and effective player at any position that the Horns face all season. On the back end, Greg Brooks and Joe Foucha are also solid players. Brooks, the nickelback, flashed a bit against the Owls. The corners for Arkansas are experienced; one is a redshirt senior and the other a redshirt junior. For Texas to win this game, BJ Foster and Brenden Schooler are going to have to have good games in run support. They have to help get Jefferson to the ground on quarterback keeps. While Texas is solid across the board, Catalon is a real difference maker.
Edge: Arkansas
Special teams
Cam Little is a true freshman starting kicker for the Razorbacks. He went 1-1 from 34 yards and was 5-5 on PATs against Rice. Cameron Dicker's experience should give him the edge in that battle. Arkansas' punter averaged 38 yards per boot against Rice. The real key here could be in the return game. Texas had a clear chance to get one score early against Louisiana. But do not sleep on Arkansas kick returner LaDarrius Bishop. He is sneaky good. Still, Texas has more experience and it should pay dividends in a big game on the road.
Edge: Texas
Discuss this topic on the Inside Texas Members Only board