A look at Texans on the Arkansas roster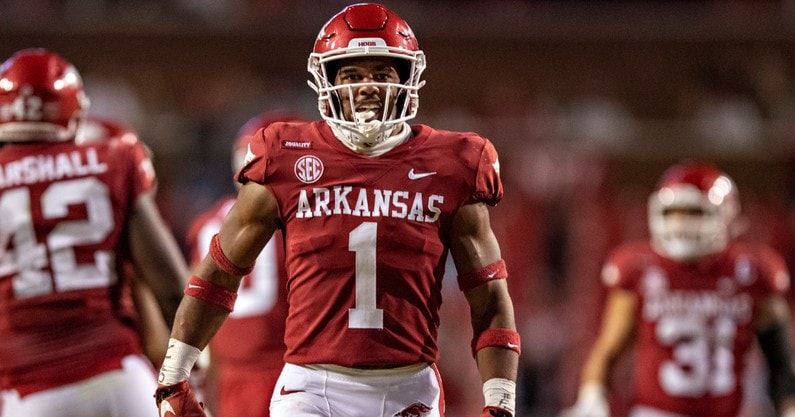 Some of these names will be familiar, some maybe not so much.
DB Jalen Catalon, Mansfield Legacy, RS FR: Catalon had tons of fans on this site dating back to his high school exploits as a sophomore. About as pure of a football player as you'll find. Tom Herman just couldn't overcome Tom Herman in the recruitment. Craig Naivar did all he could to keep Texas in it. Imagine this defense with Catalon in the back end. Sigh.
WR Ketron Jackson, Royse City, FR: Texas ran hot and cold while Arkansas prioritized him throughout. UT came >< that close to landing him but Arky held on.
QB Lucas Coley, Cornerstone Christian School, FR: Coley has some genuine upside. Chose Arkansas over Virginia Tech, Tennessee, and others.
QB Malik Hornsby, Fort Bend Marshall, RS FR: Strong armed dual-threat QB. Physically gifted. Texas ran hot then cold on this recruitment. He'll likely climb to starter status at some point this season.
WR Kendall Catalon, Mansfield Legacy, RS SR: Jalen's older brother.
QB John Stephen Jones, QB, Highland Park, RS JR: Had an awesome high school career. Grandson of Jerruh and followed in his footsteps when it comes to school choice.
LB Bumper Pool, Lovejoy, SR: Pool was a well known recruit and highly rated early in his process. He dropped off some but was still a good prospect. He's currently the second best player on this list. He'll miss the first half tonight due to targeting.
WR Jaquayln Crawford, Rockdale, RS JR: Well known recruit in the 2018 class. Electric athlete viewed as possible corner but likely wide receiver. Signed with OU.
WR Jaedon Wilson, DeSoto, FR: Dontre Wilson's little brother. UT would have been in the driver seat due to Herman's relationship with the Wilson family, but Jaedon never had his breakout moment despite obvious physical gifts.
DB Trent Gordon, Manvel, RS JR: Borderline Texas take. Good coverage and ball skills. Signed with Penn State out of high school.
QB Kade Renfro, Stephenville, RS FR: Strong athlete for the position who signed with Ole Miss.
DB Zach Zimos, Fort Bend Travis, RS SO: I was vocal about my fondness for Zimos. I loved his frame and versatility. At 6-4, 230 pounds he's listed as a safety. He didn't get the memo he was supposed to muscle up to 250 pounds and play OLB.
RB Trelon Smith, Cy Ridge, RS JR: He was a pretty well known recruit who signed with Arizona State.
DB Chase Lowery, Frisco, FR: He was a solid prospect and evaluated by Texas. Good ball skills as a corner. Not sure if he has the wheels to stay there.
LB Jake Yurachek, Friendswood, RS JR: A walk-on who originally walked on at Colorado. Notable because his dad is Hunter Yurachek, the Hogs' Athletic Director.
OL Cole Carson, Rivercrest, FR: A good get for Arkansas. He chose the Razorbacks over Auburn and Ole Miss. Strong three-star prospect who would have made sense in UT's 2021 class.
OL Ty'Kieast Crawford, Carthage, SO: Well known recruit with unlimited upside. He ended up at Charlotte due to academic reasons but then transferred to Arkansas. Backup right tackle; future starter.
OL Beaux Limmer, Tyler Lee (Legacy), RS SO: I thought he was borderline Texas-good and would have made sense as an offer. He's played mostly guard for the Razorbacks. Currently 2nd team but future starter.
TE Collin Sutherland, Flower Mound Marcus, RS FR: Picked up a Florida State offer early in his recruitment but they backed off. Committed to UNLV until Arkansas jumped in at the last minute. UTSA also pushed late.
DL Taurean Carter, Mansfield Legacy, RS SO: Held a Texas offer but the UT staff never really pushed. Played DE/4i but is a pure interior player now.