Texas believes season-opener will be determined in the trenches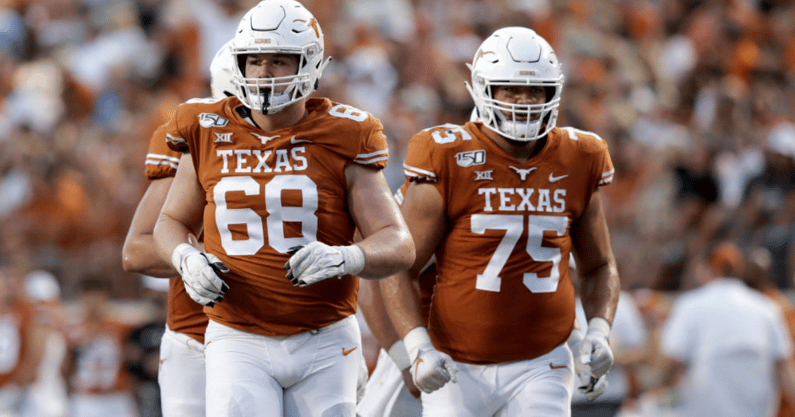 The Texas season-opener against the Louisiana Ragin' Cajuns pairs two teams close to each other in the major preseason rankings. The Longhorns rank No. 21 in the AP Poll compared to the Ragin' Cajuns' No. 23. Similarly, Texas is No. 19 in the Coaches Poll to Louisiana's No. 23.
Those rankings indicate an anticipation among national media and current coaches that the two squads will be close to evenly matched come kick-off at 3:30 p.m. on Saturday. Though UL head coach Billy Napier brings in an experienced team lauded as "sound" by Texas head coach Steve Sarkisian and a handful of UT players throughout the week, the Longhorns have advantages over the visitors in several areas.
That said, the game won't be decided until toe meets leather. Where it will be decided, according to Sarkisian, is in the trenches.
"The game of football, at least the way we play, and I think the way Louisiana plays, starts up front," Sarkisian said Monday. "I think that both programs believe in running the football. And so, the line of scrimmage is going to be critical Saturday. I think on both sides, our ability to control the line of scrimmage on offense and our ability to try to control the line of scrimmage on defense is going to be a key component to this game as we work our way through first, second, third, then into the fourth quarter."
Players echoed the sentiment; "At the end of the day, whoever controls the line up front is going to win this game," linebacker DeMarvion Overshown said Tuesday.
The Ragin' Cajun offensive line returns all five starters from a team that went 10-1 during the 2020 season. Four of those starters have at least 24 starts over the past two seasons protecting returning quarterback Levi Lewis, led by left tackle Ken Marks' 27. They paved the way for the 2020 Louisiana rushing attack to rush for 213 yards per game at 5.5 yards per carry.
Texas players know they won't be facing a pushover come Saturday. Instead, they'll face a coherent unit intent on making the game a bit of a slog. Longhorn defensive players were pleased to hear their head coach say the game will be decided along the lines.
"That means that he has a lot of trust in us, to be honest with you, to be like it's going to be up front, because on their side of the ball they have a great O-line," defensive tackle Keondre Coburn said Wednesday. "And I've heard they have a great D-line. That means with our O-line and our D-line, we're going to battle every play."
The rumblings Coburn heard have good evidence backing them. Sarkisian singled out defensive lineman Zi'Yon Hill during his Monday press conference, saying he sets the stage for the rest of the UL defensive line. Hill led the Ragin' Cajun front with 49 tackles in 2020, including 5.0 TFL and 4.0 sacks.
"He's a great player," right tackle Derek Kerstetter said Wednesday. "He's experienced, and they've got a lot of experienced guys. They're a good defensive line. It's going to be a good game, man. Two experienced lines going against each other is always a good time."
Those experienced players include Tayland Humphrey (32 tackles), Andre Jones (43 tackles), Ja-Quane Nelson (11 tackles), and Mason Narcisse (17 tackles). The Cajun defense will be coordinated by Patrick Toney, whose work Sarkisian praised Monday.
"You keep watching these guys, and I don't know if they blow a coverage," Sarkisian said. "I keep looking last year of where there was a miscommunication or something along those lines. I think they're a veteran group. They communicate well. They play sound, and I don't really expect that to change."
The offensive line's main job will be opening the run game for Bijan Robinson and the rest of the running backs, considering Sarkisian believes in running the football to set up play-action pass.
From Robinson's perspective, he's seen a new attitude from the Longhorn line in preparation for the season opener.
"The offensive line this week, they came out with a new mindset coming into this week of just attacking everything that they see in front of them," Robinson said Tuesday. "They know their jobs, so if you know your job it's easier to execute. All five of the offensive linemen that have been up there with the ones, they've been having a nasty mentality and a nasty mindset because they understand how we're going to win this game and what we have to do to execute and win the game."
'Highlight plays' still important to Sarkisian against Ragin' Cajuns
While Sarkisian believes the line of scrimmage will be critical, there are other locations game-changing plays can be made, usually downfield by skill players.
Ahead of his first game as Texas head coach, Sarkisian hopes to see his team create explosive plays. But on Saturday, his eyes will often be focused near where the ball is snapped.
"There's going to be your highlight plays, hopefully more in our favor than not, but at the end of the day I think that's where this game is going to shake out," Sarkisian said. "We've got to have a really good plan, which I think we're working towards, then our players got to have the ability to execute. Not just in the first quarter when they're fresh, but in the fourth quarter after 100-degree heat for four quarters of football, and still have that ability to execute and maintain and play a physical brand of football."