Texas football roster: Where they ranked in the On3 Consensus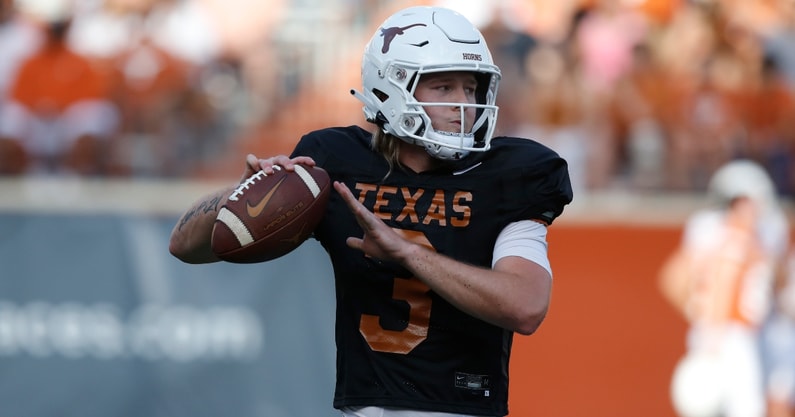 The Texas Longhorns take the field for the first time August 4 in preparation for the 2022 season.
[Get a FREE 7-day trial of Inside Texas Plus!]
Steve Sarkisian and staff have worked to upgrade the talent and depth in the high school ranks, and through the portal. There are 34 new scholarship players entering year two.
With the first practice just 48 hours away, Inside Texas takes a look at the scholarship roster as high school prospects in the On3 Consensus rankings.
The 2022 roster is headlined by five former On3 Consensus 5-star prospects, all on the offensive side of the ball.
Quarterback
Hudson Card, Austin (Texas) Lake Travis
On3 Consensus ranking: No. 71 overall, No. 5 QB (2020 class)
Quinn Ewers, Southlake (Texas) Carroll
On3 Consensus ranking: No. 3 overall, No. 1 QB (2021 class) *On3 Consensus 5-star
Maalik Murphy, Gardena (Calif.) Junipero Serra
On3 Consensus ranking: No. 204 overall, No.13 QB (2022 class)
Charles Wright, Austin (Texas) High
On3 Consensus ranking: No. 851 overall, No. 66 QB (2021 class)
Running back
Roschon Johnson, Port Neches (Texas) Port Neches-Groves
On3 Consensus ranking: No. 266 overall, No. 3 ATH (2019 class)
Bijan Robinson, Tuscon (Ariz.) Salpointe
On3 Consensus ranking: No. 17 overall, No. 2 RB (2020 class) *On3 Consensus 5-star
Keilan Robinson, Washington (D.C.) St. John's College Prep
On3 Consensus ranking: No. 273 overall, No. 22 RB (2019 class)
Jaydon Blue, Houston (Texas) Klein Cain
On3 Consensus ranking: No. 173 overall, No. 11 RB (2022 class)
Jonathon Brooks, Hallettsville (Texas) High
On3 Consensus ranking: No. 284 overall, No. 20 RB (2021 class)
Wide receiver
Jordan Whittington, Cuero (Texas) High
On3 Consensus ranking: No. 39 overall, No. 9 WR (2019 class)
Xavier Worthy, Fresno (Calif.) Central East
On3 Consensus ranking: No. 56 overall, No. 7 WR (2021 class)
Brenen Thompson, Spearman (Texas) High
On3 Consensus ranking: No. 95 overall, No. 15 WR (2022 class)
Jaden Alexis, Pompano Beach (Fla.) Monarch
On3 Consensus ranking: No. 357 overall, No. 56 WR (2021 class)
Agiye Hall, Valrico (Fla.) Bloomingdale
On3 Consensus ranking: No. 39 overall, No. 4 WR (2021 class)
Tarique Milton, Bradenton (Fla.) Manatee
On3 Consensus ranking: No. 1906 overall, No. 268 WR (2017 class)
Savion Red, Grand Prairie (Texas) High
On3 Consensus ranking: No. 1259 overall, No. 182 WR (2022 class)
Isaiah Neyor, Arlington (Texas) Lamar
On3 Consensus ranking: No. 2665 overall, No. 357 WR (2019 class)
Troy Omeire, Sugar Land (Texas) Austin
On3 Consensus ranking: No. 338 overall, No. 65 WR (2020 class)
Casey Cain, New Orleans (La.) Warren Easton
On3 Consensus ranking: No. 819 overall, No. 119 WR (2021 class)
Tight end
Ja'Tavion Sanders, Denton (Texas) Ryan
On3 Consensus ranking: No. 12 overall, No. 1 ATH (2021 class) *On3 Consensus 5-star
Jahleel Billingsley, Chicago (Ill.) Phillips Academy
On3 Consensus ranking: No. 293 overall, No. 11 TE (2019 class)
Juan Davis, Everman (Texas) High
On3 Consensus ranking: No. 539 overall, No. 27 ATH (2021 class)
Gunnar Helm, Englewood (Colo.) Cherry Creek
On3 Consensus ranking: No. 684 overall, No. 38 TE (2021 class)
Brayden Liebrock, Chandler (Ariz.) High
On3 Consensus ranking: No. 158 overall, No. 5 TE (2019 class)
Offensive line
D.J. Campbell, IOL, Arlington (Texas) Bowie
On3 Consensus ranking: No. 12 overall, No. 1 IOL (2022 class) *On3 Consensus 5-star
Cole Hutson, C/G, Frisco (Texas) High
On3 Consensus ranking: No. 423 overall, No. 30 IOL (2022 class)
Cameron Williams, RT, Duncanville (Texas) High
On3 Consensus ranking: No. 237 overall, No. 14 OT (2022 class)
Sawyer Goram-Welch, IOL, Longview (Texas) High
On3 Consensus ranking: No. 1186 overall, No. 108 DL (2020 class)
Connor Robertson, C/G, Austin (Texas) Westlake
On3 Consensus ranking: No. 448 overall, No. 31 IOL (2022 class)
Jake Majors, C, Prosper (Texas) High
On3 Consensus ranking: No. 290 overall, No. 11 IOL (2020 class)
Malik Agbo, OT/IOL, Federal Way (Wash.) Todd Beamer
On3 Consensus ranking: No. 377 overall, No. 19 OT (2022 class)
Andrej Karic, RT, Southlake (Texas) Carroll
On3 Consensus ranking: No. 281 overall, No. 29 OT (2020 class)
Christian Jones, OT, Cypress (Texas) Cy-Woods
On3 Consensus ranking: No. 726 overall, No. 52 OT (2018 class)
Logan Parr, OG, San Antonio (Texas) O'Connor
On3 Consensus ranking: No. 227 overall, No. 8 IOL (2020 class)
Neto Umeozulu, OT/IOL, Allen (Texas) High
On3 Consensus ranking: No. 77 overall, No. 5 IOL (2022 class)
Junior Angilau, OG, Salt Lake City (Utah) East
On3 Consensus ranking: No. 124 overall, No. 7 IOL (2018 class)
Hayden Conner, OG, Katy (Texas) Taylor
On3 Consensus ranking: No. 380 overall, No. 32 OT (2021 class)
Jaylen Garth, OT, Port Neches (Texas) Port Neches-Groves
On3 Consensus ranking: No. 225 overall, No. 23 OT (2020 class)
Kelvin Banks, LT, Humble (Texas) Summer Creek
On3 Consensus ranking: No. 19 overall, No. 1 OT (2022 class) *On3 Consensus 5-star
Max Merrill, OG, Houston (Texas) Strake Jesuit
On3 Consensus ranking: No. 1059 overall, No. 101 OT (2021 class)
Defensive line
Vernon Broughton, Cypress (Texas) Cy-Ridge
On3 Consensus ranking: No. 114 overall, No. 16 DL (2020 class)
Aaron Bryant, Southaven (Miss.) High
On3 Consensus ranking: No. 302 overall, No. 35 DT (2022 class0
Zac Swanson, Phoenix (Ariz.) Brophy College Prep
On3 Consensus ranking: No. 525 overall, No. 59 DL (2022 class)
Byron Murphy II, DeSoto (Texas) High
On3 Consensus ranking: No. 365 overall, No. 36 DL (2021 class)
T'Vondre Sweat, Huntsville (Texas) High
On3 Consensus ranking: No. 657 overall, No. 74 DL (2019 class)
Jaray Bledsoe, Marlin (Texas) High
On3 Consensus ranking: No. 136 overall, No. 19 DL (2022 class)
Alfred Collins, Bastrop (Texas) Cedar Creek
On3 Consensus ranking: No. 82 overall, No. 9 DL (2020 class)
Kristopher Ross, Houston (Texas) North Shore
On3 Consensus ranking: No. 169 overall, No. 23 DL (2022 class)
Moro Ojomo, Katy (Texas) High
On3 Consensus ranking: No. 329 overall, No. 34 DL (2018 class)
Keondre Coburn, Spring (Texas) Westfield
On3 Consensus ranking: No. 109 overall, No. 17 DL (2018 class)
EDGE
Justice Finkley, Trussville (Ala.) Hewitt-Trussville
On3 Consensus ranking: No. 127 overall, No. 15 EDGE (2022 class)
J'Mond Tapp, Donaldsonville (La.) Ascension Catholic
On3 Consensus ranking: No. 139 overall, No. 16 EDGE (2022 class)
Ovie Oghoufo, Lathrup Village (Mich.) Harrison
On3 Consensus ranking: No. 503 overall, No. 62 LB (2018 class)
Prince Dorbah, Dallas (Texas) Highland Park
On3 Consensus ranking: No. 145 overall, No. 21 LB (2020 class)
D.J. Harris Jr., New Caney (Texas) High
On3 Consensus ranking: No. 310 overall, No. 36 LB (2021 class)
Barryn Sorrell, New Orleans (La.) Holy Cross
On3 Consensus ranking: No. 638 overall, No. 67 EDGE (2021 class)
Ethan Burke, Austin (Texas) Westlake
On3 Consensus ranking: No. 364 overall, No. 34 EDGE (2022 class)
Linebacker
DeMarvion Overshown, Arp (Texas) High
On3 Consensus ranking: No. 48 overall, No. 5 LB (2018 class)
Diamonte Tucker-Dorsey, Norfolk (Va.) Lake Taylor
On3 Consensus ranking: Unranked (2017 class)
Derrick Brown, Texarkana (Texas) High
On3 Consensus ranking: No. 360 overall, No. 33 EDGE (2022 class)
Trevell Johnson, Arlington (Texas) Martin
On3 Consensus ranking: No. 463 overall, No. 47 LB (2022 class)
Devin Richardson, Klein (Texas) High
On3 Consensus ranking: No. 1782 overall, No. 199 LB (2018 class)
David Gbenda, Katy (Texas) Cinco Ranch
On3 Consensus ranking: No. 175 overall, No. 19 LB (2019 class)
Jaylan Ford, Frisco (Texas) Lone Star
On3 Consensus ranking: No. 1180 overall, No. 134 LB (2020 class)
Defensive back
Larry Turner-Gooden, Los Angeles (Calif.) Bishop Alemany
On3 Consensus ranking: No. 356 overall, No. 36 S (2022 class)
Austin Jordan, Denton (Texas) Ryan
On3 Consensus ranking: No. 218 overall, No. 20 S (2022 class)
D'Shawn Jamison, Houston (Texas) Lamar
On3 Consensus ranking: No. 134 overall, No. 19 CB (2018 class)
Ryan Watts, Little Elm (Texas) High
On3 Consensus ranking: No. 180 overall, No. 17 CB (2020 class)
B.J. Allen, Aledo (Texas) High
On3 Consensus ranking: No. 125 overall, No. 10 S (2022 class)
Terrance Brooks, Little Elm (Texas) High
On3 Consensus ranking: No. 56 overall, No. 7 CB (2022 class)
Anthony Cook, Houston (Texas) Lamar
On3 Consensus ranking: No. 56 overall, No. 11 CB (2018 class)
Jaylon Guilbeau, Port Arthur (Texas) Memorial
On3 Consensus ranking: No. 153 overall, No. 18 CB (2022 class)
X'avion Brice, Arlington (Texas) Seguin
On3 Consensus ranking: No. 472 overall, No. 47 CB (2022 class)
Ishmael Ibraheem, Dallas (Texas) Kimball
On3 Consensus ranking: No. 247 overall, No. 22 CB (2021 class)
Kitan Crawford, Tyler (Texas) High
On3 Consensus ranking: No. 137 overall, No. 11 CB (2020 class)
Jahdae Barron, Pflugerville (Texas) Connally
On3 Consensus ranking: No. 426 overall, No. 35 CB (2020 class)
J.D. Coffey, Kennedale (Texas) High
On3 Consensus ranking: No. 170 overall, No. 9 S (2021 class)
Jerrin Thompson, Lufkin (Texas) High
On3 Consensus ranking: No. 218 overall, No. 17 S (2020 class)
Jamier Johnson, Pasadena (Calif.) John Muir
On3 Consensus ranking: No. 294 overall, No. 26 CB (2021 class)
Morice Blackwell Jr., Arlington (Texas) Martin
On3 Consensus ranking: No. 299 overall, No. 33 LB (2021 class)
Specialists
Lance St. Louis, DS, Gilbert (Ariz.) Williams Field
On3 Consensus ranking: No. 2 LS (2022 class)
Will Stone, K, Austin (Texas) Regents
On3 Consensus ranking: No. 3 K (2022 class)
Isaac Pearson, P, Newcastle (Australia)
On3 Consensus ranking: No. 5 P (2021 class)