Texas heads into its finals break with 12-2 win over Texas Southern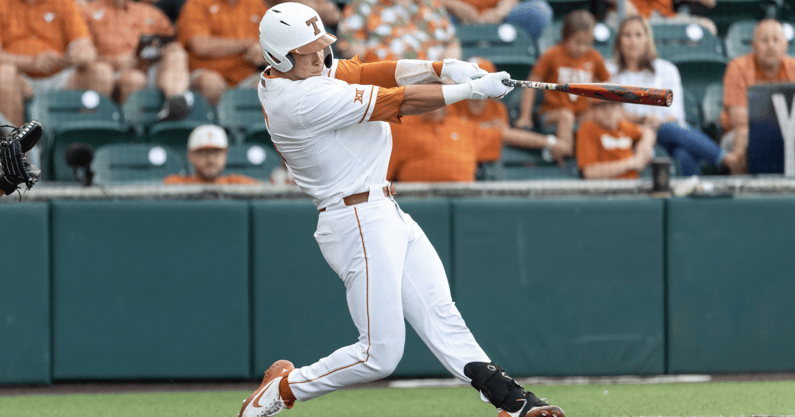 Texas welcomed an overmatched Texas Southern team to UFCU Disch-Falk Field on Tuesday night, and achieved the expected result. The stout Longhorn lineup plated 12 runs on 17 hits, including 10 of the extra-base variety in a 12-2 win.
[Get a FREE 7-day trial of Inside Texas Plus!]
The Longhorns smashed seven doubles, tied for the season high, with all of them coming in the first four innings. Texas scored four runs in the first, two in the second, five in the fourth, and one in the seventh via Skyler Messinger's ninth home run of the year. Longhorn hurlers pitching surrendered one walk and struck out 11, with Marcus Olivarez earning his first career win at Texas.
"I thought we played a really clean game," Texas head coach David Pierce said. "We swung the bats really well. You look at how much velocity we face, then we see guys that are throwing mid-80s and you get pull-happy. I didn't see us do that. I saw us stay in our approach, staying in the middle of the field, and have great success."
The offense
Horn hitters barreled the ball often throughout the first few innings, including right from the very start. A leadoff double from Douglas Hodo followed by an Austin Todd single scored the first run only two batters into the game. Murphy Stehly slapped a single to right with one out before Silas Ardoin smashed his tenth homer of the year over the left field fence to make it 4-0 home team after one inning.
Hard-hit balls continued to fly off Texas bats. Trey Faltine doubled to start the second, followed by Ivan Melendez doing the same a few batters later to make it 5-0 and score Faltine. Stehly pulled a ball down the left field line for yet another two-bagger to score Melendez and put six runs on TSU starter Lane Gordon's ledger through two innings.
Gap-to-gap hitting is a major emphasis from the Longhorn coaching staff, and Pierce liked what he saw early on Tuesday night.
"When they can backspin the ball in the gap, no matter what the velocity is and what the pitches are, it's a real good sign of maturity and they did a real good job of that," Pierce said.
Texas surrendered a run in the third, but struck back for five runs in the fourth. Stehly singled with the bases loaded for the first run of the inning and his third RBI of the game. Needing one more double to tie the team's season high set at Texas Tech on March 26, Ardoin accomplished the task while bringing home two more runs. One batter later, Messinger scored two more with a single, the second of his four hits.
Pierce made wholesale changes in the fifth, and even more in the seventh. Only Dylan Campbell failed to record a hit from the starting nine, though he reached base via a walk in the sixth.
Messinger tacked on one more for the Longhorns in the eighth with a solo shot to put the margin back at double-digits following a seventh-inning score from the Tigers.
The pitching
The often troublesome Longhorn pitching staff pitched efficiently against the now 24-21 Tigers, surrendering just one walk and two earned runs. Luke Harrison surrendered one earned run over 2.2 innings. He was relieved by Olivarez, who earned the win in 1.1 innings of work.
Jared Southard recorded two scoreless innings, followed by a two-inning outing from Lebarron Johnson. His appearance included three-hit, one-run seventh and a 123 eighth.
Aaron Nixon stranded a runner on third base in the ninth to complete the mid-week victory for the Longhorns.
"Good to see our guys get out there and just relax and compete on the mound," Pierce said. "Those are guys who we feel like are going to pitch for us on the stretch run. We've got to get them clear minded and right, and I thought they did a great job."
What's next
Texas now goes on its typical finals week break. Pierce said they utilize this break like an "All-Star Break," where players can relax some and get a short rest from the game. Many players have already completed their exams as well. He plans to give the team Wednesday through Friday off, play an intrasquad on Saturday, then take Sunday off before hosting Sam Houston State on Tuesday.
"It's a good time for us to just catch our breath, work on some individual stuff around a structured practice, and then get ready for a final week of Tuesday and a short turnaround Saturday against KU," Pierce said.
Melendez watch
No homers for the national player of the year candidate, whose 1-for-3 night with a walk, a strikeout, and an RBI double actually dropped his average a point to .422. Melendez has four regular season games remaining, plus the Big 12 and NCAA tournaments.
He is currently three homers behind the school's single-season record set by Kyle Russell in 2007, and just behind Brian Cisarik's .429 batting average record set in 1987.