Texas is better across the board, but by how much? (Offense)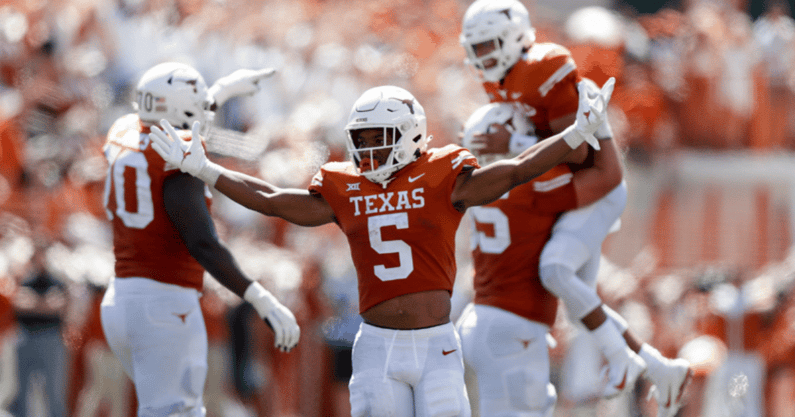 Last December it was written in the pages of Inside Texas that Steve Sarkisian's offseason assignment was to incrementally improve the program across the board. If he could accomplish that, then the sum of the improvement would register much greater than incremental. 
[Get FOUR MONTHS of Inside Texas Plus for $1!]
Examples of incremental program improvement need to be seen at player-driven leadership, improved strength and conditioning, better coordination between the three levels of defense, player development, increased player football IQ, and, of course, improved talent across the entire depth chart.
On a Zoom call with season ticket holders on Wednesday, Sark combined two of the aspects in one response when he was asked about strength and conditioning. He stated a big reason S&C has improved is due to increased leadership from the players. Sark himself has also commented on the defense playing more cohesively. 
It's nice our inside info is aligning with Sark's public statements, but we all need to see these improvements, and the accompanying results, with our own eyes.
If you're looking for a more clear source of optimism for the season, it is plainly obvious the talent and players will be better at every position, save field goal kicker.
If you would like to play along — go through your head and come up with key losses. Is it a 'key loss' if the replacement player is a clear upgrade? Those upgrades make it even more difficult to name key losses.
Quarterback
Key addition: Quinn Ewers
Commentary: Sark's ability to design and call his offense is a force multiplier which benefits every offensive position group (really the whole team). Last year that wasn't always obvious, but his inconsistent quarterbacks did produce outsized numbers compared to their on-field readiness to perform. Ewers won't be perfect as a freshman, but he unlocks so much more of Sark's offense than we saw last year, therefore he further unlocks mini force multipliers like Bijan Robinson and Xavier Worthy. Sark's ability creates a virtuous cycle that runs through the quarterback. Also, Hudson Card improved from last year. If he's thrust into action, he'll perform admirably. 
Improvement year-over-year: Major. Again, Ewers will have the typical struggles that define inexperience, but he'll power through those mistakes and improve as the season goes on.
Running Back
Key addition: Jaydon Blue
Commentary: Bijan Robinson and Roschon Johnson won't necessarily take big leaps in their play, though it has been said Johnson improved his speed over the offseason and hopefully Robinson is improved as a pass protector. But both of those guys are going to see increases in their production from last year because of improvements everywhere else. That's the nature of running back, it's often dependent on execution from every other position. Jonathon Brooks continues to improve and would start at a lot of schools. Keilan Robinson is bigger and just as fast as he was last season. We think they'll get him the ball more. Jaydon Blue could also impress in an ancillary role. 
Improvement y-o-y: Medium
Wide Receiver
Key additions: Isaiah Neyor, Agiye Hall, Tarique Milton, Brenen Thompson 
Key losses: Isaiah Neyor, Agiye Hall (for now)
Commentary.: Xavier Worthy is a year older and has a quarterback who will more reliably get him the ball in stride. I'd like to see improved ball skills and hands from Worthy, but he's going to produce beyond the season he should have had last year, not just the impressive season he did have. Jordan Whittington is in the shape of his life. He'll be a bit out of position at times, but he can get it done playing in the boundary. Casey Cain has emerged as a reliable boundary receiver. Good hands, good length. Tarique Milton is already respected within the team. On top of that, the former Iowa State Cyclone provides more than just insurance. Thompson will require more development but speed like that doesn't stay on the bench long. The program would benefit by Hall's return. With Neyor out, there is a need for another deep threat outside the hashes. In theory, together Cain and Hall could approximate Neyor to a certain extent.
Improvement y-o-y: Medium. Improvement would have been major if Neyor wouldn't have been injured.
Tight End
Key addition: Jahleel Billingsley
Commentary: Billingsley is a big addition in place of Cade Brewer, but the biggest improvement at the position comes from the offseason Ja'Tavion Sanders had. Blocking was not good at tight end last season; if Sanders is just average that will be an improvement. Receiving ability will be the calling card of this duo. Twelve personnel packages will essentially feature four dangerous receiving threats, plus a game-breaking running back out of the backfield. Further positional improvement stems from Gunnar Helm and Juan Davis having another year in the program. Helm is a game blocker and solid receiver, Davis is similar to Billingsley as more of a flex receiver. Like Sanders, Davis has exceptional hands.
Improvement y-o-y: Major. This is mainly due to receiving ability, a quality two-deep, and improved schematic efficacy for Sark. Blocking will still be a bit of a concern.
Offensive Line
Key additions: Kelvin Banks, Cole Hutson, DJ Campbell, Cam Williams, Malik Agbo
Key losses: Derek Kerstetter, Junior Angilau 
Commentary: I do view Kerstetter as a key loss, especially early in the season when the staff is looking to integrate multiple freshmen. Angilau's injury is also a real loss. He was poised to give Texas a more physical presence at center. That written, the talent and size upgrade at the position is immediate. Like with Ewers, there will be growing pains that will be well worth it. Key for this group will be to play with a semblance of cohesion early in the season. Theoretically, the O-line should be better at each of the five positions. Some because of talent infusion, some because of more development or players being put in the right position.
Improvement y-o-y: Medium. The talent infusion is major but that will likely take time to be realized on the field.