Texas knows a hostile environment awaits in Fayetteville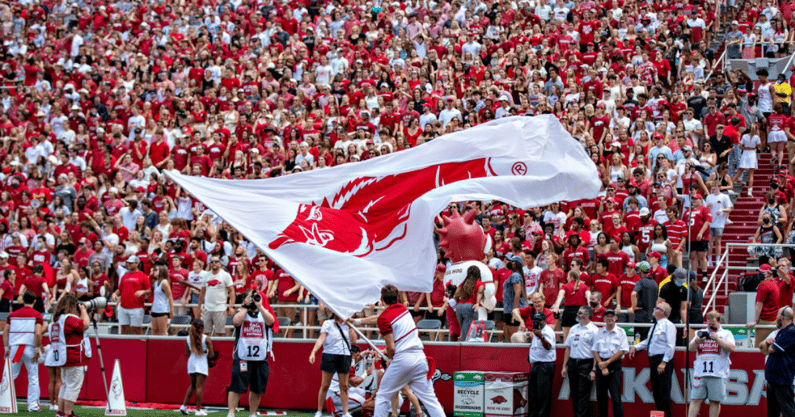 The Arkansas Razorbacks left the Southwest Conference for the Southeast Conference ahead of the 1992 season. The lone member of the SWC from outside the Lone Star State, Arkansas used to battle with the Longhorns on an annual basis. Some of the games between the two rivals were legendary, including the 1969 matchup with President Richard Nixon in attendance.
Contests like the "game of the century" add to the lore of what has mostly been a dormant rivalry since the Razorbacks' exit. News like Saturday's game between Texas and Arkansas being the first sellout and Razorback Stadium in four years shows how much this contest means to the two schools.
"As far as this ballgame going to Arkansas, it's a pretty cool game," Texas head coach Steve Sarkisian said Monday. "To think this'll be the 79th time these two schools have met, it's pretty special for that opportunity. Obviously, old Southwest Conference foes to meet."
In the last 40 years, the Longhorns and the Razorbacks have met 13 times. Since 1992, several of those meetings have taken place at neutral sites. This Saturday, Texas returns to Fayetteville for the first time since 2004 and for just the fifth time since 1981.
Fred Akers' Longhorns marched into Fayetteville in 1981 as the No. 1 team in the country. They walked out with a 42-11 defeat. Four years later, Akers returned to Razorback Stadium and topped a Ken Hatfield-led team 15-13. Texas wouldn't return to Northwest Arkansas for another four years when David McWilliams topped Hatfield in a 24-20 contest.
Fifteen years passed before Mack Brown's Longhorns returned to Fayetteville in 2004, topping a Houston Nutt-coached team 22-20. Two contests between the schools have taken place since 2004, but Texas finally returns to one of the more hostile environments for those donning the burnt orange.
Texas linebacker DeMarvion Overshown hails from Arp, an East Texas town in an area both schools try to recruit. Overshown said Monday that Arkansas wasn't his "cup of tea," and that Texas was almost a foregone conclusion for him early in his recruiting process (that he still wanted to enjoy). He's looking forward to stepping on the field to take part of a matchup steeped in history.
"The history of this rivalry is something that's unmatched," Overshown said. "I'm looking forward to it. I know they're going to be loud. It's going to get dirty. It's going to be physical. The fact that I get to play in one of the biggest rivalries ever, I'm excited for it and I'm blessed."
Overshown's linebacking counterpart, Luke Brockermeyer, has an idea about what this game means within the Natural State. His grandfather, Kay, played on the 1959 Texas team that won 13-12 in Little Rock. His father, Blake, played for the Longhorns in the early 1990s. But Blake's three years at Texas coincided with the first three seasons Arkansas was out of the Southwest Conference.
With his family background, Luke has a better grasp of what Texas is about to walk into than some of his teammates.
"I don't think they know quite much," Brockermeyer said. "It's certainly going to be fun."
Some of his cohorts have gained a small idea of what's in store for Texas in Fayetteville. Bijan Robinson and Keondre Coburn, two Longhorns with west coast roots, knew of rivalries like Southern Cal and UCLA or the Territorial Cup matching Arizona and Arizona State.
This rivalry lay dormant for most of their formative years, but with the game now just days away, they're starting to see why such animosity exists between the two schools.
"I heard we are much hated out there in Arkansas," Robinson said Monday. "But you know what? It's all good. That's what rivalries are for and that's what makes it even more fun to play against a team like that with the rivalry they used to have."
What makes the Arkansas rivalry stand out? Coburn even commented: "I feel like this school has a bunch of rivalries to where everybody wants to beat Texas."
For him, it's the sheer fervor of the disdain of anything Texas from those wearing cardinal and white.
"Every rivalry to me is amazing," Coburn said. "You've got a bunch of rivalries out there. It's just cool to me to see a team really hate another team that bad."
Arkansas does really hate Texas that bad, enough to fill a stadium that hasn't been full since Bret Bielema was the head coach of the Razorbacks.
It'll be a test for an offense led by a quarterback with one career start under his belt in Hudson Card, but one Sarkisian is ready to see Card and the rest of his team take on in a quest to go 2-0 to start his Texas tenure.
"We know it's going to be a hostile environment," Sarkisian said. "They've got a sold-out game I think for the first time since 2017. I think one of the keys for us obviously is handling that crowd noise, and what we do from a communication standpoint offensively will be big."