Texas lands On3 4-star Justice Finkley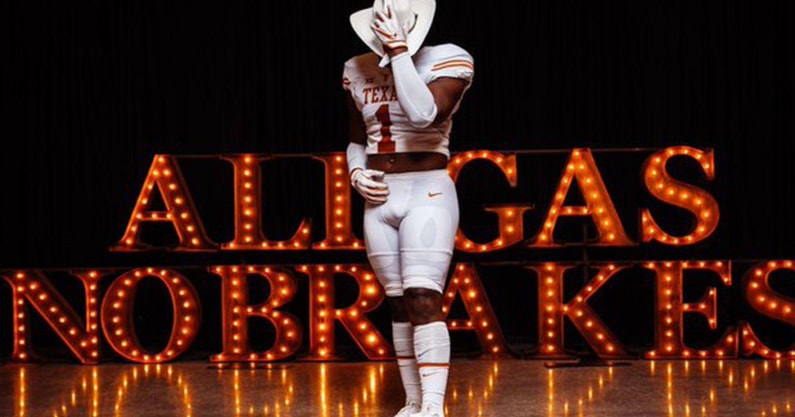 Growing up as a highly-rated football prospect in Alabama usually means staying home and playing for Nick Saban's Crimson Tide. Not this time. Hewitt-Trussville (Ala.) On3 four-star EDGE Justice Finkley committed to Texas on Thursday.
Finkley chose the Horns over Alabama, Colorado, Georgia, and Florida. The 6-foot-2, 255-pound defender is a big fan of the University of Texas and everything it has to offer both on and off the field.
Finkley took official visits to Alabama, Colorado, Michigan, and Texas, and made a return trip to Tuscaloosa on July 31st. He released a top three of Texas, Alabama, and Colorado in July, and recently had quality conversations with the Texas staff.
Add in Texas' academics, an important factor in the Finkley household, and UT met all the criteria for a prospect focused on books and ball.
Evaluation on Finkley from the Recruiting Notebook
Strengths: Finkley has good height with a stocky build. Long and muscular arms. Thick and muscular core. Looks to have great balance in and out of the stance. Off the ball quickly. Great hip roll. Generates a lot of power from lower body and has impressive functional power. Stuns blockers on contact. Remarkably quick through the gap for a player his size. Destroys double teams (see 4:15 of HUDL). Establishes a strong base to hold his ground when needed. Will use his arms to fend off blockers and is quick to cross the face of the opponent. Plays head up and diagnoses the play quickly. Good acceleration and excellent top-end speed for his size. Great motor. Plenty of hustle plays on film. Position versatility: I like him at Jack but could see him slide inside on passing downs to a 3-tech. Shows good conversion of speed to power. Shows a pretty good rip and swim moves. Opponent highlights are actually more flattering at times than his own. 
Areas for Improvement / Concern: A little narrow in the shoulders which makes him more of an OLB/EDGE type (not necessarily a problem). Would like to see Finkley develop more consistency with pass rush moves, which should come in time with good coaching.
Ian Boyd on the commitment: Finkley is closer to some of the bigger Jack linebackers Pete Kwiatkowski played at Washington such as Zion Tupuola-Fetui (6-4, 280) or Ryan Bowman (6-0, 280). He's already 6-2, 255 pounds as a high schooler with the obvious potential to grow bigger at Texas, which would lead you to believe his future would be in spinning down to defensive tackle. Instead, his athleticism and ability to explode would figure in nicely as a Jack (strongside outside linebacker) who spends more time spinning down to a 4i-technique than dropping back into coverage on zone blitzes. Finkley has the burst to do some work rushing on the edge but he can also anchor inside some and set the edge against the run. He's a great fit for the position and may become a real menace if/when Kwiatkowski is able to teach him to use his hands to muscle offensive tackles on the perimeter who are accustomed to dealing with smaller and less powerful pass-rushers.
Finkley is No. 190 on the On3 2022 Prospect Power Rankings (score – 91).
Finkley is the 21st commit for UT's Class of 2022 joining J'Mond Tapp (Ascension Catholic – LA), Jaray Bledsoe (Marlin), Ronald "Champ" Lewis (Warren Easton – LA), Eoghan Kerry (Mater Dei – CA), Derrick Brown (Texas High), Austin Jordan (Denton Ryan), Connor Robertson (Austin Westlake), Cole Hutson (Frisco), Jamarion Miller (Tyler Legacy), Will Stone (Austin Regents), Anthony Jones (Liberty – NV), Lance St. Louis (Williams Field – AZ), Zac Swanson (Brophy College Prep – AZ), Kristopher Ross (Galena Park North Shore), BJ Allen (Aledo), Trevell Johnson (Arlington Martin), Maalik Murphy (Junipero Serra – CA), Jaydon Blue (Klein Cain), and Armani Winfield (Lewisville).