Texas Longhorns in the NFL: Where they were ranked in high school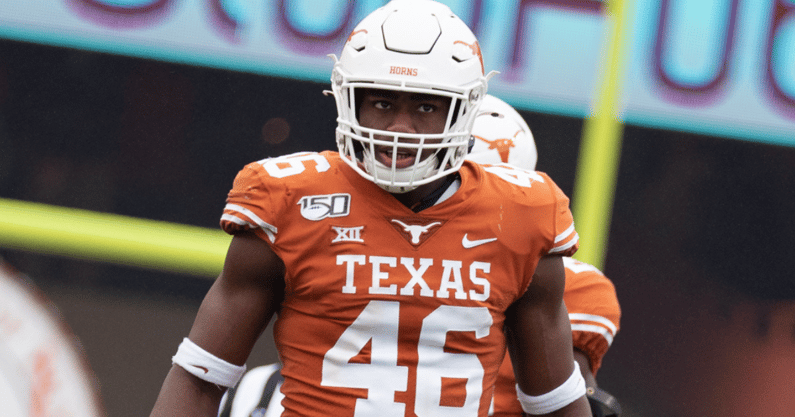 There are 38 former Texas Longhorns in trading camps in the NFL. The list includes quarterbacks Colt McCoy and Sam Ehlinger, along with a very impressive group of defensive linemen.
[Get a 50% off an Inside Texas Plus subscription!]
Inside Texas takes a look back at where the 38 former Longhorns standouts were ranked in high school using the On3 Consensus prospect ranking.
Quarterback
Colt McCoy, Tuscola (Texas) Jim Ned – Arizona Cardinals
On3 Consensus ranking: No. 300 (4-star) – 2005 class
Sam Ehlinger, Austin (Texas) Westlake – Indianapolis Colts
On3 Consensus ranking: No. 127 (4-star) – 2017 class
Running back
D'Onta Foreman, Texas City (Texas) High – Carolina Panthers
On3 Consensus ranking: No. 1066 (3-star) – 2014 class
Malcolm Brown, Cibolo (Texas) Steele – New Orleans Saints
On3 Consensus ranking: No. 10 (5-star) – 2011 class
Wide receiver
Devin Duvernay, Garland (Texas) Sachse – Baltimore Ravens
On3 Consensus ranking: No. 45 (4-star) – 2016 class
Lil'Jordan Humphrey, Southlake (Texas) Carroll – New England Patriots
On3 Consensus ranking: No. 478 (3-star) – 2016 class
Collin Johnson, San Jose (Calif.) Valley Christian – New York Giants
On3 Consensus ranking: No. 144 (4-star) – 2016 class
Tarik Black, Cheshire (Conn.) Cheshire Academy- New York Jets
On3 Consensus ranking: No. 150 (4-star) – 2015 class
Marquise Goodwin, Garland (Texas) Rowlett – Seattle Seahawks
On3 Consensus ranking: NR – 2009 class
Marcus Johnson, League City (Texas) Clear Springs – San Francisco 49ers
On3 Consensus ranking: No. 328 (4-star) – 2012 class
Tight end
Andrew Beck, FB/TE, Tampa (Fla.) Plant – Denver Broncos
On3 Consensus ranking: No. 468 (3-star) – 2014 class
Cade Brewer, Austin (Texas) Lake Travis – Seattle Seahawks
On3 Consensus ranking: No. 775 (3-star) – 2017 class
Geoff Swaim, Oroville (Calif.) Butte College – Tennessee Titans
On3 Consensus ranking: No. 80 JUCO (3-star) – 2013 class
Offensive line
Derek Kerstetter, OT, San Antonio (Texas) Reagan – Buffalo Bills
On3 Consensus ranking: No. 591 (3-star) – 2017 class
Calvin Anderson, OT, Austin (Texas) Westlake – Denver Broncos
On3 Consensus ranking: No. 2076 (3-star) – 2013 class
Connor Williams, OG/C, Coppell (Texas) High – Miami Dolphins
On3 Consensus ranking: No. 409 (4-star) – 2015 class
Sam Cosmi, OG, Humble (Texas) Atascocita – Washington Commanders
On3 Consensus ranking: No. 1033 (3-star) – 2017 class
Defensive line
Ta'Quon Graham, DE, Temple (Texas) High – Atlanta Falcons
On3 Consensus ranking: No. 224 (4-star) – 2017 class
Joseph Ossai, DE, Conroe (Texas) Oak Ridge – Cincinnati Bengals
On3 Consensus ranking: No. 187 (4-star) – 2018 class
Malcom Brown, DT, Brenham (Texas) High – Jacksonville Jaguars
On3 Consensus ranking: No. 11 (5-star) – 2012 class
Malcolm Roach, DT, Baton Rouge (La.) Madison Prep – New Orleans Saints
On3 Consensus ranking: No. 576 (3-star) – 2016 class
Poona Ford, DT, Hilton Head (S.C.) High – Seattle Seahawks
On3 Consensus ranking: No. 243 (4-star) – 2014 class
Charles Omenihu, DE, Garland (Texas) Rowlett – San Francisco 49ers
On3 Consensus ranking: No. 376 (4-star) – 2015 class 
Hassan Ridgeway, DT, Mansfield (Texas) High – San Fransisco 49ers
On3 Consensus ranking: No. 152 (4-star) – 2012 class
Linebacker
Malik Jefferson, Mesquite (Texas) Poteet – Dallas Cowboys
On3 Consensus ranking: No. 26 (5-star) – 2015 class
Jordan Hicks, LB, West Chester (Ohio) Lakota West – Minnesota Vikings
On3 Consensus ranking: No. 6 (5-star) – 2010 class
Defensive back
P.J. Locke, S, Beaumont (Texas) Central – Denver Broncos
On3 Consensus ranking: No. 593 (3-star) – 2015 class
Caden Sterns, S, Cibolo (Texas) Steele – Denver Broncos
On3 Consensus ranking: No. 19 (5-star) – 2018 class
DeShon Elliott, S, Rockwall (Texas) Heath – Detroit Lions
On3 Consensus ranking: No. 227 (4-star) – 2015 class
Josh Thompson, DB, Nacogdoches (Texas) High – Jacksonville Jaguars
On3 Consensus ranking: No. 339 (4-star) – 2017 class
Brandon Jones, S, Nacogdoches (Texas) High – Miami Dolphins
On3 Consensus ranking: No. 63 (4-star) – 2016 class
Kris Boyd, CB, Gilmer (Texas) High – Minnesota Vikings
On3 Consensus ranking: No. 101 (4-star) – 2015 class
Adrian Phillips, S, Garland (Texas) High – New England Patriots
On3 Consensus ranking: No. 143 (4-star) – 2010 class
Brenden Schooler, S, Mission Viejo (Calif.) High – New England Patriots
On3 Consensus ranking: – N/R 2016 class
Quandre Diggs, S, Angleton (Texas) High – Seattle Seahawks
On3 Consensus ranking: No. 47 (4-star) – 2011 class
Specialists
Justin Tucker, K, Austin (Texas) Westlake – Baltimore Ravens
On3 Consensus ranking: No. 621 (3-star) – 2008 class
Cameron Dicker, K, Austin (Texas) Lake Travis – LA Rams
On3 Consensus ranking: No. 1554 (3-star) – 2018 class
Michael Dickson, Sydney (Australia) Australian Institute of Sport – Seattle Seahawks
On3 Consensus ranking: N/A – 2015 class