Texas Longhorns football mines several Dallas Cowboys connections in prep for 2022 season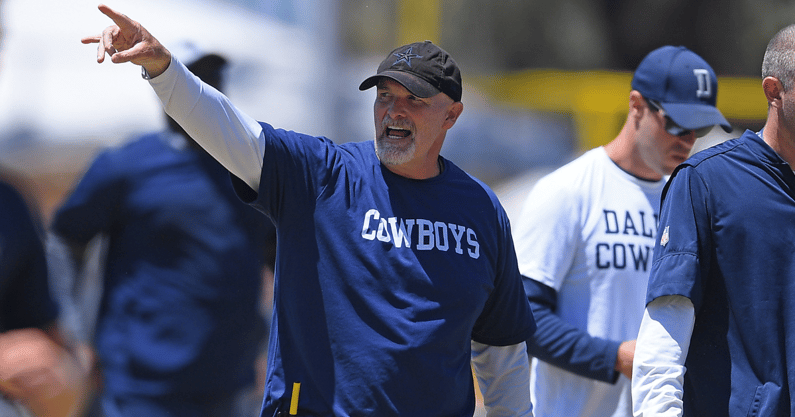 In the days since the Texas Longhorns football program reported to Austin for preseason camp, current coaches and players have spoken about a few of the sources of information and inspiration they looked toward during the long offseason. For a few coaches and players, there was a common connection with the Dallas Cowboys.
[Get a 50% off an Inside Texas Plus subscription!]
No, former Arkansas Razorback and Cowboys owner Jerry Jones isn't helping one of his alma mater's archrivals, especially after Jones was present for the Hogs' 41-20 thrashing of the Horns in Fayetteville, Ark. last season. But there have been Longhorns who have gone to America's Team or people associated with it for advice or instruction ahead of the 2022 campaign.
The most prominent example of someone from the football program in Austin reaching out to the organization in Arlington was Texas defensive coordinator Pete Kwiatkowski. He said Tuesday that he sought insight from Cowboys defensive coordinator Dan Quinn during the offseason.
Where did that connection come from? Texas head coach Steve Sarkisian was Quinn's offensive coordinator with the Falcons for the 2017 and 2018 seasons, but common time in the Pacific Northwest created a good relationship among the trio of coaches.
Quinn was on staff with the Seattle Seahawks in 2009 and 2010, then again in 2013 and 2014. Sarkisian was head coach at Washington from 2009 to 2013, and those two crossed paths on several occasions. Plus, Kwiatkowski's first year at U-Dub was in 2014, Quinn's final year coordinating Seattle's Legion of Boom.
Quinn and Kwiatkowski also share focus areas on the field. Both call plays and specialize in instruction D-linemen and others on the defensive front.
"The idea of installing, the idea of gameplanning, the idea of calling a defense in-game with that perspective, from a front perspective, I think we all can continue to grow," Sarkisian said on Wednesday. "It's no different than me going to visit with Sean McVay. I never feel like I'm not trying to grow, get better, and improve, and PK is no different. I think he's 55, and he's meeting with one of the best in the NFL right now in finding new ways and new techniques to motivate, to scheme, to instill fundamentals and techniques in our defense, and a style of play we all want them to have."
The defensive inspirations from them Cowboys don't end there. Texas linebacker DeMarvion Overshown spoke to the media following practice on Thursday and was asked about his expanding role that should see him with responsibilities on the edge.
One of the players Overshown has studied to help him in that role is on the Cowboys, while another often dresses (and works) like a cowboy.
"Micah Parsons and Von Miller, I watch a lot of them," Overshown said Thursday. "Those are two of the guys that I like to watch when they're working off the edge."
Parsons was the NFL Defensive Rookie of the Year and a first-team All-Pro in 2021 for Quinn's defense. He played in a variety of roles with 454 snaps at linebacker and 347 snaps on the defensive line.
Not to say Overshown is the next Parsons, but studying a versatile player like Parsons in addition to one of the best pass-rushers of the current era in Miller should help him in his newfound assignments.
The last Dallas connection is on Sarkisian's coaching staff. Running backs coach Tashard Choice played 54 games for Dallas to begin his NFL career.
Once he hung up his cleats, he was an assistant at North Texas and Georgia Tech before joining Sarksisan's staff this past offseason. He walked into a great situation for any running backs coach with bona fide talents like Bijan Robinson, Roschon Johnson, and other promising young backs on the roster.
In Sarkisian's offense, running backs are asked to do plenty in the passing game, including splitting out as a wide receiver. Though wideouts coach Brennan Marion has helped Robinson with some of the finer points of running routes and the like, Choice has been a key part of the instruction process for the Heisman hopeful.
"Coach Marion always gives me a lot of great tips on how to perform on the receiver side of the ball, and Coach Choice," Robinson said Thursday. "He was always kind of a receiver back as well."
In his 54 games with Dallas, Choice had 64 catches for 497 yards and 19 touchdowns. Of those 64 receptions, 19 of them moved the chains. That experience has been crucial to helping Robinson become a versatile weapon for the Longhorn offense, especially following the 2021 season where he caught 26 passes for 295 yards and four scores.
"(Choice) has got a lot of knowledge from coaching receivers and understanding receivers," Robinson said. "I learn from both of them every single day."
Robinson also mentioned his efforts at improving his pass protection and blitz pickup, likely his only weaknesses as a running back. It's part of what he knows he needs to improve not just for the Longhorns, but for those watching at the professional level.
"Coach Choice made a big emphasis on pass blocking," Robinson said. "We've been doing that every single day, just me having that part of my game at a high level. Then, with the rest of my game, I think that what makes you the complete back you can be to where you want to go at the next level."
The professional football ranks offer a wealth of knowledge that, with the right connections, can be passed onto college coaches and players. The Longhorns have made use of various connections to the Cowboys over the course of the offseason in order to try to eclipse the 9-win mark that America's team knows so well.