"Healthy competition" at one offensive position, status quo at another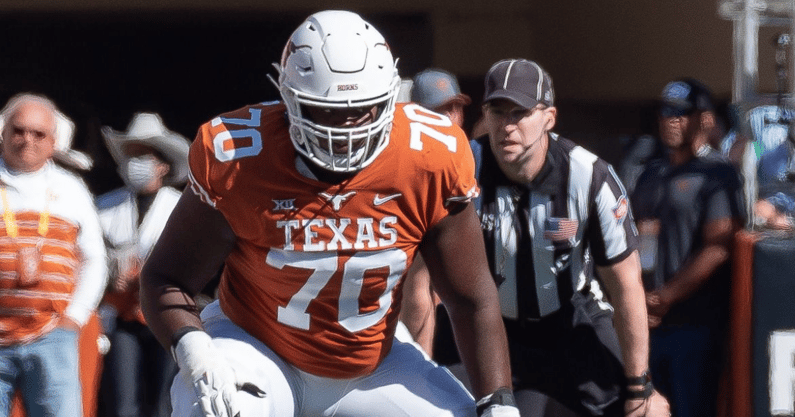 At various junctures during Texas' loss to Oklahoma State, several changes were made along the Longhorn offensive line.
From left to right to begin the game, the starters were Christian Jones, Junior Angilau, Jake Majors, Tope Imade, and Derek Kerstetter. Imade, a super senior, made his first career start as a Longhorn. But during the course of the contest, true freshman Hayden Conner rotated in at right guard in Imade's place.
[Subscribe to Inside Texas and get 50% off an annual or monthly membership!]
Similarly, though Jones started at left tackle, another freshman in Andrej Karic played several series protecting Casey Thompson's blindside.
According to Texas head coach Steve Sarkisian, all those moves were planned for.
"Tope was making his first career start, so to think he was just going to go all four quarters that probably wouldn't have been fair to him," Sarkisian said Monday. "We wanted to roll Hayden Conner some in there with him. Getting Derek (Kerstetter) back at right tackle I think was helpful and I thought it was good for Derek. Then, having a little bit of a healthy competition with Christian and Andrej at left tackle I think was good."
The offensive line has been an issue all season for the Longhorns no matter who is in the game. Texas put together seven three-and-out drives versus the Cowboys, including going without a first down in its final six drives.
Sarkisian hopes the moves and upcoming competition during the bye week help what has been a unit most opposing defenses have consistently attacked.
"Ideally moving forward, Tope continues to gain that comfort level of playing and being more of the consistent player at right guard, and we're going to monitor the situation at left tackle as we go for the next two weeks before the Baylor game," Sarkisian said.
While changes were made along the offensive line, Sarkisian did not make a similar move at the quarterback position when Thompson was struggling with what the Oklahoma State defense was throwing at him. After his 13-yard third quarter touchdown pass to Bijan Robinson, Thompson was 5-of-10 for 25 yards.
Sarkisian stuck with Thompson on Saturday after making a different move earlier in the year. When Hudson Card had troubles versus Arkansas, Sarkisian replaced Card with Thompson late in the third quarter. Thompson then went 5-of-8 for 57 yards and added 44 yards and two touchdowns on the ground versus the Razorbacks.
When Thompson stumbled against Oklahoma State, Sarkisian continued to put Thompson under center.
"I think Casey has earned a little bit more of that right to work through some of those struggles," Sarkisian said. "The week before, he throws five touchdowns against Oklahoma. He had a six touchdown game against Texas Tech, so he's played and shown really good football to us. I think he's earned that opportunity to work his way out of this."
Thompson left the game late in the third quarter after OSU's Malcolm Rodriguez issued a vicious hit as he was making a throw. Card entered for one play, but Thompson returned after sitting out the required play.
"We're always trying to find a way and developing Hud," Sarkisian said. "Hud was ready to go, jumped in there, and did it."
Thompson remains the starting quarterback heading in to Texas' bye week before the Longhorns end the year at Baylor, at Iowa State, versus Kansas, at West Virginia, and versus Kansas State.
Sarkisian said he wants to get Card into games, something not always easy for this Texas team. But as he spoke about quarterback, Sarkisian returned to a talking point he has repeated since Card was named starter prior to the season.
"I've been saying it since day one, we're going to need both these guys to compete at the highest level for us this fall, and Hud is doing the necessary things for him to keep developing his game so that when his number does get called, that he can perform at a high level," Sarkisian said.