Texas RB Bijan Robinson named Earl Campbell Tyler Rose Award finalist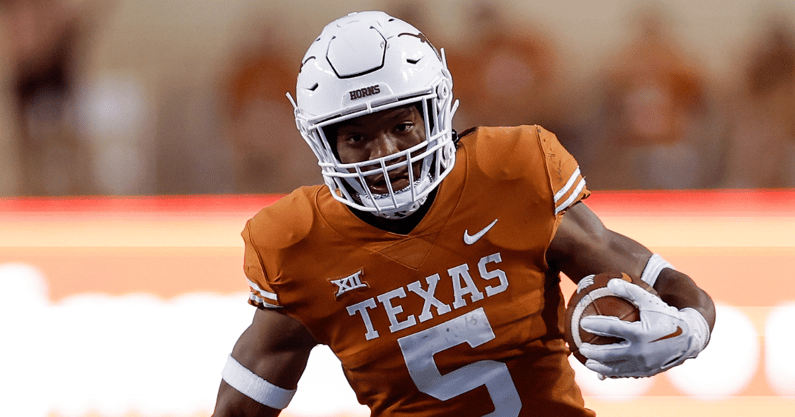 Texas running back Bijan Robinson has been stacking accolades since the end of the season. He might be adding another one soon after he was named a finalist for the Earl Campbell Tyler Rose Award on Tuesday.
[Get FOUR MONTHS of Inside Texas Plus for $1!]
"First and foremost, I want to thank God for this amazing blessing. Without Him, none of this would be possible. I want to thank Earl Campbell, his family and everyone involved with this incredible award," Robinson said. "To be a Texas running back and be a finalist for an honor that has his legendary name on it, at the same school where he played and at the same position he played, words can't describe how special that is. Not only that, but personally, I can't say enough about what he's meant to me as a mentor and a friend. I know I can always go to him any time with any question and get advice from one of the best to ever do it, not just at UT, but anywhere and at every level the game is played. And that's not just football, he's given me lifelong advice and is a person I can talk to about anything, and for that, I'm blessed to have him in my life and so, so grateful.
"Of course, none of this would be possible without my coaches and teammates. This honor belongs to them, too, and I know they share my feelings for what it means to us as Longhorns. Finally, I want to thank my family, who have been there for me from the beginning and give me love and support every day throughout my journey."
The Earl Campbell Tyler Rose Award is given annually to the best college football player in Texas. It's named after the famous John Tyler product, Heisman-winning running back at Texas, and NFL star for almost a decade.
Robinson won the Doak Walker Award, which is given annually to the nation's top running back, joining two-time winner Ricky Williams, the late Cedric Benson, and D'Onta Foreman as Longhorns to take home the honor. Robinson also received first-team All-Big 12 honors for his 2022 campaign.
Robinson is also the 62nd consensus All-American and eighth Texas tailback back to earn the distinction, joining James Saxton (1961), Chris Gilbert (1968), Steve Worster (1970), Roosevelt Leaks (1973), Earl Campbell (1977), Ricky Williams (1997, 1998) and D'Onta Foreman (2016).
In his three years in Austin, Robinson rushed for 3410 yards and 33 touchdowns. He also caught 60 passes for 805 yards and eight touchdowns. He averaged 7.0 yards over his 599 career touches. In 2020, he also broke Texas' longstanding record for yards per carry with his 8.2 yards per carry on 86 carries.
Robinson still hasn't made a public announcement as to whether he'll play in Texas' upcoming matchup with Washington in the Valero Alamo Bowl.
Robinson was a legend on high school football fields across the state of Arizona. He finished his career as the state's all-time leader in touchdowns with 114 and rushing yards with 7,036. He rushed for over 2,000 yards in his sophomore, junior and senior season. Robinson is the first player to win the Ed Doherty Award — given to Arizona's best high school football player — twice. His grandfather, Cleo Robinson, was an all-state linebacker in high school and was a track and field athlete at Northern Arizona. He later became a official and worked in the Pac-12. His great uncle, Paul Robinson, played six NFL seasons as a running back and was a consensus first team All-Pro as a rookie.