Texas seniors discuss their favorite memories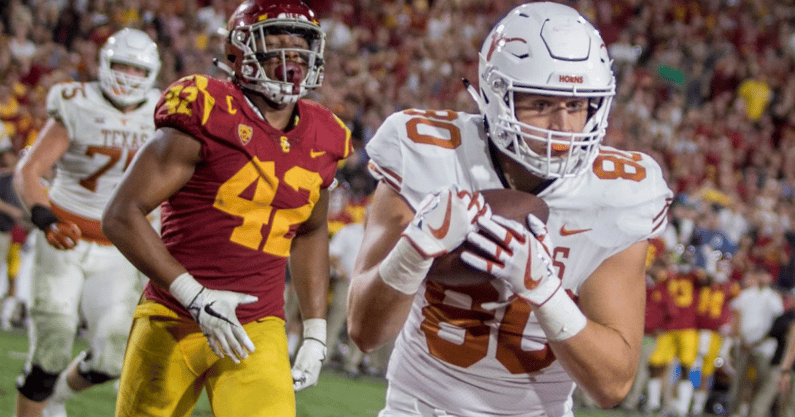 Every year in the week leading up to the final home game of the regular season, Texas makes a handful of seniors available to the media for one last check-in with the local scribes and camera operators.
[Subscribe to Inside Texas right now and get 50% off an annual or monthly membership!]
Inside Texas takes the opportunity to ask each player the same question, what was your favorite memory from playing football at the University of Texas?
Answers vary between reminiscing on the daily practice grind or making a big play in a big game. Sometimes a non-descript play in a forgettable game makes the cut, but those instances are rare.
READ: 29 players, including several juniors, to be honored on UT senior day
The players who spoke Monday all arrived at Texas in different ways. One showed up for Charlie Strong. Others for Tom Herman. All decided to stay for a year with Steve Sarkisian.
Texas made Tope Imade, Brenden Schooler, Jacoby Jones, Cade Brewer, and Derek Kerstetter available Monday from this year's senior class. Here's what was memorable for them.
Derek Kerstetter
Kerstetter signed with the program as part of Herman's first class. He flipped from Oklahoma State to Texas just after Christmas in 2016. By the fourth game of the 2017 season, he was starting at tackle.
He played several positions throughout his career, including tackle, guard, and center. He suffered a brutal ankle injury in the 2020 regular season finale versus Kansas State, but had one of that year's memorable moments when he returned from a local medical facility to the locker room in Bill Synder Family Stadium to lead the team in singing "Texas Fight."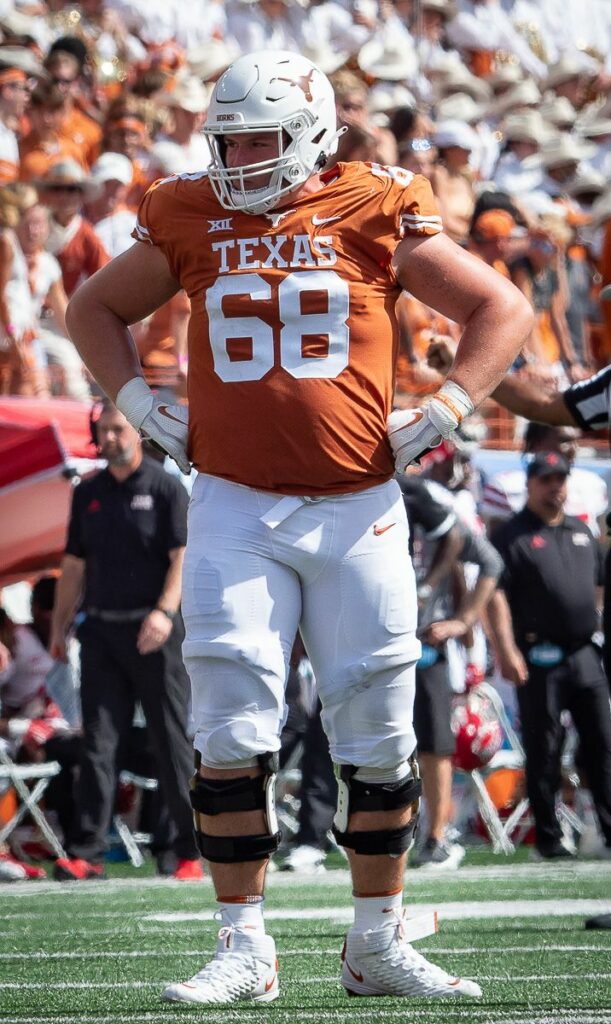 Both the 2020 team and 2021 team looked to Kerstetter for leadership, no matter what position he played.
"The thing I'm most proud of is being a captain," Kerstetter said. "It's always what I've dreamed of being. It's what I strived to be. To be able to be elected by my teammates was just a dream come true. I'm thankful to be able to have that C on my chest."
Cade Brewer
Brewer also was part of the 2017 class, and also saw playing time very early.
When Andrew Beck was lost for the 2017 season, the tight end position was thrown into disarray. At USC in game three, Brewer, a flip from SMU, made one of the night's most important plays. He caught a go-ahead touchdown pass from Sam Ehlinger in overtime to give Texas a one-score advantage. USC would eventually match and win, but the moment was one of Brewer's best.
"My favorite moment has got to be USC my freshman year," Brewer said. "My first catch and first touchdown. Just an awesome moment. Overall, I never thought I would be in that position, my freshman year and especially in the Coliseum. That's probably my favorite moment. I've had a bunch of great moments while I've been here, but that's definitely one that sticks out the most."
Jacoby Jones
Jones was originally slated to be a Sooner, but the Longhorns worked to flip the junior college prospect. He decommitted from Oklahoma in November of 2018 and joined the Longhorns' 2019 class just over a week later.
Jones has missed a significant portion of the 2021 season due to injury, but told reporters Monday he plans to play in the season finale.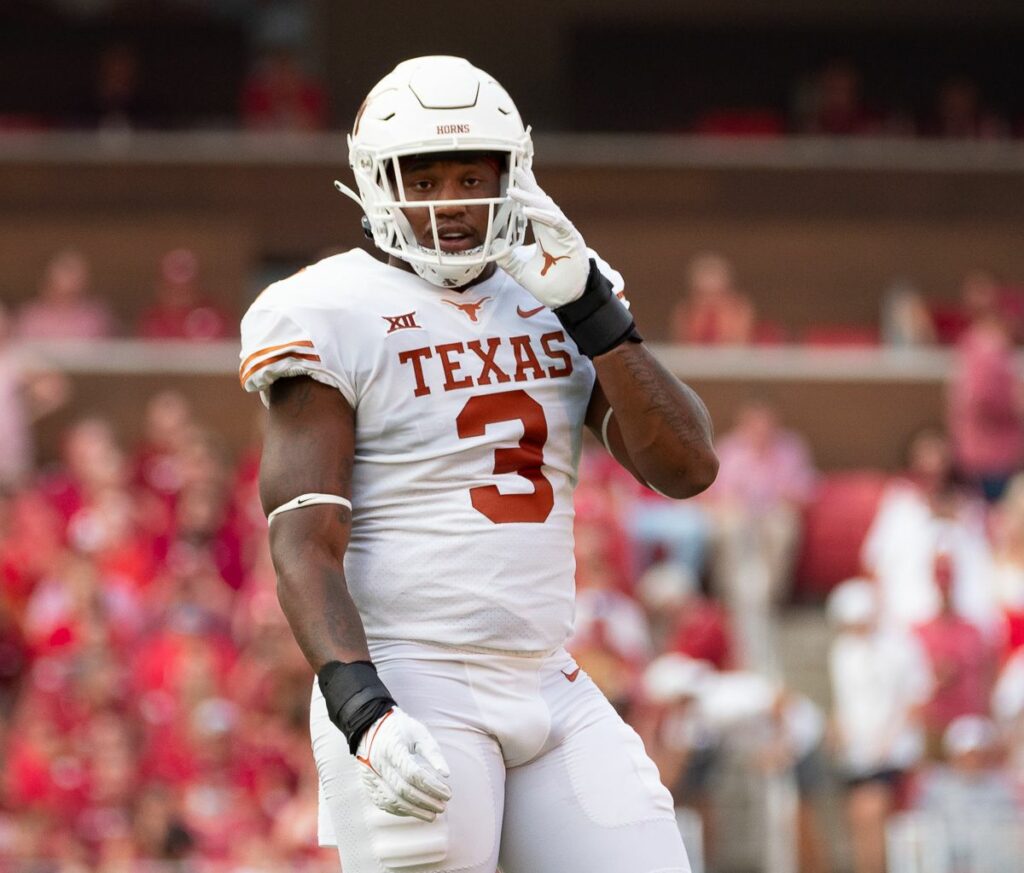 It's evidence of his love of the game not just on Saturdays, but during the week as well.
"5 a.m., 6 a.m., workouts," Jones said. "That's where it started. The off season, probably the hardest part of the year. Waking up every morning, I'm going to remember every minute of it. My season was cut short, this last year I took in everything.
"I observed a lot more than I talked so I remember a lot. The best highlight is just going to be being out there with my brothers, being in that locker room, coming in there for workouts, eating together, training together, rehabbing together, everything about it. Being in a collegiate program is different than any other life, being in the league, or being in high school. The type of university like this comes with a lot of discipline and a lot of hard work, I'm going to remember everything about it."
Brenden Schooler
Schooler originally left Oregon ahead of the 2020 season to play at Arizona with his brother, but whether he would be able to play was up to Pac-12 commissioner Larry Scott and friends.
Scott delayed. Schooler did not. He elected to transfer yet again, and settled on Texas just before the season started. The former freshman All-American played the 2020 season at wide receiver before switching to safety for the 2021 season.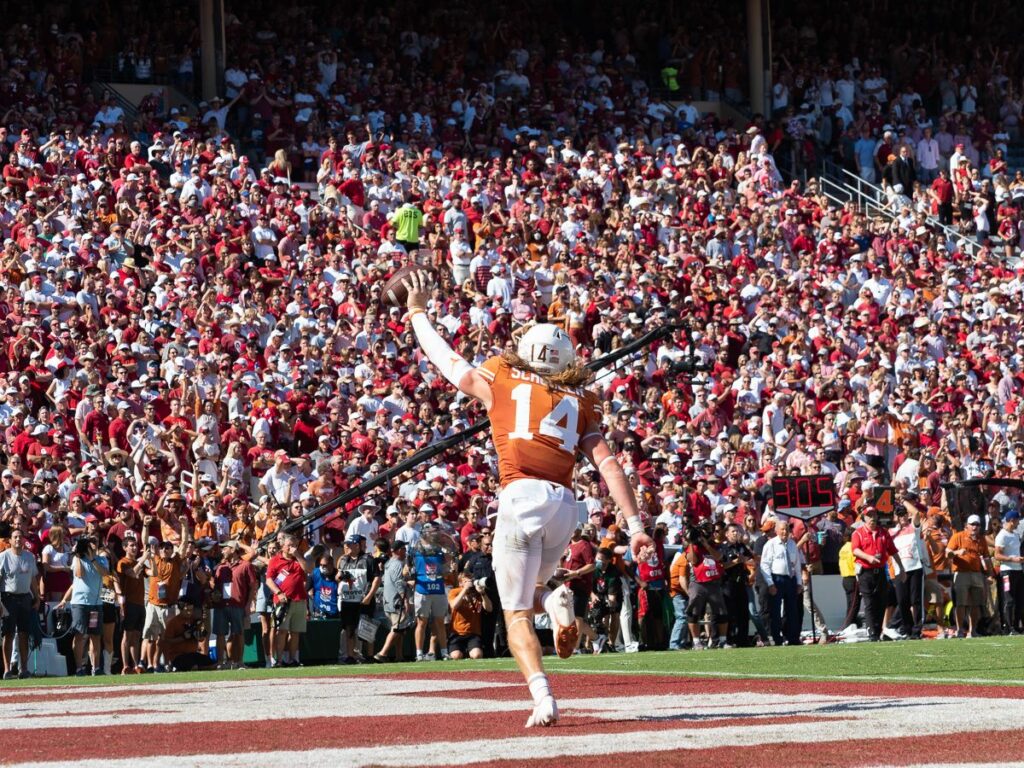 He had several highlights during 2020, but the time of his college career was lining up against his brother when the Longhorns played the Red Raiders.
"Either my first touchdown, or getting to play my brother," Schooler said. "I think it's been pretty special for us."
Tope Imade
Imade is the subject of plenty of old man jokes in the Longhorn locker room, the best of which Imade said Monday was lobbed his way by Jordan Whittington. The jab? Imade blocked for Earl Campbell and Ricky Williams.
The sixth-year senior from Bowie High School in Arlington saw little action his first five years. He was praised for his behind-the-scenes work ethic, and made the most of his Texas education gaining not just his bachelor's degree, and not just one master's degrees, but two.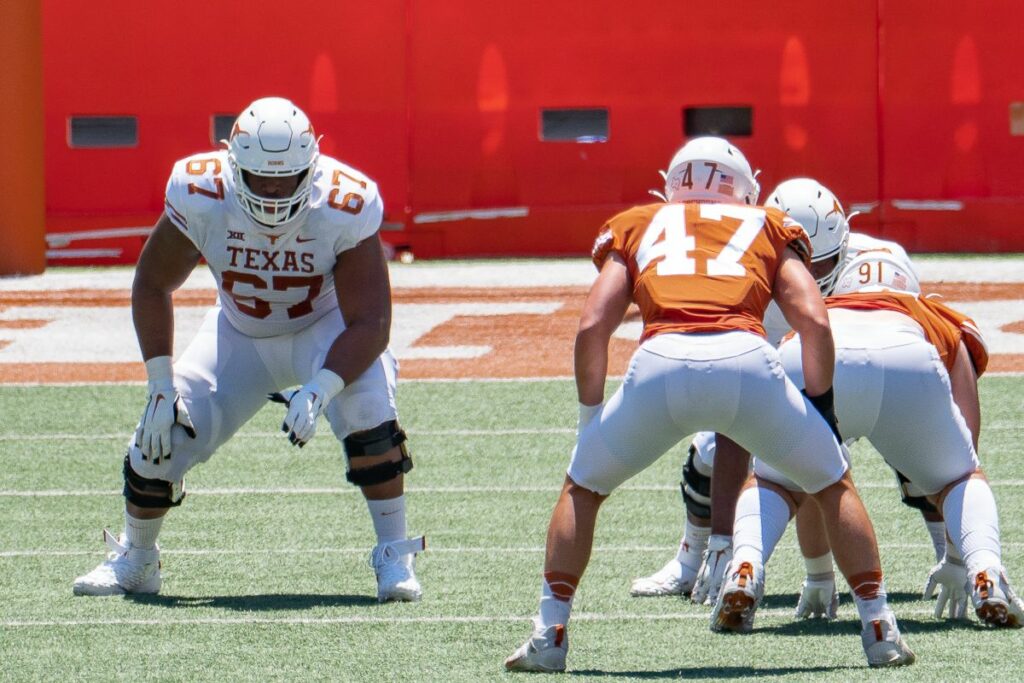 He stuck around to play with his best friend Denzel Okafor. When Okafor went down due to injury, Imade stepped in and made his first career start during his sixth college football season for his third head coach.
"Jogging out for my first start," Imade said. "I hadn't started a game since my senior year. We lost to Odessa Permian, that's the last time I started a game. You know, you're thinking five years later, I have all the nerves. My voice is shaking. I'm trembling. Am I going to do good or am I going to do bad? But once the first two or three plays got in, I was like 'man this is just like high school.' I was happy. I was excited, and we just got on a roll."