Texas to face three top-20 Big 12 teams in the next seven days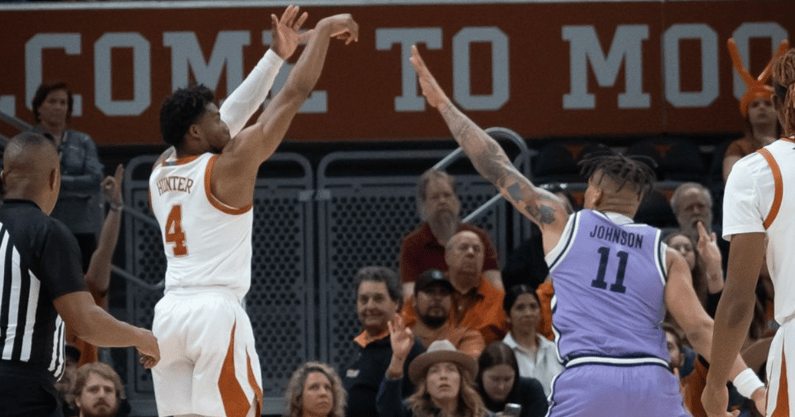 There's no rest for the weary in the Big 12.
[Get Inside Texas Plus until the start of the 2023 season for $29.99!]
After a brief break from conference play in the form of a loss to top-five Tennessee in Knoxville on Saturday, the Longhorns are back on the hardwood versus Baylor as part of ESPN's Big Monday at 8 p.m. in the Moody Center.
"We only keep these games for one night, whether you win or lose," Texas interim head coach Rodney Terry said following the loss on Saturday. "We've got a tough game Monday against a really good team from our league, Baylor. We've got to have a quick turnaround."
The Bears are the first of three consecutive games versus teams ranked in the top 20 of the most recent AP poll. Though an update is to come Monday afternoon, Baylor, Kansas State, and Kansas were previously ranked and won on Saturday during the SEC-Big 12 Challenge.
Baylor has had the Longhorns' number of late. In the last 14 contests between the two schools, Scott Drew's team has won 12. Former head coach Shaka Smart recorded the two Texas wins, while his successor Chris Beard was 0-2 as Longhorns head coach versus the nearby rival.
On Saturday, Terry called the Big 12 "really physical night in and night out." That's reflected in Baylor's two leading scorers, guards Keyonte George and Adam Flagler. Both stand at least 6-foot-3 and average at least 15 points per game. Plus, BU's Flo Thamba creates an advantageous size matchup in the post for the Bears.
After Texas was pushed around often versus the Vols, Terry saw a specific area where everyone in the UT program needs to improve no matter who they're facing or how big they are. That aspect will be key in the three games to come.
"I've got to do a better job of trying to coach those guys to be more physical," Terry said. "Obviously, they've got to do their part likewise."
It won't get any easier after the contest with the Bears is through. Texas makes a sweep through Sunflower State starting on Saturday when the Horns head to Manhattan, Kan. to face Kansas State in Bramlage Coliseum. K-State torched the Longhorns during their first meeting in Austin in a 116-103 win.
Then, Texas plays in another Big Monday showcase when it meets with Kansas for the first time this year in the always-hostile environment of Phog Allen Fieldhouse.
The games following the matchup with the Jayhawks are no cakewalk either, as a trip to Lubbock to face Texas Tech is followed by home contests versus Oklahoma and Iowa State.
Terry and his team can't focus that far ahead. There's a difficult slate of three games in the next seven days right in front of them, and it starts Monday night.
[Sign up NOW for the Inside Texas newsletter for Texas Longhorns daily updates and breaking news in your inbox!]
Baylor – 8 p.m. – 1/30 – ESPN
Last time out: Defeated Arkansas, 67-64
Overall record: 16-5
Big 12 record: 5-3
KenPom ranking: No. 14
NET ranking: No. 13
at Kansas State – 3 p.m. – 2/4 – TBA
Last time out: Defeated Florida, 64-50
Overall record: 18-3
Big 12 record: 6-2
KenPom ranking: No. 25
NET ranking: No. 16
at Kansas – 8 p.m. – 2/6 – ESPN
Last time out: Defeated Kentucky, 77-68
Overall record: 17-4
Big 12 record: 5-3
KenPom ranking: No. 9
NET ranking: No. 8