Texas signee Jaylon Guilbeau chronicles his recruitment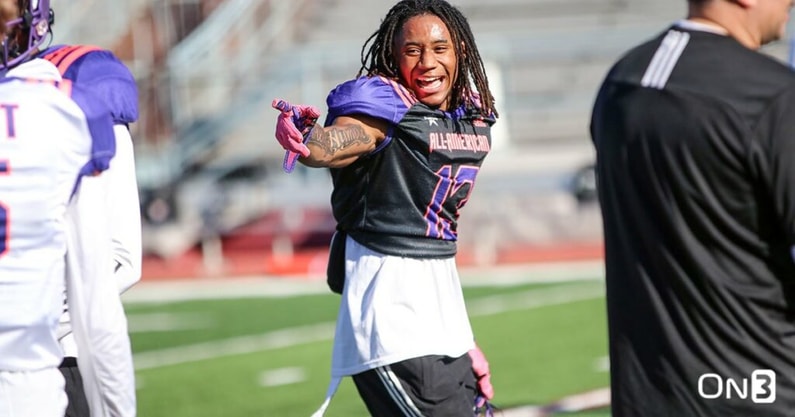 SAN ANTONIO — Port Arthur (Texas) Memorial defensive back Jaylon Guilbeau signed with Texas on December 15, culminating a recruitment where he considered the Longhorns and several other programs in the Lone Star State.
[Subscribe to Inside Texas right now and get a 7-day FREE trial!]
"Pen to paper, it's a done deal," Guilbeau said about his signing day emotions at All-American Bowl practice on Tuesday. "I'm signed on that dotted line. I was happy. It was stressful, but it was a blessing. I'm very blessed for that. I thank Texas and all they did for me throughout the whole process."
It was the finish line of a recruitment that started almost two years ago, when former head coach Tom Herman and former assistant Jay Valai offered Guilbeau on February 1, 2020. USC, Alabama, Georgia, and several others joined the Longhorns during the spring and summer of 2020, but Herman and company secured Guilbeau's commitment on September 19 one week after the Longhorns' season-opening win over UTEP.
Guilbeau remained committed throughout the 2020 season, but come January 2, 2021, the coach who took his verbal pledge was let go and replaced by Steve Sarkisian.
"When that switch happened, I was like 'dang, what am I going to do?'" Guilbeau said. "So I prayed about it and prayed about it."
It was a tough transition for Guilbeau, as the coaches he had built a bond with over the course of the year all of a sudden were gone. Other schools tried to throw their hat into the ring for the Golden Triangle product.
TCU and Gary Patterson offered on January 11. Other schools like Michigan, Houston, and Texas Tech joined the fray. In the end, Guilbeau netted over 20 offers.
"Once I had decommitted from Texas, I was looking at TCU," Guilbeau said. "Texas was still in the picture. U of H, a couple more schools"
The summer of 2021 became an important one in the recruiting landscape once the NCAA allowed schools to host players on official and unofficial visits.
Ultimately, three schools separated from the pack in Texas, Texas A&M, and TCU, but Guilbeau maintained his commitment to Texas. As a Longhorn commit, he visited Texas A&M on June 20. Five days later, he visited the Longhorns.
During a disappointing summer for Longhorn recruiting efforts, Guilbeau made one of several decisions that went against the efforts Sarkisian and his staff. Guilbeau opened up his recruitment on July 21, but kept the Longhorns in the picture.
Just before prep for the high school and college football seasons began, Guilbeau saw Texas on July 30 and Texas A&M the following day.
"It was a hard summer," Guilbeau said. "I was really focusing on just grinding and focusing on me. I really wasn't focusing on anything else. Everything else was going to fall into place like it did."
Even though the Longhorns and Aggies made their pitches to the On3 Consensus four-star, Guilbeau liked what he heard from Patterson and the Horned Frogs. He committed to TCU on September 26 on the heels of a loss to SMU.
His recruitment would be turned upside down again a month later. Patterson and TCU parted ways on Halloween, a month and a half before he was supposed to sign his letter of intent.
"I was locked in over there, but I didn't know Coach Patterson was going to get fired or hang it up," Guilbeau said. "So I'm like, 'dang, this happened to me again!' After, I'm like 'what am I going to do?'"
Texas re-opened the conversation with Guilbeau, this time with Sarkisian and secondary coach Terry Joseph recruiting him. He visited Austin for the Longhorns' loss to Kansas, but his conversations with Sarkisian and Joseph showed a bond had been built and reminded him why he chose burnt orange in the first place.
"When I took that visit up there up again, I watched them play, and me and Coach Joseph sat down and talked," Guilbeau said. "We broke it down like 'this is what you need to do and this is what I need to do' and we bonded right there. After that, I was going to go ahead and commit because I have that bond with him."
Guilbeau flipped from TCU to Texas on Thanksgiving, and visited Austin on December 11 for Texas' class of 2022 recruiting weekend. He signed with the Longhorns a few days later, and is ready to begin his journey on the Forty Acres after the All-American Bowl wraps up on Saturday.
"I'm trying to go in and start day one," Guilbeau said. "I'm going in with my head down and just grinding.