Texas signees and targets at the 2022 All-American Bowl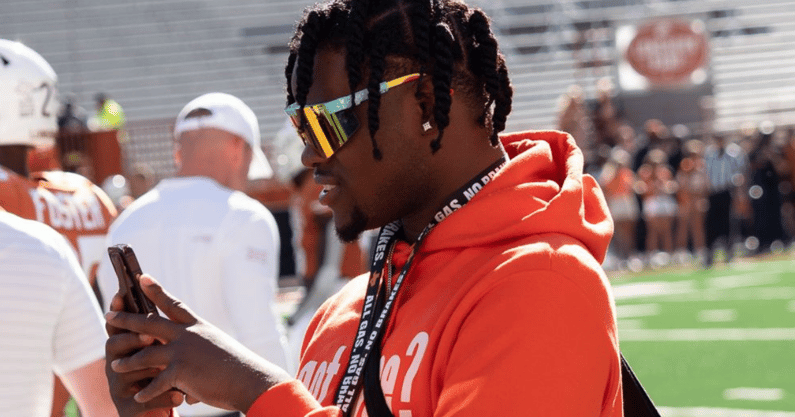 The Texas Longhorns' 2022 recruiting class is represented at the All-American Bowl in San Antonio by J'Mond Tapp and Jaylon Guilbeau. The Longhorns are also contenders for two players set to announce Saturday at the Alamodome.
There will be a few days of practices leading up to the all-star game on Saturday. Here's what we'd like to see from Texas signees, plus the two announcements Inside Texas is tracking ahead of Saturday.
What we want to see from Texas' signees
EDGE J'Mond Tapp (West/No. 14)
Joe Cook: Tapp is relentless on the line of scrimmage, and uses his strength and motor to give opposing offensive linemen fits. What isn't always clear is his technical ability. He's able to just manhandle opposing players throughout his junior and senior film. I want to see if the play strength translates this week, it should, but I'm more focused on what Tapp utilizes and how effective he is when he needs to dip into his bag of moves.
Hudson Standish: First thing I'm looking for with Tapp is how focused the On3 Consensus No. 144 prospect is during practice. Some recruits use the all-star setting to get better while others view the weekend as a celebration of their high school accomplishments. I'm also intrigued to see how deep of a toolbox Tapp has in pass-rushing situations, or if his physical traits are enough to overcome similarly skilled opposition.
DB Jaylon Guilbeau (West/No. 13)
Joe Cook: Guilbeau shows some good instinctual play against the run in his limited senior film, but there aren't a ton of clips of him in one-on-one situations. In the practices leading up to Saturday's game, Guilbeau will have plenty of chances matched up with some of the best WRs in the country. How he fares before the ball is thrown is something I'd like to see him do well because that skill translates across DB positions.
Hudson Standish: In all-star game settings corners are consistently put on an island against the best high school receivers in the country. I want to see how Guilbeau holds up in isolated coverage in an environment that favors the offense. One of my favorite traits about the Port Arthur native is his instinctual ability to trigger effectively against the run which we should see plenty of during the game itself.
Texas recruiting targets
DB Larry Turner-Gooden (West/No. 21)
Hats on the table: Texas, Maryland, Colorado, Penn State
Turner-Gooden visited for the Longhorns' October game with Oklahoma State. Texas has five defensive backs signed in its 2022 class and recently added transfer Ryan Watts. They also have one outstanding commitment who has yet to sign in Ronald Lewis.
OL Earnest Greene (West/No. 71)
Hats on the table: Texas, Ohio State, Georgia
Greene has already signed and is announcing Saturday in San Antonio. In its search for another high school O-lineman, Texas is in a better position for Devon Campbell than it is for Greene.
Other prospects of note
QB Cade Klubnik (West/No. 6)
QB Devin Brown (West/ No. 15)
WR Kevin Coleman (West/No. 1)
WR Caleb Burton (West/No. 0)
WR C.J. Williams (West/No.8)
ATH Kendrick Law (West/No. 80)
CB Julian Humphrey (East/No. 27)
DL Quency Wiggins (West/No. 0)
TE Jaleel Skinner (East/No. 0)
LB Junior Tuihalamaka (West/No. 44)
QB Nick Evers (East)
LB Lander Barton (West/No. 8)
OL Jaylen Early (East/No. 76)
OL Hunter Erb (West/No. 67)
WR Landon Samson (West/No. 7)
DL Nic Caraway (West/No. 7)
OL Ben Rios (West/No. 77)
K Blake Ford (East/No. 23)
Hudson Standish co-authored this story