Texas targets in the updated On3 Top 150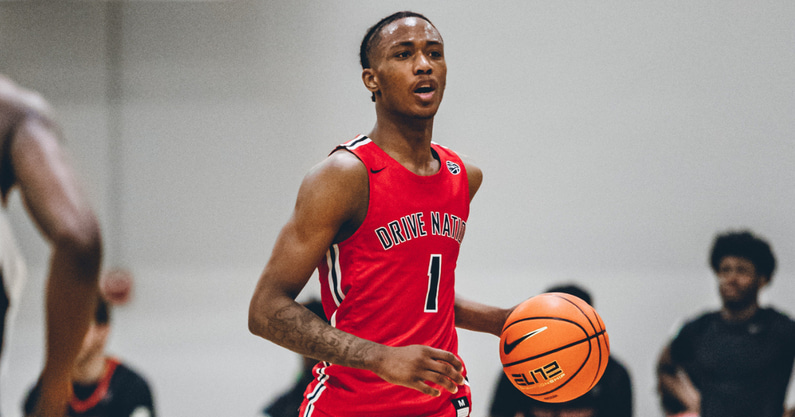 On3 released the latest basketball prospect rankings for the class of 2023 Monday, and there are a number of Texas Longhorns targets on the list.
Inside Texas takes a look at the Longhorns targets, and potential targets in the On3 Top 150.
Combo guards
No. 9 (5-star) A.J. Johnson, Woodland Hills (Calif.) Taft
Texas offered the 6-foot-4.5 guard in April, and are in the mix for the "little brother" of Houston Rockets guard Jalen Green. Johnson will spend time in Houston this week, and later in the summer. Texas will get a visit. USC and Tennessee are recent offers that caught Johnson's attention. Louisville, LSU and Arizona State factor into the race, currently.
No. 56 Chris Johnson, Missouri City (Texas) Montverde Academy
Texas and Johnson continue to have communication. Ole Miss is all in on the 6-foot-4 guard with excellent court vision. Arkansas, UConn and Kansas are also mentioned. Johnson trains daily at the T.J. Ford Academy in Missouri City. An unofficial visit to Texas is being chatted about.
No. 81 Braylon Green, Ypsilanti (Mi.) Dream City Christian
Texas made the Top 5 for the quick playmaker. The Longhorns are awaiting decisions on others, but will continue to evaluate in July. Michigan State
Shooting guard
No. 16 Ja'Kobe Walter, McKinney (Texas) Link Year Prep 
Walter begins his official visit at Baylor today. The Bears and Texas are battling it out, with Auburn the third school in serious contention. Walter is the top guard target on the board for Chris Beard and staff.
Guards/wings
No. 35 SG/SF Andrej Stojakovic, Carmichael (Calif.) Jesuit 
UCLA and Stanford are considered the teams to beat early on. With that said, Chris Beard is very popular with the 6-foot-6 smooth guard. Texas will get an official visit in September. Kentucky, UConn and Virginia are also on the potential visit list.
No. 41 SF Kaden Cooper, Ada (Okl.) The Skills Academy
The 6-foot-5 elite athlete will make an official visit to Gonzaga June 24-26. An offer from the Bulldogs would define this recruitment. Oklahoma and LSU will certainly be a factor. North Carolina has also made recent contact. Texas remains in contact with Cooper with an official visit possible.
No. 70 SG/SF Gehrig Normand, North Richland Hills (Texas) Birdville 
Texas likes Normand a lot. Normand loves Chris Beard. The Texas head coach will take a look at Normand at first chance in the live period. Missouri has the 6-foot-6 athletic guard on campus this week with Wisconsin this weekend.
No. 123 SF Malik Presley, San Marcos (Texas) High 
Texas liked the near 6-foot-6 guard/wing a lot in the spring live period. The Longhorns will get an unofficial visit in June. TCU hosted Presely over the weekend on an official visit. Texas A&M and LSU are also mentioned frequently. Arkansas will certainly be a factor if they push.
Forwards
No. 8 (5-star) Xavier Booker, Indianapolis (In.) Cathedral
Texas and Booker's circle have been on constant communication, and the Longhorns are battling for a visit. Michigan State, Duke, Indiana, Ohio State and Notre Dame are all in the mix. The NBA G-League Ignite could win out long term.
No. 12 (5-star) PF Ronald Holland, Duncanville (Texas) High 
The 6-foot-8 forward is fresh off an official to Arkansas, and has Kentucky this week. UCLA and Memphis have already hosted the DFW budding star. The Razorbacks are confident, as they know a person in the circle prefers close to home. Texas is expecting the final visit, and that will likely be the first or second weekend of September.
No. 26 Devin Royal, Pickerington (Ohio) Central
Texas has been in contact with the 6-foot-6 versatile forward with a game that resembles Draymond Green. That's likely why Michigan State is in the fight. Iowa State, Ohio State and Penn State are also heavily involved.
No. 37 Zayden High, Spring Branch (Texas) Compass Prep 
Texas will host the 6-foot-9 forward on an unofficial visit June 17. Arkansas, Michigan and Houston is the main competition. The Cougars were the favorite headed into the spring. Villanova is a recent offer, and there is mutual interest.
Big men
The Longhorns are working to get a lot of shots on goal with big men in the 2023 cycle with at least two having September official visits set.
No. 10 (5-star) C Baye Fall, Denver (Colo.) Accelerated Schools Aka Family Services Found
Fall made an official visit to Auburn over the weekend, and is expected on campus at Arkansas and Rutgers before a decision. Texas officially hosts Fall on September 10 weekend. The Overtime Elite league is in play.
No. 17 C Aaron Bradshaw, Roselle (N.J.) Camden
Texas is quietly recruiting the 7-footer. With that said, Louisville and Kentucky are considered the favorites by a considerable margin. Bradshaw and Dajuan Wagner Jr. are a possibility to end up at the same school. But not a lock.  
No. 43 C/PF Brandon Garrison, Oklahoma City (Okl.) Del City
The 6-foot-9 active big man will make an official visit to Texas September 10 weekend. An unofficial visit prior is also a possibility. Oklahoma State is considered the team to beat entering the July live period.
No. 49 C Dennis Evans, Riverside (Calif.) Hillcrest
Evans is arguably the second best rim protector in the 2023 cycle. Texas recently offered along with Kansas, Missouri and others. The Longhorns are working to get Evans on campus for an official visit.