The first signing period has been a success, and the second one currently lacks punch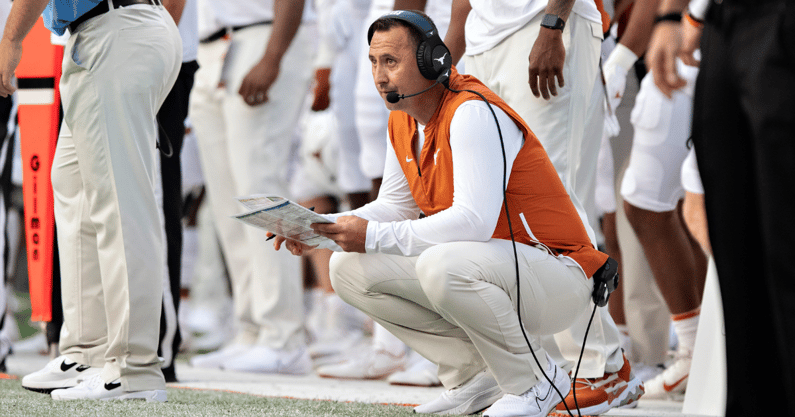 Some new rules work as intended. Others don't.
In retrospect, I think it's fair to say that the NCAA's addition of an early signing period in December to go along with the original one in February has worked, perhaps even better than originally expected.
With just eight days to go before the second signing day (Feb. 1 this year), most FBS football programs have already signed 90-percent or more of their recruiting class.
Just a reminder:
That suggested rule change emanated from college coaches, not from the administrators of the NCAA.
**
The Texas One Fund continues to make some moves behind the scenes.
The charitable organization is setting up "meet and greets" with Steve Sarkisian and Chris Del Conte in cities across the state over the next couple of months to raise funds for NIL.
Sark and Del Conte will both speak at the events.
The first one is in Houston on Feb. 21. Yes, it requires a donation to the Texas One Fund but it should be a fun time for a good cause.
If you're in Houston, grab a couple of friends and go out and meet Sark and CDC. Both are very personable people and I think you'll enjoy it. Info in the link.
**
In the last 48 hours, we've mentioned a couple of players Texas has kicked the tires on to close out recruiting for the class of 2023.
The big DL out of Mississippi Jonathan Davis received an offer from Texas on Saturday, but local teams Ole Miss and Mississippi State came through with offers just yesterday. And Davis subsequently appears set to sign with the Bulldogs. Yes, it happens that fast this close to signing day.
Texas, according to an IT report last night, also brought in two junior college prospects this past weekend. The visits were previously unreported by any news outlet.
Neither of the prospects have a scholarship offer from Texas quite yet.
But Gerry Hamilton says defensive tackle Jaden Hamlin might eventually get one. He's a 6-2, 305-pound defensive tackle from Southwest Mississippi Community College.
In the high school ranks, Texas continues to recruit Phoenix area tight end Duce Robinson. Robinson, the nation's top ranked TE, is expected to sign next Wednesday with either USC, Georgia, Oregon or Texas.
One more note: I would be highly unsurprised if another high school name or two pops up in the next 72 hours. That's just how recruiting works if you have a scrappy personnel staff always trying to improve the roster. And Texas absolutely has that.