The last time Pete Kwiatkowski, Kyle Flood spoke to the media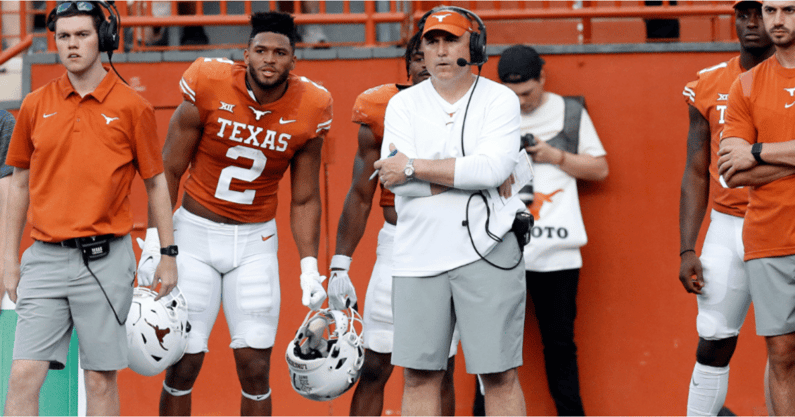 Texas head coach Steve Sarkisian adopted a few principles from Nick Saban when he was in Tuscaloosa, Ala., including Saban's preference to be the sole source of messaging from the coaching staff. Coordinators are rarely made available in either program. At Texas, defensive coordinator Pete Kwiatkowski and offensive coordinator Kyle Flood have only spoken to the media one time. It was over Zoom on August 18 of last year.
[Get a FREE 7-day trial of Inside Texas Plus!]
Sarkisian's preference does help his coaches in that there is no chance for conflicting messages to be disseminated. It also helps shield any coach who might not be performing at a high level from critical media. At the same time, it limits the opportunity for a coach hitting his marks to create positive publicity. No matter what the reason for the policy is, assistant coaches probably like that they don't have to speak to the media on a regular basis.
That preference has a one-day pause on Tuesday, as Kwiatkowski and Flood will be available in-person with the media for the first time. Special teams coordinator and tight ends coach Jeff Banks will also be available for questions.
A lot has happened since August 18, 2021. What was said by the Longhorn defensive and offensive coordinators almost a year ago is worth a re-visit.
One of the first questions asked to Kwiatkowski was what his top three concerns were at the midway point of training camp. No. 1 was tackling, No. 2 was conditioning, and No. 3 was building depth. Kwiatkowski proved prescient, as those concerns played out plenty in Texas' six-game losing streak. Tackling was a weakness, the team wilted late in games, and depth at certain key positions was sorely lacking.
Those three concerns are likely still present in 2022, though the program has made efforts to address them. Whether those efforts prove successful will only be known when games start.
Kwiatkowski was also asked what his definition of success in the Big 12 is and if that definition needed adjusting considering the offensive prowess in the 10-team league.
"I don't know," Kwiatkowski said. "Ask me at the end of the year. Our goal is to hold the offense to under 20 points. It might be a high goal, but that's our goal. We're either going to achieve it or not."
"Not" was the result. Texas allowed 31.1 points per game last year, a mark that ranked No. 99 in the nation.
Many of the questions Kwiatkowski receives on Tuesday will be simple ones like, what's different this year? Do you have the personnel to run your scheme? How much has Sarkisian's special assistant, Gary Patterson, worked with you?
For the coach responsible for Texas' defense last year, his answers will be closely scrutinized by the Longhorn fanbase.
Flood, the non-playcalling offensive coordinator, was asked last year why he made the trek from Alabama to Texas with Sarkisian.
"When he took the job at Alabama, I had made the decision in my mind that if I was going to come back to college football, I wanted to be at a place where I knew we could compete at the highest level every year and I would have a chance to coach elite players," Flood said last year. "I wanted to do that if I came back to college. Certainly at (Alabama), you had that opportunity, for sure. Similarly, when Sark took this job at Texas and he gave me the opportunity to come, I felt the same way."
Flood coached a line that had it's share of ups and downs, but made significant contributions to Texas' scoring offense average 35.2 points per game.
Then, he had one of the best offseasons on the recruiting trail of any assistant in recent memory. Not only did he sign seven offensive linemen in the 2022 class, he gained commitments from four prospects in the 2023 class. Those elite players he wanted to coach? He brought them into the burnt orange fold.
The preparedness of those seven freshmen O-linemen will likely be the main question Flood has to answer on Tuesday, but he'll be speaking from a position of better standing with the fanbase than his defensive counterpart.
What Sarkisian himself says prior to Flood, Kwiatkowski, and Banks will hold far more weight. The buck stops with him, after all. The rare opportunity to hear from coordinators, though, should shed some light on what exactly caused things to go awry or prove successful in Sarkisian's first season.