The Texas quarterback competition begins in earnest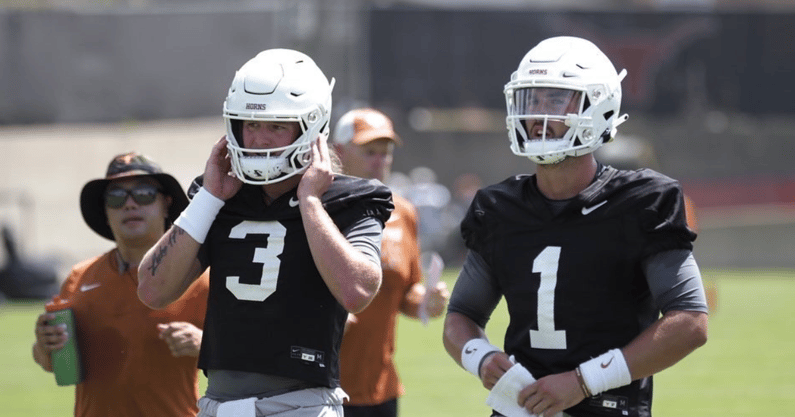 Less than a month remains until the Texas Longhorns open the 2022 season versus the Louisiana-Monroe Warhawks. Between now and then, Texas head coach Steve Sarkisian plans to announce who his starting quarterback is. His choices? Third-year sophomore Hudson Card and redshirt freshman Ohio State transfer Quinn Ewers.
[Get a 50% off an Inside Texas Plus subscription!]
Wednesday marked the first opportunity for Sarkisian to see Card and Ewers in a full-fledged training camp practice after a summer filled with offseason skill work. At multiple junctures, Sarkisian noted he planned to give both signal-callers the opportunity to show their skills in full pads, something that won't happen for another few days.
That said, Sarkisian also believes he will come to a decision earlier than last season, when Card was named starter one week before the beginning of the 2021 campaign.
No decision was announced on Wednesday, nor does one seem imminent. Still, Sarkisian was asked about the top two quarterbacks and what they showed in the first practice of training camp.
"I thought they did a good job," Sarkisian said. "There's always going to be plays they wish they could have back, and again, I thought we played pretty good coverage today, too."
"We created some big plays. I thought they took shots down the field, which showed that mentality that we want. We hit some and we didn't hit some. That's okay."
Sarkisian emphasized some of the details of quarterback play in discussing what he wanted to see improved from both Ewers and Card in the coming days. He harped on ball placement with receivers in his precision passing game, but noted he understands why it might not have been perfect with either passer considering it's the first day of practice.
Another thing Sarkisian was asked about was leadership in his quarterback room, and he had a unique answer as to what it looked like. For Sarkisian, it includes having a certain level of swagger and a dose of humility.
"Sometimes, that's important as having a lot of bravado and a lot of confidence, because that to me is a lot of confidence that you're willing to accept responsibility for a missed play," Sarkisian said.
Nonetheless, Sarkisian was impressed by the overall attitude from the top two players on his roster who play what he calls the most important position in the game.
"There's something about our room this year that I really enjoy," Sarkisian said. "It's definitely competitive, but I feel like they work really well together. They're pulling for one another. I think these guys really want to win a championship. That, to me, is healthy. That doesn't mean one guy doesn't want to start more than the other. I'm sure they both do, but they came to work today just to enjoy playing football, get better at football, persevere through some of the tough plays, get on the other side of them, and keep grinding through practice. I thought they did that."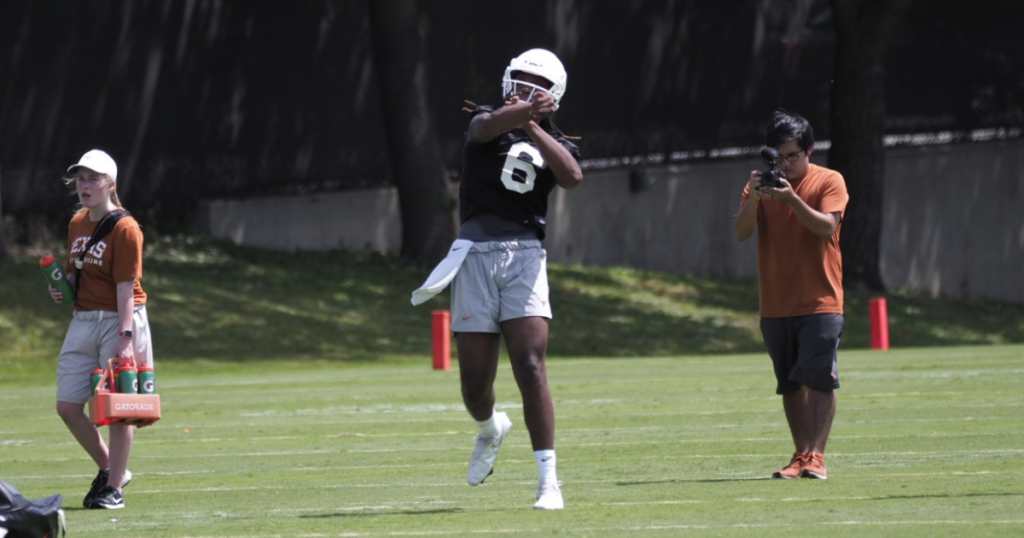 In addition to Card and Ewers, Sarkisian fielded a question about true freshman Maalik Murphy. Though an early enrollee, Murphy missed some time during the spring nursing a foot injury but looked near full-go on Wednesday. Murphy throwing passes on day one of camp was something Sarkisian was excited to see. So too were the big plays Murphy created, according to Sarkisian.
"I thought it was good to get him out there on the first day because we didn't have him for spring ball on the first day with that base installation," Sarkisian said. "We didn't have him for the first day of summer for our skill development because he was graduating from high school. He missed both beginnings, so to have him today was great for him."
Murphy likely won't factor into the 2022 quarterback competition, but he appears to have ascended into the third-string spot in the spring, summer, and first practice ahead of the fall campaign. He has plenty of promise, and Sarkisian even complemented his body language after practice on Wednesday.
That said, the competition between Ewers and Card for the QB1 spot is in full swing. Only Sarkisian seems to know when that competition will be complete, but Wednesday marked its official beginning with the onset of preseason camp.