The Touchdown Play: Bijan Robinson's goal line score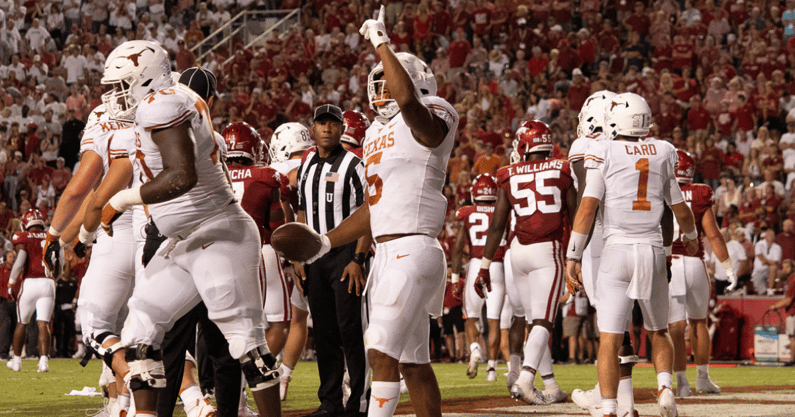 Texas trailed the Arkansas Razorbacks 16-0 at halftime, and were in desperate need of a score after the intermission.
The first Longhorn drive looked similar to four other first half drives from Steve Sarkisian's team, ending in a 3-and-out. Arkansas took over at its own 29, and was intercepted by BJ Foster on second down.
The Longhorns worked their way toward the goal line. First, Bijan Robinson rushed for four yards, then Robinson gained seven, followed by Roschon Johnson notching three. Hudson Card scrambled for two, then completed a pass to Johnson to put the Longhorns on the one-yard-line.
Needing a score, Texas called in the big boys. Steve Sarkisian brought in a personnel package with six offensive linemen, two tight ends, and a fullback. Cade Brewer functioned as one tight end (H) and motioned to the left. He lined up offset of Gunnar Helm (Y), who was in-line on the weak side.
Andrej Karic was the extra offensive lineman, lining up to the right of Derek Kerstetter. Defensive end Jett Bush was the fullback, lined up in front of Robinson.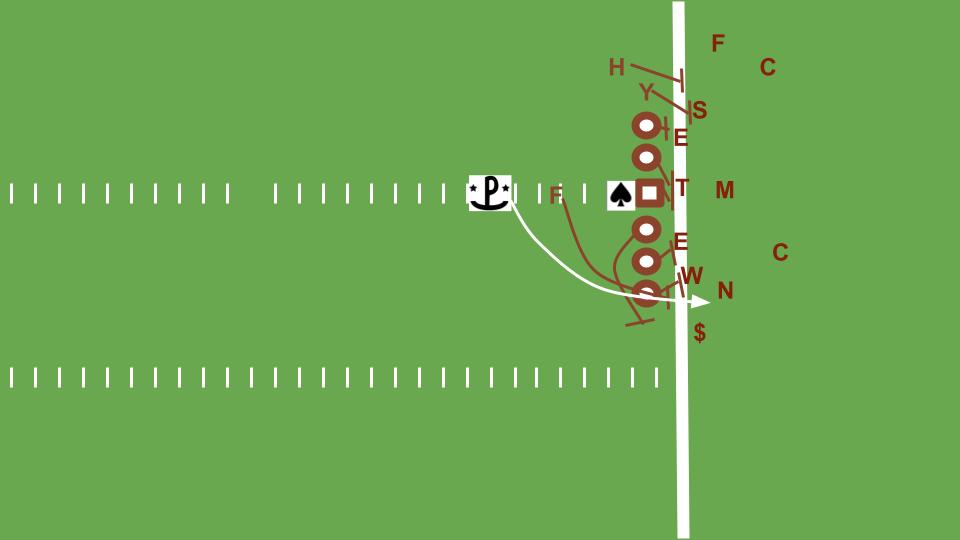 For most of the careers of the current Longhorns, Texas has stayed in the shotgun with one tight end and one running back even in goal-to-goal situations. Sarkisian holds a different philosophy and has an honest-to-goodness goal line package for situations such as these.
The play is called G-lead, and is one of Sarkisian's favorites when he only needs a yard. Right guard Junior Angilau pulls around Kerstetter and Karic to block the end. Bush charges into the gap, and Robinson follows him, falling forward into the end zone.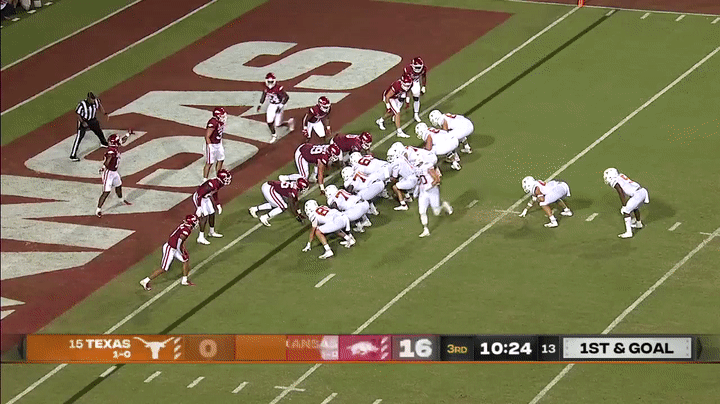 "I felt we had a good angle on them," Robinson said after the game. "We blocked it well. We understand that we had to do everything we could to get into the end zone, and we did just that. That's just one of the plays where you put your head down and run hard, see a crease, and just make it happen in the end zone."
The score made it 16-7 Arkansas with 10:17 left in the third quarter. Texas added two more rushing touchdowns on the legs of Casey Thompson in the second half.
The Razorbacks would ultimately cruise past Texas 40-21, but Robinson was able to score his sixth career rushing touchdown.
Ian Boyd co-authored this story