Three Point Play: Texas dominates UT-RGV, 91-54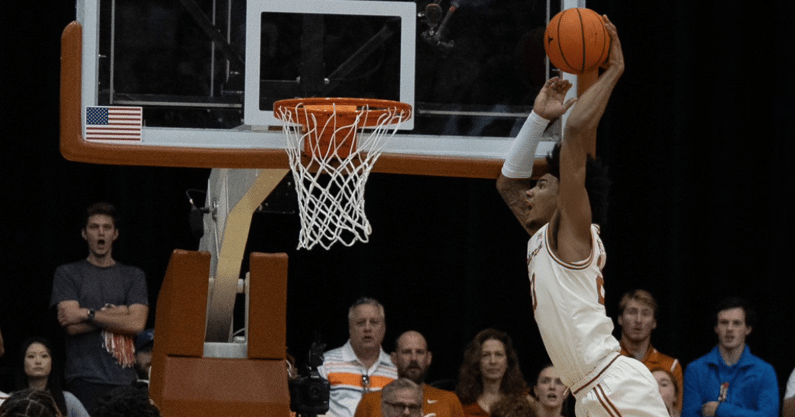 Texas ventured back to venerable Gregory Gym for the second and final game of the Leon Black Classic. The Longhorns hosted UT-Rio Grande Valley dismissed them without much issue in a 91-54 contest.
[Get a FREE 7-day trial of Inside Texas Plus!]
Here are three thoughts on the contest.

Guard the path
The biggest reason behind the Longhorns' rapid ascent to being a top five, and maybe top two, team in Chris Beard's second year is the quality play from Marcus Carr, Tyrese Hunter, and Sir'Jabari Rice.
Carr had too much on his plate a year ago as the primary ball-handler, even ceding responsibilities to Timmy Allen at times. This year as the secondary ball-handler, he's flourishing. He was 6-of-11 for 18 points, including a 4-of-8 mark from three.
Hunter has made life easier for everyone on the Longhorns. He capably operates the offense and is a scoring threat, too. His ability to shoot paired with some surprisingly explosive athleticism makes the Longhorn offense go. Hunter had 17 points on 6-of-12 shooting.
Rice, who functions as a sixth-man but gets starter minutes, makes things happen when he's on the floor. He has a strong shot-fake that constantly forces defenders into the air for no reason. He scored a game-high 19 points on 8-of-13 shooting.
Those three make the offense, which runs at a high pace, an efficient operation. Texas had 76 possessions versus UT-RGV and had a strong 1.2 points per possession.
Defense
Texas' defense continues to make life difficult for opponents. Against an admittedly weak UT-RGV team that ranked No. 325 out of 363 in KenPom, Texas forced 22 turnovers and scored 28 points off of them.
No matter who is on the court, the structure of the defense remains in tact and makes offense hard for opponents. Plus, Texas has exhibited tremendous hustle throughout the early portion of the season, and in this individual contest.
Texas had nine blocks on Saturday. Five of them were by Dylan Disu, a tie for his career high. The other four were by Christian Bishop. Texas also had 12 steals, three from Disu.
Only one opponent, Gonzaga, has scored more than 60 points against Texas. Defense is a non-negotiable for Beard's program, and it's been present in all five games so far.
The schedule ahead
UT-RGV may not make a postseason tournament, but the next couple of games for the Longhorns feature opponents that surely will.
No. 10 Creighton heads to the Moody Center on Thursday for one of Texas' top non-conference games. Then, the program heads to New York City for a matchup with No. 16 Illinois as part of the Jimmy V Classic in Madison Square Garden.
Those two teams, along with Gonzaga, make up the toughest tests on the Texas schedule before the Big 12 slate begins. Plus, the matchup with the Illini could have big NET implications as it is a neutral site game. Texas has to travel, but they won't have to deal with the Champaign faithful.
And while that's going on, Texas could be the No. 1 team in the country. The chances are diminished considering Houston won its game versus Kent State on Saturday and are ahead of the Longhorns in the AP Poll. But a chance still exists with Texas receiving five first-place votes in the recent AP Poll in mind.
The last time Texas was ranked No. 1 was in the January 18, 2010 poll. They've shot up as high as No. 4 in recent years, but the top spot has eluded Texas for over a decade.
That could change come Monday. If not No. 1, then No. 2 would be the highest ranking since the 2010 season.
More importantly, Texas is playing like a team worthy of a top two ranking. It will be tested in the coming days. If they overcome those tests, then they may end up getting the top spot in the next poll.