Tuesday: When is the right time to bring Quinn Ewers back?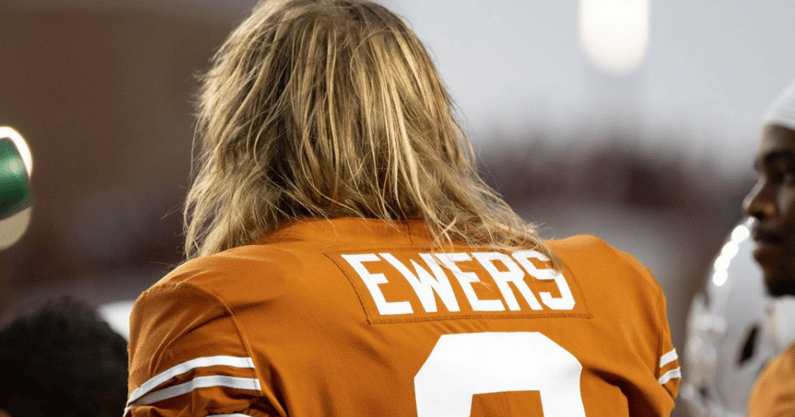 When do you bring Quinn Ewers back?
[Get ONE MONTH of Inside Texas Plus for $1!]
That's my question for Steve Sarkisian, a day after Sark said all of his quarterbacks were back at practice.
Does he wait until Quinn's "completely" healthy? That could still be a month away.
Or do you go sooner, when Ewers himself gives you the thumbs up?
Every football player and coach knows that there's a difference between pain and injury. So which one is it for Ewers, and how does Sark decipher the difference?
**
If Texas is concerned about Ewers getting re-injured, then this week would be a tough call for Sark to make. Texas Tech has pass rusher Tyree Wilson, who is one of the best in the conference, and some say he may be a borderline first-round pick.
Wilson had two sacks last week against NC State despite some double teams.
Yet there will never be a "perfect" opportunity to reinsert Ewers, at least not anytime soon.
West Virginia comes to Austin next week and their defensive front and pass rush is perhaps the strength of their team.
And after the Mountaineers, it's OU week.
Anyone think Brent Venables is going to do anything other than bring pressure all day long against Texas no matter who the Horns' QB is?
**
I'm not suggesting Sark rush Ewers back or that Ewers won't return for a month.
I just think it's an interesting conundrum because on one hand it's quite clear just how much Ewers' talent opens up the Texas offense, yet it's muddy as hell just how healthy he is.
I guess we'll all have to sit back, wait, and see what happens.
**
Thanks to my DVR, I watched the entire Texas Tech-NC State game yesterday afternoon.
Tech is playing solid, run-to-the-ball defense. They are clearly a high energy unit. Multiple times the Tech defense thwarted what could have been put-away drives by the Wolfpack in the second half.
Ultimately, NC State won 27-14. But seven of those points came on a pick six, meaning the Tech defense really only gave up two TDs and two field goals.
Surprisingly, Tech currently ranks No. 28 overall in the country in total defense.
The Tech offense, on the other hand, is more mercurial.
Led by redshirt sophomore Donovan Smith, Tech has been more up and down than is customary.
Smith is clearly talented. His arm strength is unquestioned. But he can be erratic and his pocket presence is a work in progress. He did a good job of checking down to his backs in key spots against NC State. But it just wasn't enough.
Part of that comes because Tech failed to get any sort of run game going. The Tech OL got little push and created very little in the way of running lanes.
Maybe that's because NC State has a good, veteran defense itself.
At any rate, it should be an interesting game in Lubbock. Texas is favored by ~5 by the folks in Vegas. But anything can happen on the plains of West Texas.