Two Texas Longhorns notes from conference championship weekend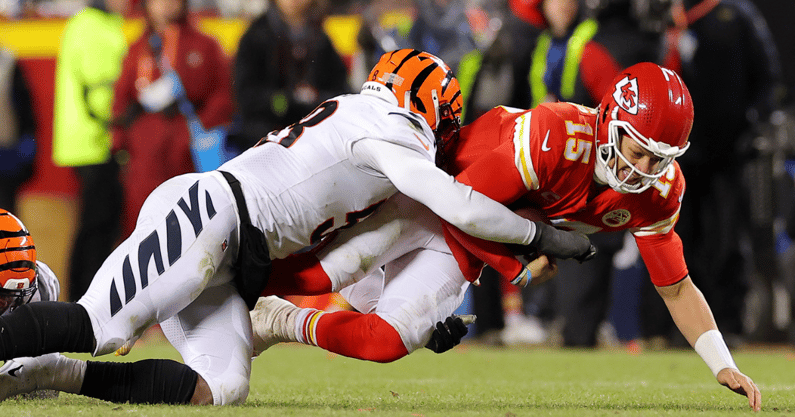 Two things sucked about yesterday for me.
[Get Inside Texas Plus until the start of the 2023 season for $29.99!]
First, the final play from scrimmage in the Bengals-Chiefs game. If you missed it, former Longhorn Joe Ossai, who had been a menace to Pat Mahomes all game long, got a penalty for a late hit out of bounds that pushed Kansas City into field goal range in the game's final seconds.
Up until that point, Ossai had played a great game, the type that could land him on a future All-Pro list. But that single play will long be remembered.
It's a play that happens in football. It just sucks that it happened to a Horn.
The second, and perhaps more infuriating point for me, is this: two native Texas quarterbacks are headed to the Super Bowl. Neither was offered by the Longhorns to play quarterback.
Texas opted for Jerrod Heard over Pat Mahomes. That was perhaps Mack Brown's final QB snafu among a long list.
And then Charlie Strong never even really considered Jalen Hurts as a quarterback. Yet Nick Saban somehow did.
Look, recruiting can be a crap shoot. I know that and I'm sure most you understand it all, too.
But there is no single position that caused the backwards slide of Texas football in the 2010s than QB play and Texas' inability to land a difference maker at the position.
Given the young QBs on the Texas roster, I don't think the same problem will exist in the 2020s.
[Sign up NOW for the Inside Texas newsletter for Texas Longhorns daily updates and breaking news in your inbox!]
**
Nothing new on my end on either Warren Roberson, the safety from Red Oak, who visited Texas this weekend, or Phoenix tight end Duce Robinson, who is slated to make his choice on Wednesday.
I'm sure the guys will have some intel later this morning in the Scoop.