What has Chris Beard excited as prep for Year 2 begins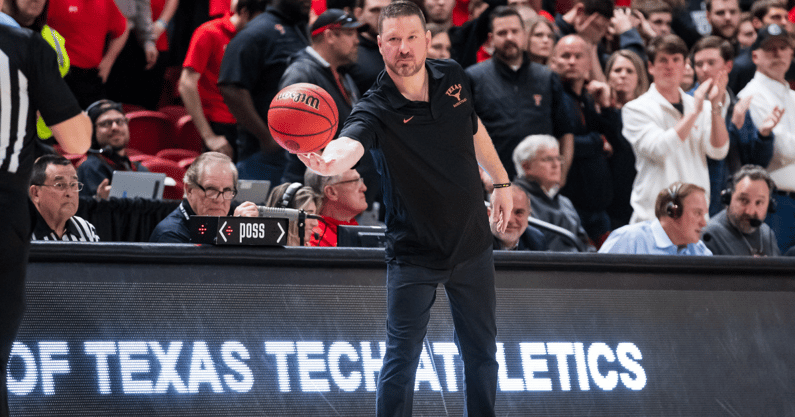 Chris Beard isn't culture-building so much at this point as he is culture-defending.
[Get ONE MONTH of Inside Texas Plus for $1!]
With seven players returning from last year's second round team and two transfers with NCAA tournament experience joining the program, Beard feels as if more of the work this year pertains to on-court matters as opposed to anything off the court.
"Here today as we sit here 42 days away from the opener, yeah, we feel a lot better," Beard said Tuesday. "We have a culture. We're not trying to install everything. We're trying to defend it and execute it, and it starts with those five returning players that all played in our rotation last year, that all played and won in the NCAA tournament."
Those five, Marcus Carr, Brock Cunningham, Timmy Allen, Dylan Disu, and Christian Bishop, will receive a bulk of the minutes available in the new Moody Center. They'll likely be joined by Iowa State transfer Tyrese Hunter and New Mexico State transfer Sir'Jabari Rice.
Beard called Rice a position-less guy who can play three or four positions with a high IQ. The Houston native already has his degree from NMSU and is working on post-graduate studies. "He's a guy I believe in," Beard said about the All-WAC second-teamer who helped the Aggies to a WAC regular season shared title, WAC tournament title, and the second round of the NCAA tournament.
Regarding Hunter, Beard said the 2022 Big 12 freshman of the year would help Carr's game, and vice versa.
"I think Tyrese gives Marcus a chance to be the best version of himself," Beard said. "I think Marcus and others give Tyrese a chance to be the best version of himself."
Along with blue-chip freshmen Dillon Mitchell, Arterio Morris, and Rowan Brumbaugh, the roster has Beard confident as usual in what Longhorn basketball can accomplish.
"A lot of internal optimism here because of our roster and the returning players that have been in our culture," Beard said. "Year 1 is always a challenge. Especially proud of last year's team, and will always be appreciative of those guys. But certainly this year, we're probably a little bit ahead of schedule, which is good."
What gives Beard that optimism?
Regarding the defense, Beard said "we feel good about our talent level between experience and new talent. This team has a chance to be really good defensively again because we're tough physically. We have a chance to be tough mentally. We're athletic, we're long, we've got some position-less guys. We should be a team that's hard to score against."
On the offense, Beard said they are "excited to get on this court and open this floor up and let our best players have a lot of space, and play at an offensive pace we all want to play at."
Forty days remain until Texas opens the 2022-23 regular season at the Moody Center versus UTEP, coached by Beard's close friend Joe Golding. Expectations will be high going into Year 2 as they were going into Year 1.
For Beard, the positive Year 1 makes the Year 2 preparation a bit easier.
"It helps a lot," Beard said. "It's hard to put a measurable on it, but that's what makes winning early – when you build something – very difficult."
-Preseason exhibition: The Longhorns will host the Arkansas Razorbacks in the Moody Center for a pre-season exhibition on October 29. The event will support local charities Seedling Foundation and Break the Pipeline, and offer Texas a chance to play a difficult opponent, although it won't count toward the regular season record.
"A lot of respect for Coach Muss and the program that he's built in a short amount of time and the consistency those guys are showing right now," Beard said. "We played his team at Nevada, we played his team at Arkansas in the NCAA tournament. We wanted to get a high-quality opponent."
-On staff changes: There were several changes to the bench during Texas' offseason. Now, joining Beard and Rodney Terry on the bench are assistants Bob Donewald and Brandon Chappell, and new special assistant to the head coach Steve McClain.
"I think this year we've added some younger guys to the program that I think bring that kind of energy we always need, and we've added some veterans in the program most recently with Coach McClain and Bob's elevation," Beard said. "We like our staff."
–Good offseason for returning players: Beard mentioned it's great to have Dylan Disu back healthy, and said Brock Cunningham had "as good an offseason as he's seen a player have."
-Kevin Durant was in town, and hung out with the program: "What I will tell you about KD is his relationship with Texas basketball is real," Beard said. "It's not fluff. It's not like the celebrity comes back and signs a couple of things. It was real. He invested so much time in his week here. He went above and beyond. It was almost humbling."
–Beard doesn't like playing his friends, but knows his team will have to play at a high level when Joe Golding brings UTEP to open the Moody Center: "We'll have to play really well on opening night to defend our home court."