Where every Steve Sarkisian recruit is from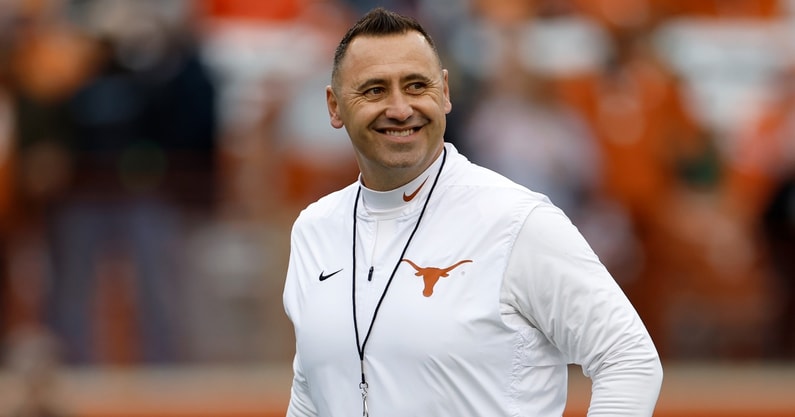 Steve Sarkisian and staff have recruited and signed 55 high school prospects since arriving in Austin. That number includes three added to the commitments already in the fold in the 2021 class.
[Get Inside Texas Plus until the start of the 2023 season for $29.99!]
Three things that is for certain thus far in the Sarkisian era in Austin. The Dallas/Fort Worth area has been the number one focus in state. And out of state has been all about the Southeast Region with the move to the SEC coming, and Sark's home state of California.
Inside Texas takes a look at where the Sarkisian recruits are coming from headed into signing day Wednesday.
Dallas/Fort Worth (20)
David Abiara, EDGE, Mansfield Legacy (2021)
On3 Consensus ranking: No. 430
Note: Originally committed to Notre Dame
DJ Campbell, IOL, Arlington Bowie (2022)
On3 Consensus ranking: No. 11 (On3 Consensus 5-star)
Terrance Brooks, DB, Little Elm (2022) – *Starter
On3 Consensus ranking: No. 56
Note: Flip from Ohio State
Neto Umeozulu, IOL, Allen High (2022)
On3 Consensus ranking: No. 78
B.J. Allen, S, Aledo High (2022)
On3 Consensus ranking: No. 119
Note: Originally committed to LSU
Austin Jordan, DB, Denton Ryan (2022)
On3 Consensus ranking: No. 220
Cameron Williams, OT, Duncanville High (2022)
On3 Consensus ranking: No. 243
Note: Originally committed to Oregon
Cole Hutson, IOL, frisco High (2022) – *Starter
On3 Consensus ranking: No. 413
Travel Johnson, LB, Arlington Martin (2022)
On3 Consensus ranking: No. 469
Xavion Brice, CB, Arlington Seguin (2022)
On3 Consensus ranking: No. 473
Note: Flip from Oklahoma
Savion Red, WR, Grand Prairie High (2022)
On3 Consensus ranking: No. 1260
Note: Originally committed to SMU
Anthony Hill, LB, Denton Ryan (2023)
On3 Consensus ranking: No.16 (On3 Consensus 5-star)
Note: Originally committed to Texas A&M
Johntay Cook II, WR, DeSoto High (2023)
On3 Consensus ranking: No. 31 (On3 Consensus 5-star)
Malik Muhammad, CB, South Oak Cliff (2023)
On3 Consensus ranking: No. 49 
S'Maje Burrell, LB, North Crowley (2023)
On3 Consensus ranking: No. 314
Trevor Goosby, OT, Melissa High (2023)
On3 Consensus ranking: No. 414
Tre Wisner, RB, DeSoto High (2023)
On3 Consensus ranking: No. 427
Billy Walton, EDGE, South Oak Cliff (2023)
On3 Consensus ranking: No. 487
Connor Stroh, IOL, Frisco Wakeland (2023)
On3 Consensus ranking: No. 545
Andre Cojoe, IOL, Mansfield Timberview (2023)
On3 Consensus ranking: No. 734
[Sign up NOW for the Inside Texas newsletter for Texas Longhorns daily updates and breaking news in your inbox!]
Houston area (4)
Kelvin Banks, OT, Humble Summer Creek (2022) – *Starter
On3 Consensus ranking: No. 22 (On3 Consensus 5-star)
Note: Originally committed Oregon
Kristopher Ross, DL, North Shore (2022)
On3 Consensus ranking: No. 178
Jaydon Blue, RB, Klein Cain (2022)
On3 Consensus ranking: No. 180
Ryan Niblett, WR, Aldine Eisenhower (2023)
On3 Consensus ranking: No. 66
East Texas (1)
Derrick Brown, LB, Texas High (2022)
On3 Consensus ranking: No. 360
Golden Triangle (1)
Jaylon Guilbeau, DB, Port Arthur Memorial (2022)
On3 Consensus ranking: No. 151
Note: Originally committed to TCU
CenTex (8)
Jaray Bledsoe, DL, Marlin High (2022)
On3 Consensus ranking: No. 145
Ethan Burke, EDGE, Westlake High (2022)
On3 Consensus ranking: No. 338
Note: Originally committed to Michigan
Connor Robertson, IOL, Westlake High (2022)
On3 Consensus ranking: No. 444
Will Stone, K, Regents School (2022) – *Starter
On3 Consensus ranking: No. 1848
Colton Vasek, EDGE, Westlake High (2023)
On3 Consensus ranking: No. 86
Note: Flip from Oklahoma
Derion Gullette, LB/EDGE, Teague High (2023)
On3 Consensus ranking: No. 146
Jaydon Chatman, OL, Hacker Heights (2023)
On3 Consensus ranking: No. 214
Jelani McDonald, ATH, Waco Connally (2023)
On3 Consensus ranking: No. 74
Note: Originally committed to Oklahoma State
West Texas (1)
Brennen Thompson, WR, Spearman High (2022)
On3 Consensus ranking: No. 101
Louisiana (5)
Barryn Sorrell, New Orleans Holy Cross (2021) – *Starter
On3 Consensus ranking: No. 643
Note: Originally committed to Northwestern
J'Mond Tapp, EDGE, Ascension Catholic (2022)
On3 Consensus ranking: No. 130
Arch Manning, QB, Isidore Newman (2023)
On3 Consensus ranking: No. 1 (On3 Consensus 5-star)
Derek Williams, S, Westgate High (2023)
On3 Consensus ranking: No. 62
Will Randle, TE, Isidore Newman (2023)
On3 Consensus ranking: No. 859
Mississippi (1)
Aaron Bryant, DL, Southaven High (2022)
On3 Consensus ranking: No. 305
Alabama (1)
Justice Finkley, EDGE, Hewitt-Trussville (2022)
On3 Consensus ranking: No. 128
Florida (2)
Cedric Baxter Jr., RB, Edgewater High (2023)
On3 Consensus ranking: No. 30 (On3 Consensus 5-star)
Note: Originally committed to Florida State
Payton Kirkland, IOL, Dr. Phillips (2023)
On3 Consensus ranking: No. 529
California (5)
Xavier Worthy, WR, Fresno Central East (2021) – *Starter
On3 Consensus ranking: No. 56
Note: Signed with Michigan initially
Maalik Murphy, QB, Junipero Serra (2022)
On3 Consensus ranking: No. 205
Larry Turner-Gooden, S, Bishop Alemany (2022)
On3 Consensus ranking: No. 357
DeAndre Moore Jr., WR, St. John Bosco (2023)
On3 Consensus ranking: No. 110
Note: Flip from Louisville
Spencer Shannon, TE, Mater Dei (2023)
On3 Consensus ranking: No. 697
Arizona (2)
Zac Swanson, DL, Brophy Prep (2022)
On3 Consensus ranking: No. 530
Lance St. Louis, LS, Williams Field (2022) – *Starter
On3 Consensus ranking: No. 2108
Washington (1)
Malik Agbo, IOL, Todd Beamer High (2022)
On3 Consensus ranking: No. 364
Utah (1)
Tausili Akana, EDGE, Skyridge High (2023)
On3 Consensus ranking: No. 131
Hawaii (1)
Liona Lefau, LB, Kahuku (2023)
On3 Consensus ranking: No. 424
New Jersey (1)
Sydir Mitchell, DL, Bergen Catholic (2023)
On3 Consensus ranking: No. 225