Where the 2024 in-state offers are coming from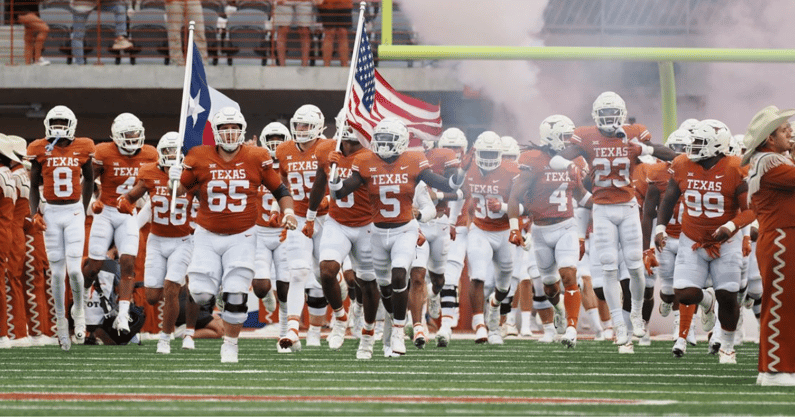 Inside Texas provided a breakdown on Sunday of where the 55 commitments and signees under Steve Sarkisian have come from in-state and nationally.
[Get Inside Texas Plus until the start of the 2023 season for $29.99!]
The Longhorn staff continues to build an increasingly strong national footprint in the 2024 cycle, while attacking the home state. The January 21 junior day was one of the most impressive in Austin in quite some time with sights set on March for another huge recruiting weekend.
Today, Inside Texas takes a look at the 2024 offers in a two-part series. First part is where inside the state lines the offers are coming from broken down by regions within the Lone Star State.
A reminder that all offers are not the same.
Dallas/Fort Worth (17)
Bryan Jackson, RB/ATH, McKinney High
On3 Consensus ranking: No. 316
Note: Texas Junior Day January 21
Parker Livingstone, WR, Lovejoy High
On3 Consensus ranking: No. 385
Note: Unofficial visit to Texas January 14
Daniel Cruz, IOL, Richland High
On3 Consensus ranking: No. 468
Note: Texas Junior day January 21
Colin Simmons, EDGE, Duncanville High
On3 Consensus ranking: No. 6 (On3 Consensus 5-star)
Note: Will sign with an SEC program
Zina Umeozulu, EDGE, Allen High
On3 Consensus ranking: No. 47
Alex January, DL, Duncanville High
On3 Consensus ranking: No. 532
Note: Texas Junior day January 21
Caleb Mitchell, DL, Parish Episcopal
On3 Consensus ranking: No. 343
Nigel Smith, DL, Melissa High
On3 Consensus ranking: No. 50
Payton Pierce, LB, Lovejoy High
On3 Consensus ranking: No. 107
Note: Texas Junior day January 21
Corian Gipson, CB/DB, Lancaster High
On3 Consensus ranking: No. 64
Note: Texas Junior day January 21
Jaden Allen, CB, Aledo High – #AllGasNoBrakes 
On3 Consensus ranking: No. 208
Note: Texas Junior day January 21
Eli Bowen, CB, Denton Guyer
On3 Consensus ranking: No. 217
Note: Brother of Oklahoma signee Peyton Bowen
Jaydan Hardy, S, Lewisville High
On3 Consensus ranking: No. 137
Ka'Davion Dotson-Walker, S, Duncanville High
On3 Consensus ranking: No. 154
Landyn Cleveland, S, Mansfield Legacy
On3 Consensus ranking: No. 357
Note: Texas unofficial visit January 29
David Kabongo, S, Byron Nelson High
On3 Consensus ranking: N/A
Jamari Cauley, ATH, South Oak Cliff
On3 Consensus ranking: No. 131
[Sign up NOW for the Inside Texas newsletter for Texas Longhorns daily updates and breaking news in your inbox!]
Houston area (12)
Trey Owens, QB, Cy Fair High – #AllGasNoBrakes 
On3 Consensus ranking: No. 461
Note: Committed to Texas January 11, 2023
Jeremy Payne, RB/ATH, Hightower High
On3 Consensus ranking: No. 175
Note: Baseball factors heavily into his recruitment
Blake Ivy, IOL, Clear Springs
On3 Consensus ranking: No. 203
Note: Texas Junior day January 21
Nate Kibble, IOL, Atascocita High
On3 Consensus ranking: No. 449
Note: Texas Junior day January 21
Bennett Warren, OT, Fort Bend Christian
On3 Consensus ranking: N/A
Note: Texas Junior day January 21
Dakyus Brinkley, EDGE, Seven Lakes
On3 Consensus ranking: No. 180
Loghan Thomas, EDGE, Paetow High
On3 Consensus ranking: No. 180
Note: Steve Sarkisian was by the school last week
Joseph Jonah-Ajonye, DL, Oak Ridge
On3 Consensus ranking: N/A
Note: Texas Junior day January 21
Justin Williams, LB, Oak Ridge
On3 Consensus ranking: No. 63
Note: Texas Junior day January 21
Braylon Conley, CB/DB, Atascocita High
On3 Consensus ranking: No. 396
Note: Texas Junior day January 2
Rodney Bimage, CB, Dickinson High
On3 Consensus ranking: No. 400
Hunter Moddon, ATH, Clear Lake – #AllGasNoBrakes 
On3 Consensus ranking: No. 110
Note: Texas Junior day January 21
East Texas (7)
Taylor Tatum, RB, Longview High
On3 Consensus ranking: No.  79
Note: Texas Junior Day January 21
J'Koby Williams, RB, Beckville High
On3 Consensus ranking: No. 399
Aeryn Hampton, WR/ATH, Daingerfield High
On3 Consensus ranking: No. 59
Note: Steve Sarkisian stopped by the school last week
Gekyle Baker, WR, Brownsboro High
On3 Consensus ranking: No. 382
Note: Texas Junior Day January 21
Daelyn Evans, DL/IOL, Pine Tree
On3 Consensus ranking: No. 215
Note: Texas A&M commitment
Terry Bussey, ATH, Timpson High
On3 Consensus ranking: No. 81
Note: Texas offered last week
Derrick McFall, ATH, Tyler High
On3 Consensus ranking: No. 108
Golden Triangle (2)
Tyanthony Smith, LB, Jasper High
On3 Consensus ranking: No. 435
Dre'lon Miller, WR/ATH, Silsbee High
On3 Consensus ranking: No. 88
CenTex (8)
James Peoples, RB, San Antonio Veterans Memorial
On3 Consensus ranking: No. 138
Note: Texas Junior Day January 21
Micah Hudson, WR, Temple Lake Belton
On3 Consensus ranking: No. 5 (On 3 Consensus 5-star)
Note: Texas Junior Day January 21
Freddie Dubose Jr., WR, Smithson Valley
On3 Consensus ranking: No. 125
Michael Uini, OT, Copperas Cove High
On3 Consensus ranking: No. 119
Note: Texas Junior Day January 21
Blake Frazier, IOL, Austin Vandegrift
On3 Consensus ranking: No. 273
Note: Texas Junior Day January 21
Ory Williams, OT, San Marcos High
On3 Consensus ranking: No. 388
Note: Texas Junior Day January 21
Kobe Black, CB, Waco Connally
On3 Consensus ranking: No. 19
Note: Texas Junior day January 21
Selman Bridges, CB/DB, Temple Lake Belton
On3 Consensus ranking: No. 73
Note: Texas unofficial visit January 29
West Texas/Panhandle (0)
South Texas (0)