Who has disaster insurance in the Big 12?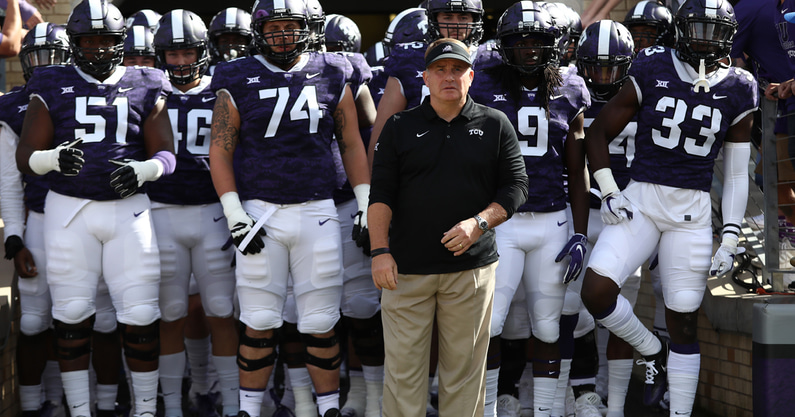 I noticed on Iowa State's depth chart for their Week 1 game a few guys I expected to see solidifying their depth at tackle were missing. Grant Treiber, who was expected to compete to back-up super senior left tackle Sean Foster was gone, replaced by a massive redshirt freshman named Tyler Miller. Similarly Joey Ramos, who started maybe half their games at right tackle last season, was listed as the back-up center.
The starting tackles for Iowa State are no surprise (Sean Foster and Jake Remsburg) but the back-ups are now a hitherto unknown Iowan kid and then walk-on Derek Schweiger who's listed as a potential starter at both right guard and right tackle. Pretty interesting move from the Cyclones.
Oklahoma had some interesting stuff going on at tackle as well, with Wanya Morris listed as an OR at right tackle with Tyrese Robinson. Given Lincoln Riley's comments about how he expected Robinson to start, Morris' positioning there makes me wonder if he'll be available for the Sooners.
All of this raises some other interesting questions. Which teams have disaster insurance? In particular, if your starting quarterback or a member of your space force goes down, what happens to your chances at competing for a Big 12 title?
We'll go in order of least likely to most likely to win the league based on their level of "disaster insurance" in the form of depth.
Kansas
Let's just move along, they ain't winning the Big 12.
Baylor
An interesting revelation from Baylor's fall camp is the absence of tackle Casey Phillips. Connor Galvin, while good, is now the only tackle for Baylor who's played meaningful football thus far. It sounds like big Khalil Keith is now the man at right tackle, he's played sporadically at guard for the Bears.
If Gerry Bohanon is injured it didn't necessarily seem he was so far ahead of his competition anyways, although I have doubts about the ability of any quarterback on their roster to lead them to a Big 12 title in 2021. Receiver is robust, edge rush is non-existent regardless, cornerback has three guys who've started for Baylor and been solid.
Insurance is solid, I think Baylor will be what they will be unless Galvin is injured, they just don't have too high a ceiling to begin with.
Texas Tech
Henry Colombi is the back-up quarterback in Lubbock and given his performance last season (decent), I'd say the Red Raiders are in good shape insofar as their title chances don't rest on Tyler Shough being amazing.
Now maybe they do, but then I don't expect he will be, so it should amount to the same thing.
The Raiders return both starting tackles from 2020 and neither will start because of improvements to the roster with T.J. Storment transferring in and Caleb Rogers improving. Things are solid here as well in terms of guaranteed outcomes.
On defense they have no edge rush at stake and cornerback hinges on another wave of transfers panning out. I don't think Tech can contend for the Big 12 crown but I also think their season has a decent floor in terms of the impact of catastrophic injuries. Unless of course, Tyler Shough proves to be a first round caliber player and then is lost.
West Virginia
It's hard to be sure if Jarrett Doege is the sole competent quarterback at West Virginia or largely a placeholder until Garrett Greene is ready to go rock out. The Mountaineers may be a team who could surprise after injury, but probably they have some depth concerns.
Left tackle is a little more solid. The loser of last year's battle is still around and has even been supplanted while the winner (Brandon Yates) returns. They also added a blue chip freshman and blue chip transfer, the former is listed as an OR at right tackle and the latter is the starting right guard. Wide receiver is very deep as they've been rebuilding a collection of guys which already included some solid players Dana Holgorsen left in the cupboard to ripen.
Cornerback got interesting when redshirt freshman Daryl Porter beat out FCS transfer Charles Wood for a starting job and Nicktroy Fortune is back at left cornerback. The weak spot on this side would be their edge position, which has before and would once more go from Vandarius Cowan (impact pass-rusher) to Jared Bartlett (solid player) in the event of an injury.
Oklahoma State
The Cowboys may very well be better than some other teams I'll list below them in a moment, but they also have a lot less insurance. Let's start with quarterback, where Spencer Sanders figures to be better than a year ago but Shane Illingworth when he can't just throw it up for Tylan Wallace I think may be a worse player than a year ago even after growing during the offseason.
At offensive tackle, things are dicy before the season has even begun. They're counting on Caleb Etienne to figure things out and be a plus player so they aren't counting on both Jake Springfield (solid but can't hold up against top edges) AND Taylor Miterko (last we saw him? Yikes). Wide receiver is unclear.
Cornerback should be fine, I don't expect either Jarrick Bernard or Christian Holmes to be great man2man corners and if either are that's a boost but they have a ton of depth at safety to help them (or replacements) if they are not. On the edge Trace Ford has struggled to put distance between him and Brock Martin with the dreaded OR still on the depth chart. Plus, Jim Knowles has a lot of good tricks for setting this position up for success. Defensively it'd be surprising if Oklahoma State isn't solid, although I'm less sold on them being as good as last year without Ro Williams. Offensively, they had some disasters last year and didn't come through very well and I suspect the same is true this year.
Kansas State
Kansas State had a major disaster last season, losing Skylar Thompson while they were at or near the top of the standings. It didn't go well, but this time back-up Will Howard is bigger, healthier (was not shocked to learn he was throwing on a bad shoulder last year…no wonder), and has had an extra offseason to learn and develop as a quarterback. Even still, they came very close to winning several close games with Howard.
They've solidified their tackle rotation with Christian Duffie settled at right tackle and Cooper Beebe at left tackle until young Carver Willis is ready to start. At receiver they not only need Malik Knowles to get a lot better but also to get healthy, walk-on Landry Weber is currently listed as the starter opposite him and while he's shown well in camp…you don't want that to be your go-to guy in a big game against a team with a great corner.
On defense they got a huge boost when Felix Anudike added about 10 pounds of muscle (now 255) and put it all together well enough to replace supersenior Boom Massie as the starting left end. So they now have Anudike and Khalid Duke starting with Boom Massie as the old guard and Nate Matlack as the next thing coming off the bench. Similarly, cornerback returned both starters and added impact transfer Julius Brents from Iowa who's expected to be one of their best players.
Everyone is sleeping on Kansas State again. Don't.
TCU
I've been high on TCU all offseason for a number of reasons but there's still one thing which gives me great pause.
It's not quarterback, I believe Max Duggan will play well this year and if he gets hurt running their spread-option schemes I expect Chandler Morris can come in and also play well. Morris was a huge addition for them, it's possible he raises their ceiling down the line when it's his turn.
At wide receiver they don't have another Quentin Johnston but there are a number of promising water bugs and perhaps a solid outside guy to hold things down. They can't win the league without QJ but win a few games and stay in the hunt? I think so.
Tackle is the sore spot. I think Obinna Eze will be good but am not convinced he'll be great, Andrew Coker was downright bad last year, and yet seems likely to retain his job. The Frogs appear to be an injury to Eze away from being absolutely sunk by their inability to pass protect.
On defense the depth is much better. Khari Coleman and Ochaun Mathis is a tremendous start on the edges and then Colt Ellison is back and Dylan Horton has Gary Patterson's eye so there's some real depth as well. Cornerback is iffier due to injuries but if they can get healthy they'll have Tre'vius Hodges-Tomlinson, Hidari Caesar, and Noah Daniels who've all played at a high level in games before.
TCU has a high ceiling, Big 12 Championship Game potential, if they stay healthy on the offensive line. But if they don't…they could really slip.
Texas
Quarterback is interesting to observe right now with the news of Hudson Card being named starter but Steve Sarkisian apparently hedging with assurances Casey Thompson will get a chance to play. My guess is this is less about a lack of clarity in the battle and more about the fear of Casey Thompson transferring if he's not the guy. Assuming he remains back-up and sticks, Texas is in great shape.
If Thompson doesn't stick, and Card is removed for any number of reasons, the situation is not good. Either early enrollee, true freshman Charles Wright takes the helm (probably) or true freshman, walk-on Cole Lourd.
Offensive tackle looks better. Christian Jones wasn't very good last year but we've seen the two tackles listed below him (Derek Kerstetter at right tackle, Andrej Karic as the third tackle) in games and they're both pretty good. This gives me confidence Jones really has made a leap this offseason (spring game was promising as well). In that event, Texas may not have a Sam Cosmi but they have great depth.
Wide receiver is dicier, the three main guys right now are a 155-pound freshman (Xavier Worth), a 165 pound returning starter who's been suspended for an entire year before (Joshua Moore), and then a former 5-star who always looks or sounds promising before being freshly injured (Jordan Whittington). On the bright side for Texas, if they go 1-for-3 here in finding an impact player then they're in good shape. There's also a chance currently injured Troy Omeire gets healthy and makes a run here.
On defense they're set. Kitan Crawford has been pushing returning starting cornerbacks D'Shawn Jamison and Josh Thompson while edge received a major boost from the addition of three transfers. Two of them, Ray Thornton and Ovie Oghoufo, are expected to be productive pass-rushers immediately.
Texas hasn't had this level of disaster insurance on the depth chart in a while, which raises their floor a lot higher than it's been. Even if they should lose Bijan Robinson they have Roschon Johnson and now Alabama transfer Keilan Robinson to keep their floor there higher than it was for really any of the Tom Herman era.
Iowa State
The Cyclones are maybe a touch shakier here than I expected, although presumably Joey Ramos would be a back-up tackle if they needed him. His move to center may suggest improved overall depth. I'll also note starters Sean Foster and Jake Remsburg are large human beings at 6-foot-8, 320 pounds and 6-foot-6, 330 pounds respectively. My point in noting this is to say they both may be relying more on their size, strength, and skill than athleticism which is susceptible to being sapped by injuries.
Brock "pump fake" Purdy has certainly proven resilient and his back-up from a year ago, Hunter Dekkers, returns a year better. We've seen a little of him, seems promising enough and was a blue chip recruit. Dekkers has some mobility to him and is 235 pounds.
At receiver the surprise was former blue chip Joseph Scates surpassing Sean Shaw on the depth chart at outside receiver opposite Xavier Hutchinson. Shaw was solid a year ago and now Scates is starting to put it together to give them added depth. It's possible they are substantially improved at receiver between getting Hutch back, Milton coming back healthy, and Scates making some sort of leap.
The Cyclones list three starting cornerbacks between thee ORs on the depth chart and none of them are being counted on to Darrelle Revis in their scheme either way. The big concern is at their "Leo" edge position, where they have the class of the league in Will McDonald and then…
Maybe Zach Petersen would be next inline there, but while he's a good player he's not going to bring the same kind of pass-rush as McDonald or JaQuan Bailey. I'm curious to see how they would handle this situation in 2022 and I think they're very much hoping to not have to until then.
Oklahoma
Obviously the Sooners are no. 1, although their hold seems to get more tenuous by the day.
I've seen just enough to think Oklahoma could potentially win the league with Caleb Williams. He's a better runner than Spencer Rattler and the relative commands of the passing game aren't clear after an offseason and fall camp. Rattler was decent at commanding the offense last year, we'll see if he's made a leap after this offseason.
Offensive tackle looks iffy. I noticed a snap last year of Will McDonald getting isolated on Tyrese Robinson (at right guard) and demolishing him. Which now means we have the following:
Unless Wanya Morris is available (looks like a no) or Anton Harrison wins the left tackle job, those two guys getting whipped by McDonald above are Oklahoma's starting tackles in 2021. This could make them vulnerable, certainly in the playoffs but also against Iowa State (obviously), TCU, and maybe Texas.
Meanwhile, the Sooners lost another of their big three 2019 wide receivers when Theo Wease was injured in camp. Tough deal for the Allen Eagle, who was getting back to full strength after a previous injury. They still have Marvin Mims, Jadon Haselwood, now Mike Woods (thanks to portal necromancery), and then Mario Williams. They'll be okay, but they may have seen their ceiling lowered with this loss.
Defensively, their edges are in great shape. David Ugwoegbu will mix in off the field edge as the middle linebacker and could probably play Nik Bonitto's position in a pinch. On the depth chart they have 8th year senior Caleb Kelly and Marcus Stripling behind Bonitto but also former blue chip Clayton Smith. There's a lot to work with up front.
Cornerback is pretty deep as well, even though I've questioned the top end talent. Jaden Davis is listed as an OR with D.J. Graham, which you can read one of two ways. Either Graham is struggling to offer high level play (very possible) or Davis is improving and making himself hard to beat (also very possible). My attention now turns to Woodi Washington to see what he can do. I've seen him play great football as a zone corner, now I'm curious if he can play some good man coverage as well.
Overall the Sooners are still in great shape, even with losses this offseason at the skill positions which would have crippled anyone else. Offensive tackle is the big question mark in Big 12 play I'd deem most likely to bring them down of any other factor.
In summation
When you analyze Big 12 rosters by "what if" scenarios with injuries, you always land on the Oklahoma Sooners as the most likely champion. This indeed is a major reason why they keep winning the league.
Consider 2019 when they gritted out the title by being able to power the ball with a big, healthy interior and Jalen Hurts/Kennedy Brooks. Or in 2020 when they finished the year by leaning on reinforcements Rhamondre Stevenson and Ronnie Perkins. It's no surprise they'd look strongest here again, although it's a bad year to have question marks at tackle.
The other team who fares best from this analysis is Texas, assuming they're able to keep Casey Thompson and Hudson Card both healthy and engaged. The Longhorns and Cyclones, with their more solid rotation of offensive tackles (and heavy use of tight ends) have a little more leeway to handle the leagues' bevy of good edge rushers than the high upside TCU Horned Frogs. As always, don't forget about Kansas State either.