Who won Week 12 in the Big 12?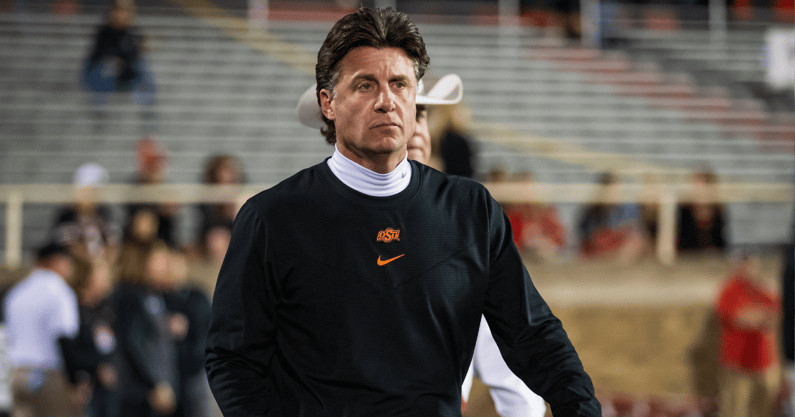 I've never seen Oklahoma State in so advantageous a situation within the Big 12.
Here are the relevant standings after Week 12's action around the league:
Oklahoma (7-1). at Oklahoma State. Tiebreaker L vs Baylor
Oklahoma State (7-1). Oklahoma. Tiebreaker W vs Baylor
Baylor (6-2). Texas Tech. Tiebreaker L vs OSU, W vs Oklahoma
With one week to play, everyone else in the league has at least four losses in league play, so they are irrelevant to the title picture.
It comes down to Bedlam in Stillwater for Oklahoma. If they lose, they add a second loss in the standings and would then lose the tiebreaker to Baylor (unless the Bears fail vs Tech), and not because of Dave Aranda's extra field goal with time expiring. If the Sooners win in Bedlam, they are rewarded by facing Oklahoma State AGAIN in Arlington for the Big 12 Championship. They have to beat the 'Pokes twice in a row to win the league…
The Bears have to avoid a disaster against Tech while playing without Gerry Bohanon (hamstring pull?), they need Oklahoma to lose a Bedlam game (rare underdog status for the Sooners), and then they'd probably have to beat Oklahoma State with Blake Shapen at quarterback. Weeks ago I reasoned Baylor's season may come down to how many carries Gerry B could handle down the stretch and the degree to which he could emulate Jalen Hurts.
Right now I think Baylor is safely ahead of cellar dwellers Texas Tech and Kansas with a good chance to land at least in the middle of the league if not higher. My guess is their ceiling and chances at making the Big 12 title game will be determined by A) whether Bohanon can carry a heavier load in the run game (thinking 10+ carries per game) and B) if he can do so without committing turnovers.
Both ended up being a bit beyond Bohanon in his current form. He threw multiple picks against TCU and Texas and then blew out a tire running the ball against Kansas State.
Oklahoma State just needs to win one of their next two games, namely the second one, but the second one gets much easier if they can knock out the Sooners in Stillwater next Saturday.
Contrar-Ian says the glass is half-empty
During West Virginia's 31-23 victory over Texas on Saturday, there was a moment in which they revealed Jarrett Doege intended to come back for an extra year granted by the COVID exemption.
This isn't necessarily bad news for West Virginia. They're guaranteed to have a veteran at their field general position with multiple seasons of experiences executing this offense against these opponents. Has Doege hit his ceiling? You never hit your ceiling at a position like that, you can always improve by having greater anticipation, footwork skills, and institutional knowledge of your own offense and the defensive schemes of your opponents.
On the other hand, Doege threw for 7.5 ypa with 16 touchdowns and 10 interceptions while working with one of the best wide receiver corps in the Big 12. He doesn't handle pressure well and routinely makes game-breaking mistakes. There were moments against Texas late in the game where he appeared to be on tilt if the Longhorns could pressure him or challenge any of their preferred routes or targets, but Texas was incompetent at defense this season so he escaped with a W like so many others.
How many games can West Virginia win with Jarrett Doege at the helm? Are they going to maximize their skill talent and what could be one of the league's better O-lines next year under his leadership? I doubt it. But as long as he's there it's going to be hard to give reps and developmental focus to a replacement who could bring a higher ceiling, or to lure in a transfer who could compete for snaps.
I'm probably going to be hammering this topic all offseason because the Mountaineers have a lot of good players in their program and have demonstrated they can coach and train a defense. Neal Brown has been cranking out hard-nosed teams that can run the ball and play defense for years now at two stops but I've yet to see him coach a team with a quarterback who'd be at any risk of getting drafted by the NFL.
Next up in the "here's the thing though…" column, the Baylor Bears. I know I often find negative things to write about Baylor this year and they continue winning, just hear me out or scroll down.
Open jobs this December now include USC, LSU, and Florida. Those are three of the better jobs in the country, you can win a National Championship at all three with the combination of institutional commitment/support from the programs and local recruiting which they each possess. Odds of Dave Aranda returning as Baylor's head coach next year are pretty slim at this point. He's a hot commodity who may have some great options, particularly USC.
Worse for Baylor, they had a pretty good shot of at least getting a Big 12 Championship from him before they have to go back to the coaching market…except their quarterback was just injured.
Winning a Big 12 Championship is necessarily going to require beating Oklahoma State, who has a very good run defense and a very confusing pass defense with a lot of pass-rushers and pressures. Shapen can definitely spin the ball a bit, but if Jim Knowles confuses him and/or gives Tyquan Thornton some Cover 2 attention, what's going to happen? Nothing good, I reckon.
It's not all over for Baylor, they have a puncher's chance. Get to the game and you're one well-timed blitz by Jalen Pitre with a tackle to the ground from having Shane Illingworth as the only man standing between you and a ring. However, it's likely the Bears' season will end with a chorus of "Bittersweet symphony" and then the need to hit the coaching market at the same time as like 1/4 of college football, including TCU who had a huge head start.
Still, it would have been a tasty half-glass for the Bears this season.
Finally Iowa State…
Matt Campbell pulled Brock "pump fake" Purdy during the Iowa and Oklahoma games. His quarterback ultimately couldn't handle the pressure of trying to execute their pro-style "control the game with run game and multiple tight end formations" offense against top opponents.
Why? Because their O-line was overmatched in big games. Iowa and Oklahoma have NFL players on their D-lines and they cause big problems for this Cyclone bunch. A school like Notre Dame, Washington, or Michigan should not hold this season against Campbell in terms of evaluating his fit for their programs. The Cyclone line isn't good enough to execute his vision and it's hard to win consistently against good opponents as an underdog program who wants to be the bully in the trenches.
Their wide receiver recruiting also caught up to them. Back when I was evaluating every player in every Big 12 class I noted the Cyclones weren't really loading up on receivers. Xavier Hutchinson was a great addition, but ultimately he's proven to be a big chain mover. That's nice, but you already had the best possession receiver in the league in Charlie Kolar. Who was threatening defensive structures with one-play scores? Breece Hall and no one else, essentially. Without that dimension and the capacity to explode for 40-50 points a game, the Cyclones had no margin for error.
Every week was a measure of whether their line play could dominate games on both sides of the ball. They could not and will probably finish the year 5-4 in Big 12 play with another loss to Iowa in their big rivalry game. Disappointing season for Iowa State that may still end with losing Campbell if he decides the Pacific Northwest is an appealing destination.
You also have to worry if Iowa State can pick themselves back up should they have to replace Campbell and multiple NFL players from this team before heading into a future Big 12 with a few extra schools with comparable resources.
Contrar-Ian says the glass is half-full
The Kansas Jayhawks took a narrow loss to TCU this weekend and are now 2-9 overall, 1-7 in Big 12 play, and will likely cemented yet another last-place finish in the conference standings when they lose next weekend to a West Virginia team fighting for a bowl berth.
They may have found a quarterback though in Jalon Daniels.
Freshman running back Devin Neal was also a nice find. Jayhawk enthusiast and 247 writer Kevin Flaherty was insistent Neal was a better recruit than it seemed and he had a solid year in Kansas' often triple-option based attack this year. Against Texas though they pivoted to more of a pro-style system the likes of which Lance Leipold and his staff ran at Buffalo, emphasizing wide zone runs and play-action.
It was a good fit for Neal and Jalon Daniels is perfect for this offense.
He can run and move but he does his best work rolling out of the pocket and using a cannon arm to hit targets on play-action, which is more or less exactly what you want a quarterback to be good at in a wide zone offense.
Here were his lines in Kansas' last three games.
K-State: 13-19, 105 yards, 5.5 ypa, one touchdown, zero interceptions.
Texas: 21-30, 202 yards, 6.7 ypa, three touchdowns, zero interceptions.
TCU: 22-30, 255 yards, 8.5 ypa, two touchdowns, one interception.
He's playing pretty good ball, albeit against weak defenses, and he's about to get a full offseason with this staff. The team returns most of their O-line, most of their receivers, and took the chance to blood some young cornerbacks this season to build for the future. They even have their best defensive player Kenny Logan Jr with one more year of eligibility.
Kansas may still need to make the leap to "we're in a lot of games but we still tend to lose" before they can make the leap to "we're definitely good enough to make a bowl game" but they have to be pleased with their progress this season. Hiring a good coach who's used to winning under similar parameters as he'll find in the new program is always a good idea.
Texas Tech and TCU also have to be somewhat happy right now, their seasons were mostly bust BUT they each have a new direction to go in moving forward. All the scuttle behind the scenes says TCU will announce a head coach soon, I'll write about it when it happens with extensive thoughts. Sadly for the Frogs they probably won't get any bowl practices. Texas Tech has their guy, will have bowl practices, and their coach has a head start on recruiting high schools and other college programs to remake his roster.
Who won Week 12 in the Big 12?
Props to West Virginia, who have put themselves in awesome position to make a bowl game (just gotta beat Kansas), which will be massive for maintaining their development track and getting a great look at Garrett Greene and Will Crowder at quarterback.
It was also a good week for the Sooners, who won a tough game against Iowa State by establishing the two features they HAVE to have to win the league this season. Their D-line dominated the game and had Campbell questioning PFPurdy. The reality is, you can't pull your O-line, so when Hunter Dekkers also struggled PFPurdy got his chance to try and steal the game late and nearly delivered.
Oklahoma also ran the ball very effectively, mostly with split outside zone schemes I've noted as problematic for Iowa State on multiple occasions in the past. They can't really fit it properly unless the middle safety fits off the tight end and OU gashed Iowa State a few times on calls where Isheem Young was instead tasked with deep middle coverage. Bad gameplan by Jon Heacock, you gotta make Caleb Williams beat you throwing the ball.
The begun and ended with some interesting wrinkles by the Sooners.
Ultimately though, our winner is the Cowboys for shutting out Texas Tech and clinching a place in the Big 12 Championship game. The last time I was this confident in Oklahoma State winning the league was 2011, when they won the league. I knew they could beat Oklahoma that year, even expected a blowout. The Sooners had a solid gameplan but the 'Pokes were tremendous that season and blew them out 44-10. Oklahoma couldn't block Jamie Blatnick, couldn't beat a good secondary, and couldn't handle Justin Blackmon without getting absolutely gashed on the ground.
These Cowboys aren't as good as the 2011 team, but they are a load on defense especially if you don't have a veteran quarterback. In a year where virtually no one has a good veteran quarterback except K-State (didn't have him against OSU) and Iowa State (beat OSU), maybe they're your Big 12 Champion?
They gotta beat Oklahoma at Bedlam though and ultimately be the ones hoisting the hardware or this season could go down as one of the most painful in Cowboy history.
Who do you think will win the Big 12 Championship? Discuss for free on the Flyover Football board!