Who won Week 6 in the Big 12?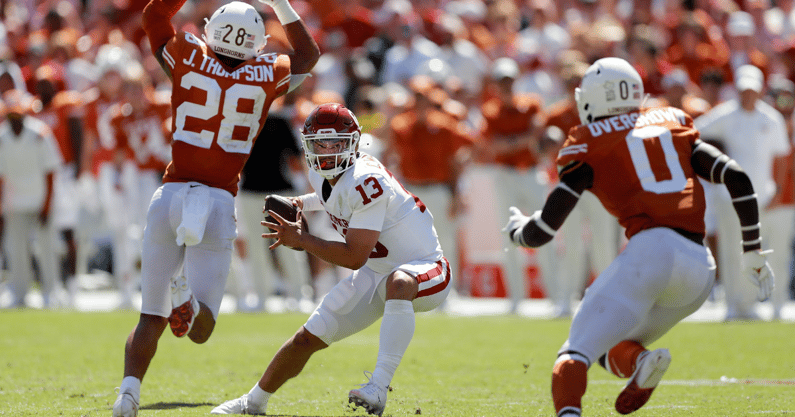 I must confess, many of the events of Week 6 in the Big 12 took me by surprise. I had the Red River Shootout pegged as being most likely to feature a defensive struggle, I projected Baylor would have trouble with the West Virginia defense, and then I liked Texas Tech to win a shootout at home against TCU.
Instead Oklahoma beat Texas in a wild shootout 55-48, Baylor had everything working on offense while pulverizing West Virginia 45-20, and Texas Tech nearly came through on giving TCU a shootout but couldn't make enough stops on defense (naturally). The Frogs scored 52 points while Duggan threw 10 pass attempts. Simply remarkable. Stopping repeated runs inside was supposed to be something Tech could manage at a halfway decent level.
[Subscribe to Inside Texas right now and get 50% off an annual or monthly membership!]
Today we'll review the events and try to unpack how things are unfolding in this conference.
Contrar-Ian says the glass is half-empty
Yours truly was actually in the bridal party of a wedding on Saturday and consequently missed significant chunks of the Red River Shootout as well as most of the other action. I watched on my phone where possible, including with the father of the bride who was rooting for Spencer Rattler as a "fellow Arizonan," during pictures. Mixed day for him.
Despite this limitation, I still managed to pull off a spectacular self-own on Twitter.
In my defense, this would only have aged even better had the fans actually managed to do this.
For those who don't know, Spencer Rattler committed a couple of early turnovers and after the second (which was eerily similar to the turnover which got him benched in the 2020 RRS), Caleb Williams was given a chance to lead a drive. Lincoln Riley claimed afterwards it was intended as a measure to help Rattler calm down like when Tanner Mordecai took a few series before Rattler returned calmer in 2020.
Instead, Caleb Williams calmly executed the gameplan Oklahoma was quickly realizing was a big winner. Texas' vision quarters scheme simply could not stop GT counter in this game, which Oklahoma was suddenly executing at levels not seen from the Sooners in a while. There were a number of issues for Texas against the scheme but they mostly centered around their soft quarters scheme required precise run fits from the front six to avoid having holes blown open in the front the safeties couldn't plug. This precision was missing, to say the least.
Losing starting Jack Jacoby Jones early on unquestionably hurt Texas and they simply haven't been as good at the rebuilt outside linebacker position as they need in this 2-4-5 scheme.
So Caleb Williams made a number of impressive plays and the Sooners came back from a 35-17 deficit to win 55-48, winning on a final GT counter run with time nearly expiring. Rattler never got back in save for getting a chance to execute a two-point play which tied the game at 41.
Now what?
I believe Lincoln Riley intended and would still like to get Spencer Rattler back in there, but it's going to be very difficult now. Caleb Williams, also a 5-star quarterback if you haven't heard, is tremendously talented and brings a run game threat Spencer Rattler cannot. He also made a few throws in this game which had me shaking my head. His play reminds me of an even more physically talented Jalen Hurts as his floor.
Is it better for OU moving forward to be more run-centric like in previous years? They did get Marcus Majors back, making the issue of running back depth a smaller concern, and riding Kennedy Brooks back to the Big 12 title game doesn't seem like a terrible idea. How will Williams do when he's the focus of opposing gameplans? How engaged will Spencer Rattler remain if he's supplanted as QB1 and has to start shifting his thinking from "NFL draft" to "should I transfer to rebuild my resume and if so, where should I go?"
It's a lot for Lincoln Riley to figure out and I very much doubt he's excited to do so, especially after working through so many other crises over the last several months.
Oklahoma also has a glaring hole to sort out in the coming weeks on defense, just as Texas does with their spread run defense from quarters. This Sooner secondary simply isn't great and badly needs Woodi Washington back. Casey Thompson won't be the last guy to test them down the field.
Contrar-Ian says the glass is half-full
So the Texas Longhorns lost a wildly exciting shootout against their rival in which they held a massive lead and their defense was run over for 300 yards. Lot of gloom and misery among the Longhorn nation from taking the L in such a game.
There were a number of positives from the game though for Texas. I'll list a few.
Casey Thompson finally started landing some deep shots on play-action. He doesn't have the strongest arm, but up till now this limitation was exacerbating bad timing and accuracy. Both of those were remarkably resolved for this contest and he connected on 20-of-34 for 388 yards at 11.4 ypa, five touchdowns, and zero turnovers. If he can do this every week, Texas will be scoring 40+ from here on out regardless of opponent.
Freshman receiver Xavier Worthy had nine catches for 261 yards and two touchdowns. If you know anything about my space force theories you understand the importance of Texas finding such an explosive weapon in their freshman ranks. Two more years with this guy.
Texas successfully took Spencer Rattler out of the game. Sure it bit them badly, but there's a degree to which having a freshman back-up come in and make some of the plays Williams made is simply a bad beat.
Had Worthy not fumbled that kick return, who wins this game? Texas was a bad mistake from the freshman star away from winning the game. What's more, Worthy then made a few more big catches and Texas marched back down the field to tie the game at 48-all before their exhausted defense fell apart.
It was a great game where each side had a number of strengths and weaknesses revealed and the Sooners edged them out. It'd be hard to look at this game and say either team would be a clear favorite in a rematch in Arlington, it will probably depend on which team best sorts out their exposed weaknesses while trying to subdue the rest of the Big 12.
Overall it's clear Steve Sarkisian's offense and system is taking hold in Austin and is more likely to increase in efficacy this season and in subsequent years than to decline as he adds players like Brenen Thompson and perhaps some more offensive linemen. This game also made it easier to sell this future in recruiting. Texas didn't lose to Oklahoma because they couldn't light up the scoreboard.
The private school rivals
Now there's a question regarding Baylor in Waco vs on the road. To what extent was their beating at the hands of Oklahoma State a factor of struggling with their first road trip?
They didn't struggle with West Virginia at home, in part because they were aggressive from the get-go in protecting their run game with an aggressive passing attack. Gerry Bohanon threw for 336 yards on 29 attempts at 11.6 ypa with four touchdowns and zero interceptions. Most of the damage was done by Tyquan Thornton, who we've been waiting to see put it together for three years now, eight catches for 187 yards and two scores was a death knell for the Mountaineers.
West Virginia got down early after Bohanon landed some shots and Jarret Doege threw his customary bad interception. Once down, they defaulted to their normal Air Raid passing attack which shreds opponents until they read the red zone where it sputters to a stop. Their inability to establish Leddie Brown this year has really hamstrung their offense.
They can't run the ball unless they involve Garrett Greene heavily and if they do that, they can't make the most of a legitimately very good receiver group. This team would kill with Spencer Rattler, not that I think it's likely he'll ever even step foot in their state again.
Fantastic rebound game from Baylor, who's now 5-1 overall and 2-1 in Big 12 play with their bigger challenges now looming ahead. First they get BYU at home, then Texas, then on the road against TCU, Oklahoma at home, at K-State, and Texas Tech at McLane. The stacking of real challenges is tough but the high frequency of home games is a big win for the Bears.
They'll be in control of their Big 12 destiny if they can beat Texas at home in two weeks after the Longhorns are coming off their own battle with Oklahoma State.
Bohanon was absolutely terrific against West Virginia and if they can get play of this sort from him and Thornton they definitely have a chance against anyone. I have a suspicion 2022 may be a better year for them when Bohanon has been through a year's worth of battles and had an offseason to process and grow from it.
On the other hand, space force theory would tell us the bigger factor is probably whether Connor Galvin and Tyquan Thornton take advantage of the COVID year to come back next season.
Meanwhile, without Quentin Johnston in the fold TCU had a very clear identity going against Texas Tech and played well within a clear concept.
They ran the ball 47 times for 394 yards and five touchdowns, mixing in all of the standard spread-option schemes. Duggan ultimately only had to run the ball six times as they simply ran over the Tech defense with Zach Evans (17-143) and Kendre Miller (12-185).
Considering the Frogs were starting back-up guards Brandon Coleman and Coy McMillon, it was a pretty strong game, Tech caveats aside. Their contest with Oklahoma next weekend will be interesting. Gary Patterson will want this one badly but he'll have to be prepared for both Caleb Williams and Spencer Rattler and TCU is going to have to finally play some run defense.
Who won Week 6 in the Big 12?
I thought Mike Gundy was going to have a nice off week, watching Oklahoma expose whatever Texas' biggest weaknesses were and getting an extra week to prepare for the Longhorns. However, I think Texas' issues with GT counter and the potency they found on play-action are ultimately unlikely to help Gundy's 'Pokes next Saturday. If Baylor had been more aggressive and cleaner with play-action they would have torched OSU for all those turnovers in Week 5, if Texas is hitting on those the 'Pokes will be in serious trouble.
As for GT counter, it's not exactly a mainstay for OSU, although perhaps they'll be able to get after Texas on the edges with their outside zone plays.
I think the biggest winner in Week 6 was Caleb Williams.
I mean, what is this?
How many Big 12 quarterbacks in 2021 can make that throw? Maybe just one other guy, the one he replaced. Meanwhile, he also did this…
Shoddy tackling/good blocking aside, he has some wiggle in the hole and then enough speed to breakaway. He has power, size, speed, and then can throw it a country mile with accuracy.
We'll see how he fares as the focus of defensive attention and with an undoubtedly angry, older back-up behind him. Shouldn't be terribly difficult for Riley to protect him with run game and play-call though and if this team can get back to GT counter, power football they won't be a pleasant team to face down the stretch.
Who do you think won Week 6 in the Big 12? Discuss for free on the Flyover Football board!
[Subscribe to Inside Texas right now and get 50% off an annual or monthly membership!]