With Cameron Dicker's NFL declaration, Texas starts over at the specialist positions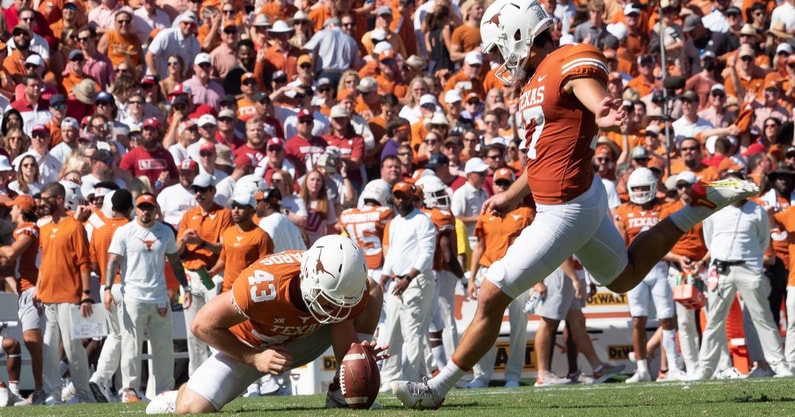 Senior punter Ryan Bujcevski went through senior day honors after not seeing the field in the 2021 season. Senior long snapper Justin Mader declared for the NFL Draft on January 6th following a sterling career. On Wednesday, senior kicker/punter Cameron Dicker made his own NFL Draft declaration, thanking Texas fans for supporting him from his first kicks in 2018 to his final record-setting efforts in burnt orange in 2021.
[Subscribe to Inside Texas right now and get a 7-day FREE trial!]
"Coming to Texas, I could never have imagined I'd be leaving holding the records of all-time field goals made and most points scored by a Texas kicker, as well as third in all-time points scored," Dicker said in a statement. "I am humbled and honored by these accomplishments given all the great players who came before me."
For the past four seasons, Dicker, Bujcevski, and Mader were mainstays at Texas' specialists spots. With it likely now that all three are moving on, Texas is starting over at the specialist positions.
Bujcevski didn't play in 2021 after tearing his ACL late in the 2020 season, forcing Dicker to take the reins at punter in addition to his kickoff and field goal duties. The senior from Lake Travis handled those responsibilities with skill, garnering first-team All-Big 12 punter honors and earning a place as a semi-finalist for the Ray Guy Award. Though nicknamed "Dicker the Kicker," his future in the NFL may be at punter.
Mader operated in anonymity, a tremendous quality for a long snapper to have. Most players in that position are usually recognized by fans only for their errors, not so much for the consistent play Mader offered all four years. Where former Texas long snapper Nate Boyer lacked NFL size, Mader could have a future in the league at 6-foot-2, 236 pounds.
Texas had several players on the roster waiting behind Dicker, Bujcevski, and Mader who will begin competing to succeed them this spring.
Freshman Bert Auburn and Texas Tech transfer Gabriel Lozano, who joined the Longhorns ahead of the 2021 season, will battle to follow Dicker. Auburn appeared in one game in 2021, Texas' 58-0 blowout of Rice. He made all three of his three extra point attempts and kicked off four times with one touchback.
Lozano, who attended Westlake High School near Texas' campus, appeared in three games over two seasons for the Red Raiders.
Those two will be joined by local product Will Stone of Regents School, who signed with Texas during the early signing period. Stone is the No. 3 kicker in the On3 Consensus. Texas also recently issued a preferred walk-on offer to Arlington (Texas) Lamar Blake Ford, an All-American Game selection who could create more competition in Jeff Banks' specialist room.
Texas did not pursue a punter either from domestic or foreign sources for the 2022 class. Isaac Pearson, who did not appear in 2021, seems primed to succeed Dicker as the punter and hopes he can become the next great ProKick Australia product to find glory in Austin.
The picture at deep snapper is not as clear. Not only did Justin Mader declare for the draft, but fellow long snapper Chandler Kelehan also was honored on senior day. That's no guarantee that he won't return for his senior season, but it indicates the 6-foot-1, 195-pounder may look elsewhere for playing time.
That leaves rising senior Zach Edwards as the only long snapper on the roster. An Oklahoma transfer, Edwards has seen playing time at Texas but mostly as a holder for Dicker.
He'll be joined by Gilbert (Ariz.) Williams Field long snapper Lance St. Louis, who signed with Texas during the early signing period. St. Louis is ranked as the No. 2 long snapper in the On3 Consensus.
There are plenty of new faces at the specialist positions. While they don't receive the attention nor the glory other players do, they are a key cog in playing complementary football.
Banks will have his work cut out for him in replacing Dicker and Mader. Those two set a high standard that the collection of transfers and high school additions will seek to meet.