4-Star Cornerback Maliki Crawford Commits to USC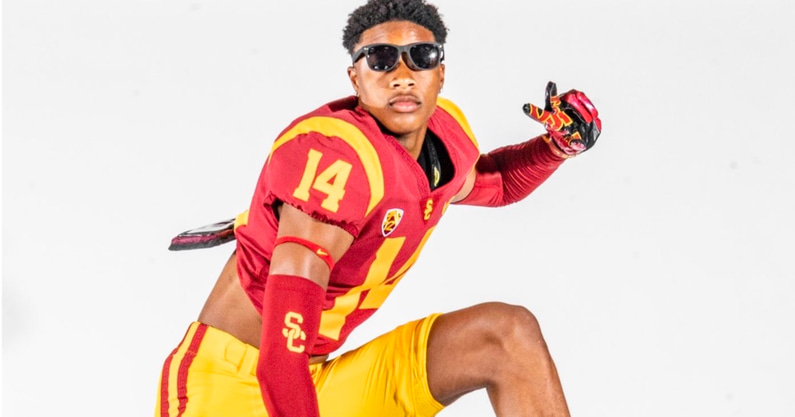 When USC offered talented 2023 On3 Consensus 4-Star Oxnard (CA) Pacifica HS Cornerback Maliki Crawford, it appeared the Trojans would likely have a solid shot at signing him. 
"They've always been one of my top schools, so I just feel blessed to have the opportunity," said Crawford."They have tradition and a lot great players have come out of the program. So, it means a lot"
On Tuesday Crawford, after taking his fourth visit this year last week, announced his commitment to USC.
When we had our first opportunity to speak to Crawford since his decommitment and January 29 USC visit. The first question we asked was how the Trojans got back in the race?
"The day that I announced I was decommitted, Donte DM'd me on Twitter," Crawford said."He sent the message about two hours later. Coach Donte told me that he was going to be recruiting very hard. That he would be talking to me every day or as much as he can, and so is the rest of the staff."
Obviously the perception kids have if the USC Football Program significantly changed the day USC announced Riley's hiring. 
"USC became attractive to me with them hiring Coach Riley," said Crawford."He was at Oklahoma, they were winning there and now he's at USC. Now he's trying to build a winning culture and turn USC into a national championship team. So, that's definitely something very appealing to me. His accountability system and how they feel they can develop me stands out too."
Riley is one of the most engaged head coaches when it comes to recruiting and Crawford already speaks to him regularly.
"I talk to Coach Riley pretty regularly," he said."I mostly talk to Coach Donte with Coach Grinch tapping in with me about as often as Coach Riley."
Currently USC's Top Cornerback targets are Crawford, Daylen Austin, Rodrick Pleasant, Braxton Myers and Warren Roberson. Coach Donte won't take five cornerbacks, but h'll likely take three. As of today, Myers and Crawford are the only two committed.
"I do think I am," said Crawford when asked if he feels like a priority for USC. "The skillset I bring with my speed, my length and my versatility I bring to a defense. They feel with my versatility I could okay Corneback, Nickel and Safety for them. It all depends on matchups. I could end up playing three positions in one game."
Crawford began trending to USC back in late March after an impactful unofficial visit withy his family.
"The visit I took yesterday was really solid. It was better (than previous visits), because I got to spend more time with the coaching staff. I enjoyed how comfortable they made my family and I feel as well. Watching practice was awesome too! It was real intense and the coaches stress detail with the players. I definitely want to go back up there again sometime soon."
Crawford has tremendous length with his 6-4 frame and long arms, much like Calen Bullock. Bullock isn't quite as tall as Crawford, but their games are extremely similar. Bullock came to USC as a Cornerback, but was needed at safety last season. Safety is where he'll remain as we approach Spring Ball in two weeks.