4-Star WR CJ WILLIAMS Commits to USC - He Shares Why and When He Knew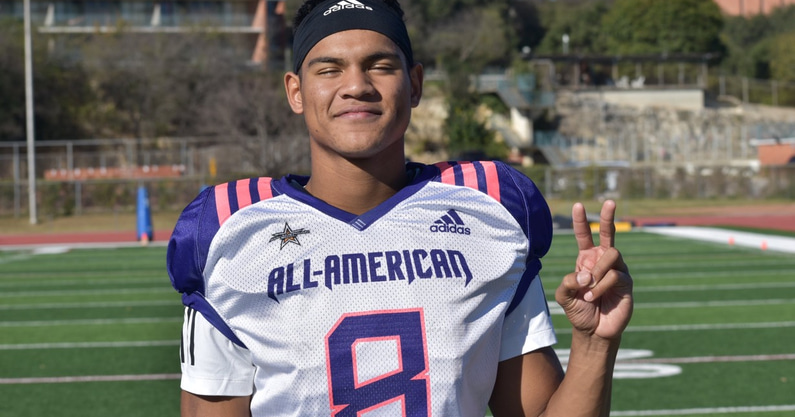 There was a time when it seemed almost a lock 4-Star Mater Dei Wide Receiver CJ Williams would end up at USC. But the deterioration of the football program became a huge issue for Williams and too much to overcome.
Williams committed Notre Dame in August, because the Irish offered everything he was looking for in a program at the time. Well, almost everything. South Bend wasn't the ideal location for Williams and his family southern California is.
When USC fired Clay Helton Williams began to consider the Trojans again. And when Lincoln Riley was hired, they became the program to beat weeks before the Dec. 15 Signing Period.
On Saturday at the 2022 All-American Bowl, Williams announced his commitment to USC.
WeAreSC spoke briefly to Williams after West practice No. 4 on Friday. We already knew his school choice, but he shared why he chose the Trojans and when he knew.
WHY WILLIAMS CHOSE USC AND WHEN HE KNEW
WHAT WILLIAMS ADDS TO THE FOOTBALL PROGRAM
With the commitment of Williams, USC gets a young man who's Uber focused on his future. They also get a kid who'll never miss a workout, will flourish academically and add the kind of Player Lincoln Riley desires.
Riley won't have to convince Williams to buy in, be a team player or motivate him to work hard. That's just how he's wired.
Forget the talent aspect USC adds with Williams, they're adding a player with the ideal mindset and approach necessary to win championships.
But Williams will also be the guy who'll make the tough grabs for the Trojans. He'll catch balls in the dirt, grab passes thrown behind him, he's not afraid to run crossing routes and he'll also sneak by defenders on post routes
CJ Williams will give a coach and his Teammates all he's got at all times. And Williams will do so acting like he's been there before, because he has.
You won't see any excessive celebrating after a touchdown or a tough reception, he'll be the guy simply handing the ball back to the zebras a la Lendale White.
CJ Williams is leaving Mater Dei with two California State Championship rings and that element shouldn't be overlooked. We believe this is a big pickup for the Trojans and only enhances USC's chances to keep the Mater Dei pipeline intact.